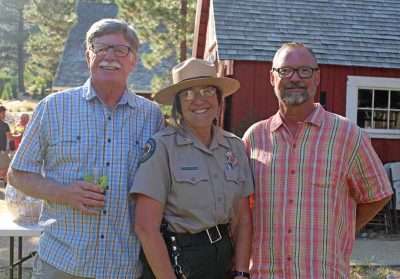 Park employees, locals and out-of-towners gathered at Plumas-Eureka State Park for the park's sixth annual Dinner at the Park fundraising event Aug. 18.
Wine was served, beef was brought out, and a silent auction was set up near the dining tables so that attendees could bid on an assortment of items without feeling pressured.
Tim Buckhout, who volunteers as a docent for Eureka Park and works at White Sulfur Springs, brought his own beer tap, which served as one of many focal points.
There was also a drawing, which event-goers automatically qualified for, with prizes ranging from a $30 gift certificate to a one-night stay at the Atlantis Casino and Resort in Reno.
The proceeds from the $60 entrance fee will go toward maintaining and expanding the park's outreach programs and in-house resources.
Many of the people who came out this year have attended in years past, and were excited to again participate.
In his opening remarks, park volunteer Tim Hardie said that he saw the faces of many people who attended the initial Dinner at the Park six years ago.
The main source of entertainment, beyond the usual friendly conversations, was a remarkable interactive performance by Stephen Hale, a professional reenactor, who impersonated the famous explorer John C. Fremont.
Hale has a cast of characters that he picks from for each event depending on context and location, and will continue performing his Stephen Mather character at Yosemite on Fridays and Saturdays.
In his performance, Hale depicted Fremont's long and lustrous career of government and military service through the first person, beginning with his service as a lieutenant in the US Army.
Hale retold Fremont's story as if he himself were an older Fremont, looking back at his life with a complicated mixture of pride and headstrong bitterness that he was unable to accomplish more.
Fremont initially rose to prominence as a military expeditioner, and is most famous for a detailed map of the West he helped to develop before the Gold Rush reached its peak in 1849.
Fremont also ran as the first Republican candidate for president in 1856, and though he lost, he was a very well known public figure at the time.
Fremont's career reached its peak when he served as a Major General of the United States under President Lincoln.
Yet Fremont's political clout was significantly diminished when he signed a proclamation of martial law in the West so slave masters and rebels could be prosecuted despite President Lincoln's insistence that he not do so.
The proclamation was markedly similar to the Emancipation Proclamation that Lincoln signed 19 months later, but Lincoln was unhappy with how Fremont dealt with the situation so he asked him to resign and ostracized him in Washington.
Fremont still had a large sum of money which he received by selling his Rancho Las Mariposas property, which was valued at $6 million at the time.
Freemont inevitably moved to New York, spent a great portion of his money and died feeling somewhat unfulfilled and disappointed in 1890.
It was from the perspective of these final days of life that Hale reenacted this story, and so Hale adopted a somewhat bitter and defeated tone throughout.
Yet in the end of his performance, Hale adopted a gravitas tone as he acted as Fremont, looking back on his long legacy.
"The doors I charged through, they changed me, they changed history, they changed your history," he said to the audience as birds chirped in the distance.
After the performance, Hale was introduced to Orval Lucky, a man whose ancestors had actually met John C. Fremont and who owned a large swath of land near his.
Hale remarked that meeting people like Lucky who have a connection to the past is precisely why he loves going to events like Dinner at the Park.
"This is what I love — a group of people who have connection to the past like Mr. Lucky here," he said. "That is one of the unexpected joys of performing."