First annual Americana Festival proves a good idea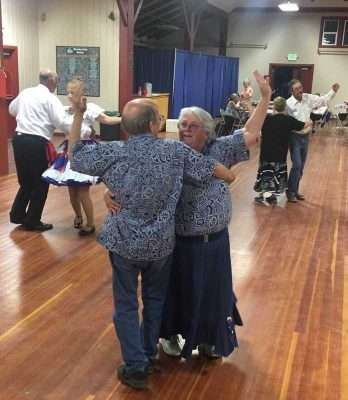 Big name entertainment came to perform at the first, proposed-to-be annual, Plumas Homegrown Americana Festival over Labor Day weekend in Quincy. Musical groups yodeled, picked and crooned on the "Carnival Lawn" stage while square dancing and roping took place at various other locations on the Plumas Sierra County Fairgrounds.
Fair Manager John Steffanic initially pitched the idea for the event to the board of supervisors with a low estimate of 300 attendees. Steffanic said his intention was to test out the capabilities of Plumas staff and equipment for such a festival hosted by Plumas County, versus a big outside professional festival host like High Sierra Music.
The actual attendance of the event included 277 for music, 32 square dancers, 13 tent campers, nine RV campers and a visual estimate of over 100 ropers. These numbers do not include musicians or complimentary tickets, of which there were about 30.
"We also got a generous sponsorship from American Valley Speedway," said Steffanic. About 20 percent of those in attendance hailed from outside Plumas. Twenty-five different communities were represented in an area spanning from Lahiana, Hawaii, to Dayton, Nevada, and Washington state in the north to Corona, California in the south.
As part of the Americana Festival, the High Mountain Series Team Roping was well attended with talented horses and riders stirring up the dust all weekend. Challenges were non-stop providing visual entertainment for the watching crowd and a distraction from the heat. Any photographer can find ample opportunity for dramatic shots at these roping events.
Square dancers twirled and do-si-doed across the wooden floors in the Tulsa Scott Pavilion. Renowned callers turned an intimate setting into a special event for the seasoned dancers. Participants were treated to a Saturday afternoon BBQ and presented with a special event bandana for the first ever Plumas Americana Festival.
"I see no reason why the square dancing attendance shouldn't double and the general attendance to come close to that as well," said Steffanic. "At that point, we are in the black."
  Heat was a deterrent during the day for music shows with temperatures nearing triple digits. An indoor solution has been found for Americana 2018. "Although we may have come up short in some areas, like camping, I would have to say this is a resounding success," said Steffanic.
High caliber musical entertainment was offered all day in front of a sparse and lucky few in the audience. A larger crowd was treated to spectacular quality performances in the evening under cooler, clear skies and an almost full moon.
"I'm tickled to be part of a local show that's more of a community show," said big name entertainer Peter Rowan just before his performance. "I like it. I like it a lot."
"Music is the backbone of freedom of the spirit," added Rowan. "It's great to touch base with the local music."
Rowan said that he loved the performances of local harmonica artist Johnny Walker and the talents of the Kepple Band — with Kelsey Kepple and her father, Jeff Kepple.
The moon cooperated shining bright; the rain held at bay for a few days, too. Smoke in the air from fires nearby did not darken the skies at the fairgrounds and attendees received quite a show for their $25 ticket price.
"Just as we hoped, those that did attend had a stellar experience and I fully expect them to become our evangelists," said Steffanic.