Lady Eagles take first place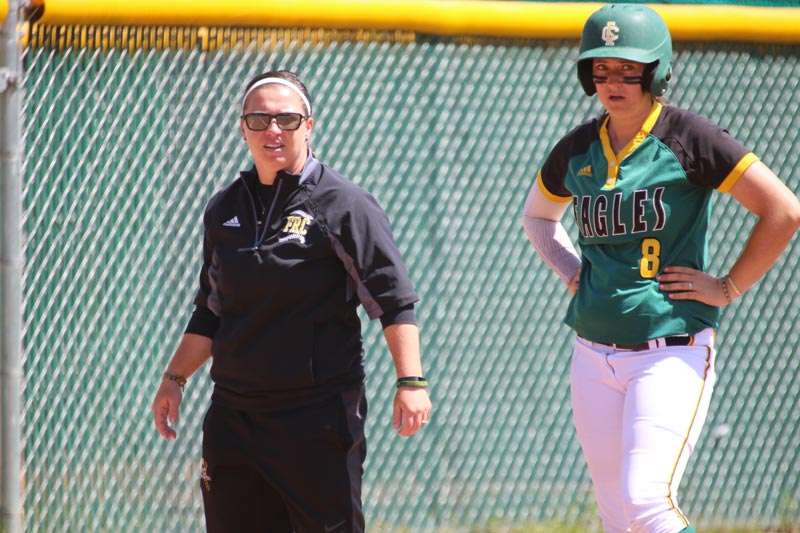 The Feather River College women's softball team burned through the competition on the field to take first place in the Golden Valley Conference with an 18-2 league record and a 32-5-1 record overall.
"I am super proud to watch these ladies grow," said head softball coach Meridith Aragon. "They work hard on the field and in the classroom."
The ladies have had competition on the field from their neighbors at Butte College whose overall record is 28-9 and 17-3 in the league, but the Roadrunners sat in second place to the Eagles when the dust settled on the field.
No other teams came close to the two neighboring teams as they battled for the top spot.
"Their drive to love each other and to remain fearless all year is out of this world," said Aragon. The Eagles' team bats .346 with a slugging percentage of .472. They collectively scored 253 runs, including 16 homers.
"They deserve this championship and this moment," said Aragon. "They worked hard to get here! I am proud to be their coach!"
Second year pitcher for the Eagles, Emily Mitchell has pitched 230 innings and struck out 245 batters. Mitchell is first in the league in many categories: shutouts, innings pitched, games started, completed games, strikeouts and wins.
The lady Eagles have a host of stellar players who earned the title for FRC. This season, Eagle catcher Payton Reynolds hit seven home runs and Jamie Romero hit four homers as well as 19 doubles. Alyssa Rude hit 31 RBIs. Shawn McCullough hit 29 RBIs plus 11 doubles. Reynolds hit 25 RBIs and Molly Dunlap 24. Tyra Garcia hit five triples and Ali Conder three. First baseman Rude made the play to put out 175 opponents. Shortstop Romero handled 55 successful assists.
"I want to send a special thanks to my assistants, the FRC community, the Quincy community, our families and fans!" said Aragon. "None of this would be possible without all the love, belief and encouragement toward the team. Thank you!"
The first round of regional playoffs for the conference-winning ladies is in Quincy, where the Eagles are 11-0 at home. The games hit the FRC diamond on Friday, May 4, starting at 2 p.m. and Saturday May 5 at noon. Hosting the first round of playoffs provides an opportunity for locals to get a good look at the winning team and see their dynamite moves in action on the field.