Look Out reading at Plumas Arts Gallery Oct. 25
Plumas Arts and the Plumas National Forest are hosting an evening of readings and reflections from the Literary Artist in Residence at the Black Mountain Lookout for 2017, Margaret Elysia Garcia.
The program will take place Wednesday, Oct. 25, at the Plumas Arts Gallery at 525 Main St. in Quincy beginning at 5:30 p.m.
For the month of October the gallery is also featuring paintings by the 2017 Visual Artist in Residence for 2017, Sally Yost, as well as paintings by former visual artists in residence Lucinda Woods and James Johnson.
Garcia will be reading poems from a new chapbook she wrote from her time at the lookout called "What the Wind Brought Me," a reflection upon the wildness of nature and an individual woman's clarity of purpose.
Some of her work is a tribute to fellow writer and artist Farrell Cunningham, whom she credits as the first friend to show her this beautiful region that has become her adopted home.
Garcia will also speak (as a busy working mother and artist) to the need of alone time to write.
The presentation is free and open to the public. Libations and light snacks will be served.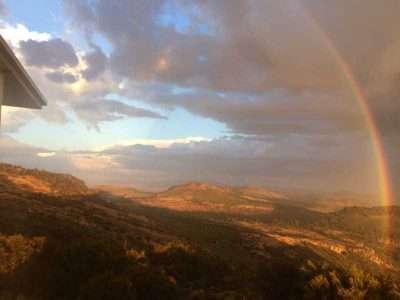 The Artist in Residence in the Black Mountain is a collaborative project between Plumas Arts and the Forest Service. With this program, the Plumas National Forest offers an opportunity for artists to spend several days at Black Mountain Lookout to draw upon the breathtaking landscapes of the Plumas National Forest for inspiration. For more information, contact Plumas Arts at 283-3402 or visit plumasarts.org.