10th annual Sustainability Awards honor local environmental supporters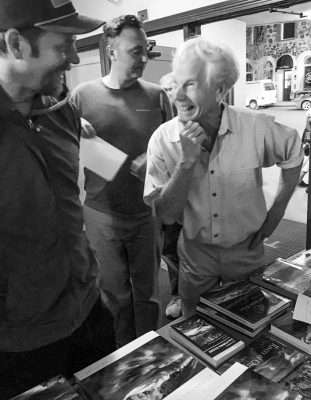 It's one thing to say we want to protect the environment and make the world a better place. It's another thing entirely to do the work to make these things happen, day in and day out.
To recognize the significant environmental, economic and social-cultural contributions that individuals, businesses and organizations make regionally, the 10th annual Plumas County Sustainability Awards presented four prestigious honors on April 26 at the Town Hall Theatre in Quincy.
Best student sustainability work
Following the premier of a new watershed video by the Feather River Land Trust, the first award of the evening went to the students from Quincy High School's "Natural Resources" class.
Taught by Ron Logan, the class was honored for its work doing community cleanups and native plantings, among numerous other accomplishments.
"I've got to thank the Feather River Land Trust and Rob Wade, our district science education coordinator, for spearheading the establishment of each Learning Landscapes location," Logan said, accepting on behalf of his class. "Without these spaces, teachers and students wouldn't be out there connecting with the land, understanding the value of what we have and connecting it with their futures."
Top organization or nonprofit
The Sierra Institute received the top organization honor for its work over 20 years to assist rural communities that have forest landscapes, promoting social, environmental and economic approaches that are sustainable from human and ecological perspectives.
The institute was also commended for its new energy-efficient biomass boiler project in Quincy. Jonathan Kusel, founder and executive director, accepted the award.
Best sustainable business practices
For its work to promote a thriving, sustainable business and economic environment in Plumas County, the Carey Candy Company was recognized.
"I've been very fortunate," said Amy Carey, accepting the award on behalf of herself, her staff and business partner Susan Ushakoff of Quincy Provisions.
"I've been in business for 25 years and I want to thank everyone who puts energy into these sustainability awards," Carey said. "This town is so cute and charming. It could be blossoming retailwise. Don't think people here aren't into change and sustainable business practices — they are. My business partner has brought her own professionalism and vision to our company. And people have helped me when I most needed it by supporting my business. This is what has sustained me."
Carey added that she grew up here, being "organic before I even knew what it was," and said her grandfather "was into sugar," so launching her candy company was a natural.
The candy company is part of a unique partnership of co-located businesses that include Quincy Provisions, Bell Lane Baked Goods and Brew HaHa.
Individual sustainability effort
For his enduring and outstanding commitment to the environment through science education, Rob Wade of the Plumas Unified School District received the award for top individual contributor to Plumas County sustainability.
The awards program is sponsored by the Plumas Earth Days Committee and member Darla DeRuiter, a popular environmental studies instructor at Feather River College, served as emcee to hand out the honors.
"Rob's accomplishments are many," DeRuiter said, smiling as she welcomed Wade to the stage. "He always recognizes all of the community partners that he has worked with over the years. Most of us know Rob has contributed so much to our community through the Plumas-to-the-Pacific-and-Beyond program he hosts for our students. He has inspired teachers, parents and a generation of 'Mountain Kids.' He has truly changed outdoor education in Plumas County."
Wade accepted the honor with a humble remark.
"Twenty-five years ago," Wade said, "I was swinging a hammer in Truckee and I heard a poem by Gary Snyder, 'For the Children.' He said, 'In the next century, or the one beyond that, they say, are valleys, pastures. We can meet there in peace if we make it.' That poetry affected me profoundly and I came here. The only reason I've achieved success is because of the community, the organizations, the teachers and the kids I've worked with. So here's to another great 25 years!"
Tribute to the Middle Fork
The sustainability awards finale included guest speaker Tim Palmer of Oregon, an acclaimed river conservationist and photographer-author with 26 books to his credit, who gave a presentation about the value of wild and scenic rivers.
In celebration of the 50-year anniversary of the National Wild and Scenic Rivers Act, which protects the Middle Fork Feather River and hundreds of other waterways nationwide, Palmer talked about the monumental grassroots effort it took to build respect and environmental protection for the nation's last remaining wild and scenic rivers.
He traced the legacy of environmental awareness from John Muir's work in the 1800s through today's powerful legislative process that has resulted in an historic, national system of tiers and layers of protection for many wilderness areas and waterways, including California's stunning Smith River, and the Eel, Klamath, Trinity and more.
The prevention of dam construction on America's most pristine rivers has been a key element of the national law.
Advertisement
"The Wild and Scenic Rivers Act remains the premier law for river protection in America and in the world," Palmer said. "By the 1960s and '70s, we had built 70,000 dams and more were proposed for construction. People began to question that wisdom. These rivers are important to all of us and to the generations to come. We need them as lifelines for the ecosystems that depend upon them."
Interviewed prior to his presentation at the Town Hall Theatre, Palmer said he first began writing about rivers after spending years paddling and canoeing down them.
"I couldn't get enough of canoeing, still can't!" he laughed, explaining he's traveled on over 400 different rivers, some of them multiple times. "So I began writing about rivers in order to pay for my canoe trips."
Talking about how much life exists in rivers and on them, the photographer said, "We all depend upon rivers in a fundamental way. Beyond that, they're beautiful, dynamic places. The Middle Fork Feather River is utterly amazing! It's one of the most beautiful rivers in the country, just this fabulous canyon that's unlike any other for it's pristine, wild condition."
During his talk about sustainable river systems, Palmer asked the Plumas County audience if they were ready to "jump in" and take action to keep their wild places wild? He suggested getting involved with organizations like Plumas Audubon Society, Trout Unlimited, Friends of the River and watershed groups.
Palmer's talk was sponsored by Friends of Plumas Wilderness with support from the Little-Kittinger Foundation, in cooperation with the Sustainability Action Team  and English department of Feather River College.
Palmer's books are available on Amazon.com and at TimPalmer.org. His newest work, "Great River Journeys," comes out later this year.
Many local sponsors
The Plumas Earth Days Committee extended heartfelt thanks to its sponsors for their support of the sustainability awards: Brewing Lair, Digging In, Feather River College Environmental Studies and English Department, Feather River Land Trust, Friends of Plumas Wilderness, Quincy Junior-Senior High School Culinary Class, Quincy Natural Foods, Quincy Thrift and Co., Plumas Arts, Plumas Charter School, Plumas County Public Health Agency and Sierra Buttes Trail Stewardship.
Photography Contest Winners
This year's winners of the local Ansel Adams Digital Photography Contest were announced at the 10th annual Sustainability Awards.
Black and White/Judges Panel:
First place and People's Choice, "View Downstream from Nankoweap, Grand Canyon, Colorado River" by Barry Buchholtz; second place, "Overhead" by Liz Ramsey.
Close-Up/Judges Panel:
First place and People's Choice, "A Single Drop" by Jade Kennedy; second place, "Male Valley Carpenter Bee" by Phil Robertson.
Flora and Fauna/Judges Panel:
First place, "Rubyspot Damselfly" by Phil Robertson; second place, "Pretty Poison" by Taylor Gipe Rogers.
Flora and Fauna/
People's Choice:
"Summer Rain" by Barry Buchholtz.
Landscape/Judges Panel:
First place, "The Tetons" by Taylor Gipe Rogers; second place, "Paint Me" by Mari Erin Roth.
Landscape/People's Choice:
"Lake Davis, Plumas County" by Barry Buchholtz.
Humanity in Nature/
Judges Panel:
First place, "Frozen Waterfall, Rock National Lakeshore near Munising, MI" by Eric VanHaitsma; second place, "Andrew Surtees Hooked Up on the Trinity River" by Mario Guel; third place, "Smith River, Woman in a Dress" by Vanessa Vasquez.
Humanity in Nature/
People's Choice:
"Waiting …" by Jade Kennedy.
See all the winning photographs at frcanseladamsphotocontest.weebly.com/2018-winners.html.