13th annual golf tournament benefits local homeless pets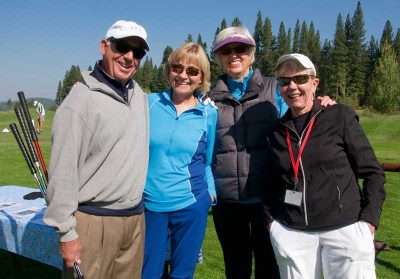 A field of 72 golfers enjoyed a beautiful day at Whitehawk Ranch Golf Club for the 13th annual Duffers for Dogs charity tournament benefiting High Sierra Animal Rescue.
According to HSAR board member and tournament coordinator Chuck Franck, players from as far away as Woodland and Sonoma come annually to this tournament to support the cause and enjoy the beauty of this top-rated golf course.
Entrants were greeted by Sarge, a 95-pound adoptable Black Lab/Great Dane who loved his time to shine and happily posed for group photos with all competing teams. After photos and registration, participants visited the silent auction table with many prizes donated by local golf courses and lodges.
Teams could increase their chances of winning through "Hire the Pro," where four local golf professionals donated their time to hit a drive that could be used by the participating teams counting as one of their three required tee shots. Participating PGA pros were Tad McCormick from Whitehawk Ranch, Brandon Bowling from Plumas Pines, Caleb Olsen from Grizzly Ranch and Robert Klein with Graeagle Meadows. Money raised by these pros, in addition to the silent auction and other on-course activities, helped HSAR achieve and exceed its planned fundraising goal.
The tournament format was a four-person scramble, employing "Choose 'em & Lose 'em." After selecting the best ball that was hit, the selected player cannot hit the next shot. Eighteen holes were played by the teams, with cool, sunny weather and beautiful views throughout the day.
Following golf, a BBQ dinner was served on the terrace at the clubhouse. Silent auction winners were announced in addition to the top four finishers for low gross score. Placing first with a low gross of 60 was the team of John and David Longoni joined by Joe Martini and Phillip Sevall.
A brief program followed and HSAR lead kennel technician Jennifer Holbrook shared the story of Kerby, the HSAR dog who recently was within hours of death due to a twisted stomach. On her own time, Jennifer rushed Kerby to emergency surgery in Reno, then nursed him back to health in her own home, post operation. After falling smitten and bonding through his recovery, she adopted him into her family and he found his new forever home.
Kerby had first been adopted from HSAR as a puppy, but then returned eight years later when his family's circumstances changed. Because HSAR has a lifelong commitment to each dog it takes in, Kerby was welcomed back into the shelter and soon after given the life saving treatment he needed. His story is another example of how HSAR and its people are passionate about animal rescue.
HSAR is a no-kill shelter located in Portola dedicated to saving the lives of homeless adoptable dogs that can no longer be held at the county shelters. The nonprofit organization is focused on providing health, quality of life and emotional stability for animals in Northern California and Northern Nevada. Funding for the shelter's operation and rescue expenses comes from private contributions, fundraising events, memberships, sponsorships and memorial donations. The organization also has state of the art boarding kennels open to the public, which generate operating income for the rescue.
For more information about High Sierra Animal Rescue, and how to support its vital community service through volunteer work or making a donation, call 832-4727 or visit HighSierraAnimalRescue.org. Visitors are welcome to the shelter Monday through Saturday 10 a.m. to 4 p.m.