1864 Taylorsville Schoolhouse yields rich treasure of teaching aids and well-preserved classroom artifacts
The detail is absolutely stunning on an 1880s geographical definitions chart that Scott Lawson gently unrolls at the Plumas County Museum one recent afternoon in Quincy.
The visual aid is one of several beautifully made teaching tools and other artifacts from about 140 years ago that were discovered tucked away in the rafters of the historic 1864 Taylorsville Schoolhouse at 4390 Thompson St.
"Even back in the days of those one-room schoolhouses, the expectation of what a child was required to learn was pretty high," said Lawson, who serves as a local history expert and executive director for the county museum.
Holding the geographical chart with care and pointing out the rich illustrations marking land formations and the relationships of volcanoes, oceans, islands, mountains and manmade fortifications, Lawson explained the document once provided a fascinating study guide for 19th century Plumas County students.
Teachers must have loved the chart, too.
"Education standards in those days were stringent, pretty tough actually," he said. "They put a lot of stock in the classics and integrated the discoveries of the day into their curriculum. They built upon a really solid core and a typical eighth-grade education in the 1800s produced well-rounded students."
Lawson found the visual aids, many in surprisingly good condition, after the county bought the building from the Native Sons of the Golden West with the intention to halt further deterioration and preserve its historic value.
He was exploring the crawlspace where the old school bell used to be.
Other treasures the schoolhouse has yielded include anatomy and physiology teaching tools, astronomical education devices, geography aids and much more.
"It would be nice to display these things over there, but we would need a full-on climate-controlled and secure museum environment," Lawson said, adding that he is in communication with county leaders about future plans for the site.
In the short term, he recently oversaw some restoration work on the window frames by Quincy's Richard Davis of Lovecraft Woodworks and masonry repairs by Sacramento-area contractor Ken Donohue that were funded by a generous $19,000 grant from the Wahl Foundation. Both men donated a lot of their time to the project.
Lawson is also exploring funding and grant options for roof and foundation repairs to stabilize the schoolhouse, plus he's hoping to start some interior restoration work.
Far more than the three Rs
The historian explained that students learned a comprehensive curriculum of all the basics — letters and numbers, reading, writing, arithmetic, geography, literature, composition, science, biology and Latin. They competed in spelling bees and perfected their penmanship and cursive writing.
"It was pretty rigorous and really emphasized critical thinking," Lawson said.
The 1864 Taylorsville School is officially the oldest one-room brick schoolhouse in California that is still sitting on its original site.
The building and grounds are currently designated as a historical point of interest and are registered with the California State Department of Parks and Recreation as an archeologically significant site.
Constructed in 1863 on land donated by Taylorsville founder Jobe Taylor, the school was built with funds raised by "subscription," or pledges, from the families.
Local rancher O. Madden built the structure and fired the bricks in a kiln on Indian Creek, less than one mile from the school site. It opened March 10, 1864, and three years later, there were 70 students on the roll.
Until 1933, all grades were taught inside the single room. After that, records show that classes for the first through fifth graders were held at either the old Taylorsville Hotel or the library.
As was common in other rural areas across the United States, children living in Plumas County in the 1800s began school at about age 6 or 7.
There was no kindergarten and students typically completed grades one through eight or nine, but high school was elective. They rode to school on horseback, walked or arrived by buggy and promoted up the grades based on yearly tests compiled by the county board of education.
Lawson said most Taylorsville boys and others countywide were expected to be "done with formal learning" by the age of 14 and left to work in the fields on the ranches and farms.
Once the upper-grade girls had completed their studies, they often continued to study and passed the county exam to earn teaching certificates, then returned to help instruct the primary-grade students.
Anyone who wanted to go on to high school had to study out of the area and board as far away as Chico, Marysville or Reno.
Long days and woodpile duties
At 1,088-square-feet, the one-room schoolhouse served Taylorsville for almost 100 years until it was declared unsafe to use in 1949. The building is a community treasure filled with memories of the generations of families who attended there.
School hours varied 150 years ago, usually running from 8 a.m. to 3 or 4 p.m., from late August until classes closed for the winter holidays. Students returned to class in January and were definitely out for the summer in June.
In those days, parents also had to buy school supplies and provided slates, slate pencils, chalk, sponges and writing materials.
There weren't any hall passes to go to the restroom. Calls from nature had to wait until recess for a trip to the his-and-hers outhouse.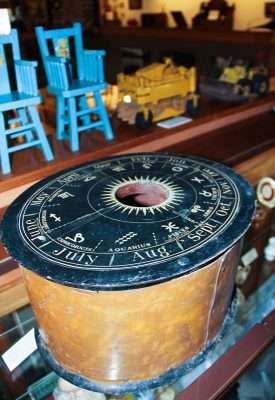 Recess was also the time when students worked on carving their names into the bricks on the back wall of the old school, a charming feature still visible to this day.
And when they misbehaved, the boys had to clean up and maintain the school's woodpile as their punishment. Local lore has it that the woodpile was always in great shape.
The school didn't have electricity until 1917 and kerosene lamps helped light up the interior on really dark days. A pot-bellied stove heated the room and one time, it reportedly blew up, but no one was hurt.
Snowstorms provided a welcome day off from classes.
Some of the favorite community events at the schoolhouse featured weekly recitations and memorizing poetry for Friday readings.
The school also regularly hosted concerts, songs and, of course, graduation ceremonies.
"They usually put the older kids in charge of the programs, too," Lawson noted.
Lives and times of 1800s teachers
The population of Taylorsville and the surrounding valleys has fluctuated from around 500 residents to as many as 1,000 people scattered everywhere from south of Indian Creek to the North Arm, Genesee, Crescent Mills and beyond. Students came from all over Indian Valley to attend the schoolhouse.
Modern-day school budget administrators might be amused and amazed to know that by 1867, the Taylorsville schoolhouse was apportioned $300 from Plumas County for its programs and $224 from the State of California to cover about 70 pupils.
Old news reports indicate former students of the historic Taylorsville Schoolhouse recalled as many as 82 attendees at one time, all taught by one main teacher.
Lawson said most of the time, the school accommodated closer to 15 to 40 total students spread throughout grades one through eight.
"Sometimes, there are two teachers listed in the (old) records," he said. "But typically, teachers were famously strict disciplinarians and it was one teacher handling all the grades and students."
The teacher set up assignments by grade levels, occasionally having older students helping as classroom aides, and "supervised every single student to make sure no one was goofing off," the museum director added.
On the occasions when there were two teachers at the schoolhouse, one oversaw the grammar students and the other taught the upper grades.
The museum director explained that teachers in the 1800s and early 1900s were well educated, earning a high school diploma that also required a rigorous exam in algebra and proficiency in Latin, about the equivalent of today's associate of arts degree at a community college.
To pay for a teacher's services, every landowner in the area would have taxed himself or herself to raise money for a salary.
The going pay rate for a school teacher in the 1800s was about $3 a day and teachers often lived with nearby families, or at either of the two local hotels — Vernon House or Taylor House.
  Teachers were able to move around to other schools and women were preferred, so communities made an effort to keep good teachers on hand.
Lawson explained that in Plumas County in those days, if there were 10 teachers working at the area schoolhouses, typically nine would have been female and one male.
The communities preferred that their women teachers be single and unmarried. However, there might be one man — and he could get the job whether he was single or married.
Salaries varied from $60 to $100 per month.
"Sometimes it happened that a school trustee or community leader would offer to give the lady teacher a ride to school each day," the historian said with a chuckle, "and then you'd see in the paper that they had gotten married — but that meant the end of her job!"
More leisure and few distractions
Family life supported good study habits a hundred years ago. And students' free time was altogether different by comparison with today's busy, connected lifestyles.
"Families spent time together in the evenings and," Lawson said, "odd as it sounds, they had more leisure time back then. It was common for families to play music, sing and read books together or individually because they didn't have all the distractions we do today — none of the beeping and buzzing and constant competition for attention that we have."