2019 Soroptimist awards honor excellence among community volunteers
Well-loved for their generous spirits and tireless community service, Soroptimist International of Quincy (SIQ) members seem to greatly enjoy their annual opportunity to turn the tables and thank others for giving so much.
"It's our pleasure to welcome you tonight to our 2019 Local Women Making a Local Difference awards," three-time SIQ President Kris Miravalle told a capacity crowd gathered at the Plumas-Sierra County Fairgrounds on April 9.
"Soroptimist means 'for women' and these honorees do an exceptional job of working, volunteering and dedicating themselves to programs and causes that benefit women," Miravalle added.
The SIQ group in Quincy is a philanthropic organization whose members sponsor scholarship programs and community events, from garden shows and social justice efforts promoting education for children overseas to the vibrant local Easter Egg Hunt and much more.
This year's honorees at the 11th annual awards program reached across the community spectrum.
Woman of Distinction
From a table filled with her cheering executive team and family in attendance, too, Plumas Unified School District Superintendent Terry Oestreich was welcomed to the podium amid loud applause.
Member Holly Patton said, "It's my great pleasure to present the 2019 award for Woman of Distinction to a truly inspirational woman and role model, Terry Oestreich."
Patton described the honoree's work to raise three daughters, earn a master's degree while working full time and steadily advance in her career to become PUSD's top executive with responsibility for 1,800 K-12 students and hundreds of staff members.
Patton acknowledged Oestreich's "grit and grace" coupled with self-discipline, perseverance and an understanding of the complexities involved in successfully overseeing a school district.
"This is what sets her apart," Patton said. "She treats each new hurdle with an open mind and heart. She makes each decision with thoughtfulness, fairness and integrity. She embodies the very definition of grace."
"My inspiration comes from all of you," Oestreich told the audience of more than 80 community leaders. "I'm truly honored to be here tonight. Thank you, Soroptimists, for bringing all of us together and celebrating all of these women who do so much for our community."
Status of Women achievements
"I've been waiting for this day for a really long time," said member Judy Dailey, gently holding her emotions in check.
"In 1972, I was 17, on my own, and Quincy High was the fourth school I had gone to that year. Also very new to QHS was a young, beautiful woman, a teacher named Mrs. Sue Gutierrez."
Dailey held the microphone steady and wrapped her free arm around Gutierrez, a beloved and longtime local teacher, the evening's honoree for achievement in Advancing the Status of Women. Both ladies held back tears with their smiles.
Dailey recalled Gutierrez' personal kindness, understanding and support for her students and described the extraordinary lengths to which the honoree went to make sure Dailey had a cap and gown, marched down the aisle for commencement and began her life with a successful start because someone cared enough to extend a hand.
"What I thought would be a few months of friendship has now been 47 years," Dailey said. "And I'm not surprised at the numerous stories of how Sue has affected other people's lives. She taught for 30 years, from Appalachia to Quincy High and Quincy Elementary. My son was also blessed to have been taught by Sue's knowledge and kindness. Tonight, I get to say 'thank you' and we get to thank you for all you do to advance the status of women. This is truly my honor."
Gutierrez accepted her award with thanks and said she had taught over 4,000 students in her 50-year career. She loves to go to class reunions, still substitute teaches at QHS, and laughs when classes suggest she may have taught their parents and grandparents.
"No doubt I did!" she chuckled. "There is something very special about teaching in a small town where you personally know your students and their families. Every teacher will tell you that there is nothing more rewarding than a student coming back to tell you that you made a difference, if only for a moment."
Women in Business
The Women in Business award went to Andrea Wilson, general manager at Quincy Natural Foods, for her outstanding support of the community on many levels.
Accepting the award from SIQ President Miravalle on behalf of Wilson, colleague Michele Fulton thanked the attendees.
"Andrea loves this community and she stood up to the task in 2017 when she filled Lucinda Berdon's shoes," Fulton said. "She was a buyer and learned finance and really got into the workings of our business. Andrea has quite a staff to herd; we're all some real characters! She's done an incredible job and right now, we're trying to de-frump an old hippie store started 40 years ago. Thank you."
Women Helping the Community
Introducing Kristi Jamason, leader of the Sierra Valley Art and Ag Trail project that will open again Sept. 28, Soroptimist Dailey awarded her the Women Helping the Community honor.
Dailey acknowledged the awardee's artistry as a wildlife photographer, festival organizer, businesswoman and conservationist with the Feather River Land Trust.
"These are just a few of her many accomplishments," said Dailey, a well-known artist in her own right. "Kristi is not only a great leader, she has enlightened many visitors and locals about our bountiful food sources, the natural beauty of our area and the talents of our local artisans. We are pleased to honor her for her hard work."
Jamason accepted her award with thanks and said, "It's truly rewarding for me to work on this event because of all the artists and ranchers who work on it, too. We create thousands of dollars in sales and I'm proud of the economic opportunities it brings to the community."
Soroptimist Sunshine Award
Soroptimist Mara Beatty bestowed the Sunshine Award upon Glenda Kitchens, calling the honoree "a very special lady."
Kitchens wiped away tears as Beatty said the Sunshine Award goes to a woman who makes everyone's day a little brighter.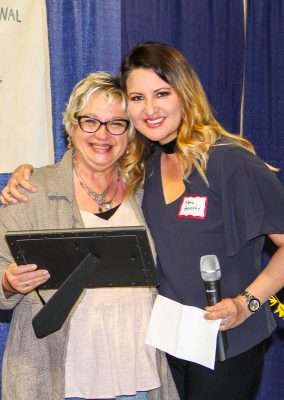 "Glenda's name brings up comments such as, 'She always has a smile on her face and something nice to say,' even having been through some recent hardships like fire and injuries," Beatty told the crowd. "You still see her infectious smile when you see her around town!"
Kitchens lived extensively in Texas and Southern California where she devoted part of her career to home healthcare and hospice work. In September 2015, she moved to Quincy with her husband Dave to be with their son, Matt Kitchens, his wife Leah and their children.
Advertisement
"I'm overwhelmed and I'm so happy to be in Quincy," Kitchens said, listing several families and loved ones who bring joy to her life. "We were welcomed from the start and it's really the most wonderful community. We are so grateful and we love you all!"
Scholarship service awards
QHS senior Sylvia Wood received the Soroptimist S-Club Student of the Year award by popular vote and a $100 scholarship as well.
Teacher Sue Gutierrez presented the award, citing Wood's accomplishments as a role model and said, "Remember everyone, S-Club is the largest, most active club on campus and these students are doing all kinds of other activities in addition to this community service."
Wood said, "Thank you very much. It's an incredible honor to receive this award. This community has blessed me so much."
The prestigious Violet Richardson Service Award and a $500 scholarship went to student Sarah Hoffman, a QHS sophomore who has demonstrated exemplary volunteer spirit and work as both an S-Club member and a student leader of her school's WEB (Where Everyone Belongs) mentoring program.
Hoffman talked about her commitment to making sure the seventh-grade students assigned to her for the year feel accepted at school and know they can turn to her for guidance and support.
"Thank you very much for this wonderful award," she said. "Soroptimist International does a lot for women and girls in our community. I'm very honored."
Penny Pines Remembrance
As the evening drew close, heartfelt tributes were paid to the recipients of this year's Penny Pines Remembrance awards. Soroptimist members presented the certificates as part of the U.S. Forest Service's Plant-a-Tree Program in national forests to memorialize loved ones.
Penny Pines awards honor community members who have passed away and are greatly appreciated for their longstanding support of people, places and projects. Soroptimist Ruth Jackson welcomed the families to accept memorial honors for Bertrande Stone (presented by Kris Miravalle), John Wixted (presented by Sue Miller), Faith Swanson (presented by Totsy Beck) and Chris Crawford (presented by Julie Hagwood).
Soroptimist of the Year
The final award of the evening drew a standing ovation as member Tracy Wixted, owner of the Ranchito Motel in East Quincy, was named 2019 Soroptimist of the Year for her energetic dedication to the club's many service projects and "for always filling in wherever there is a need," said SIQ President Miravalle.
Wixted was especially honored for encouraging so many new members to join the Soroptimist International of Quincy chapter, which has grown by 14 members in the last two years — several of them sponsored by the cheerful businesswoman.