31st annual Street Rod Extravaganza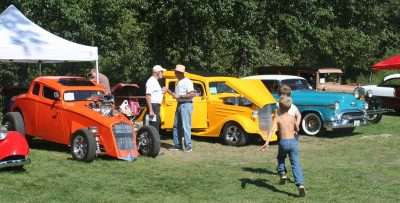 The 31st annual Street Rod Extravaganza attracted hundreds of locals and non-locals alike to view dozens of extraordinary cars lined up to compete at Chester Park for trophies Sept. 9.
Almanor Recreation and Park District board member Michelle Gosney created the unique trophies out of car parts, which were a big hit last year as well.
Featuring 105 registered vehicles, car enthusiasts showed off their beloved vintage hot rods and classic automobiles for trophies or at the very least bragging rights, and just as importantly to mingle with friends and neighbors.
ARPD sponsored the fundraiser with the help of local volunteers. The proceeds will be used toward community and kids' sports programs held during the year.
Organizers decided once again to open the Street Rod Extravaganza to a wider class of automobiles than years prior, including tricked-out, newer model vehicles.
The event kicked off the day before on Friday night at the Thirsty Trout Pub in Chester with a spaghetti dinner.
On the day of the show, a number of attendees danced in front of the amphitheater stage to the sounds of Westwood-based Side FX performing a number of classic tunes intermixed with contemporary rock anthems.
People also enjoyed barbecue served by Albert Vegas and ordered from a no-host bar offering sangria and margaritas.
Award categories for this year's Street Rod Extravaganza included Best of Show, Ladies' Choice, Kids' Choice and People's Choice, plus a number of merchant awards and honorable mentions.
ARPD board members organized the Extravaganza, which included the dedicated efforts of Gosney, Shane Bergmann, Colleen Garrett and David Slusher.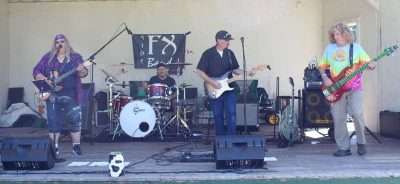 The registered street rodders had the opportunity during the event to enter the Poker Run, which involved making a number of stops at various businesses around Lake Almanor and picking playing cards to form a winning hand — and ironically and somewhat whimsically — an award for the worst hand, too.
Those who chose not to drive around the lake, but wanted to join in on the competition entered the Poker Walk instead.
The winners of the Poker Run were: first place and $300, Mike and Diane Chatfield; second place and $150, NeNer Stout; and third place and $100, Gary Kerch. The Poker Walk winners were: first place and $100, Christine Schlueter; second place and $50, Cheryl Johnson; and third place and $25, Terrie Berry.
The 50/50 drawing winner was Michelle Tedrick, who received $258.
Business sponsors included Almanor Auto & Welding, At Your Service Automotive, Intermountain Hardware Supply, Lassen Ale Works, Mt. Lassen Club, Lake Haven Resort, Plumas Bank of Chester, Rusty Chandelier, Plumas Tire Supply, Inc,/Tires & More, Rusty Roof Coffee Roasters, Slusher Plumbing & Electric, Chester True Value Hardware, and Willis and Sons Auto Wrecking.
Advertisement
The proceeds from the event help fund ARPD recreational programs for kids and other local events sponsored by the nonprofit community organization.