50,000 new arrivals to Lake Almanor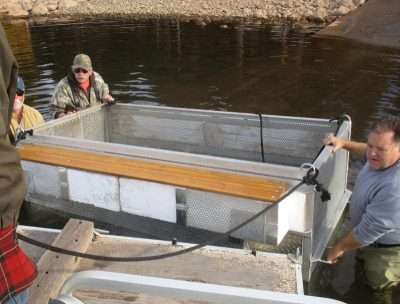 It's that time of year when the Almanor Fishing Association goes into high gear and puts all the hard work and community donations from the summer to good use.
AFA President John Crotty indicated the several tons of trout food is secure in the storage container, the protective log boom is in place and the fish pens have been repaired.
The transfer pen has been repaired by Almanor Anchor's shop and has been delivered.
That's all positive because 9:30 a.m. on Oct. 23 and 24, tank trucks from the California Department of Fish and Wildlife started showing up at the boat ramp of Lake Haven Resort to unload 50,000 fertile rainbow trout.
Over 20 AFA members manned the unloading of the trout into a transfer pen, moving them to the holding pens at Hamilton Branch with a pontoon boat and manually moved them into the pens with nets.
Some students from the Feather River College Hatchery Program came up to observe and help out the AFA.
The trout will be housed in the pens, fed daily by more AFA members and ultimately released into Lake Almanor next spring.
Each holding pen was populated with around 5,000 of the 4- to 6-inch trout so they will have plenty of room to grow before their release date.
There were also AFA members finishing up some maintenance and improvements to the dock walkways around the floating pens.
Each of the trucks bringing the fish are equipped with tanks that hold the appropriate number of fish, which make it easier to fill the pens with the efficiently.
Eight truck loads on Tuesday and two final loads on Wednesday, lots of hustle by many volunteers and some pizza and other goodies to fuel the dedicated group, and another crop of future lake monsters is ready to spend their first winter in Lake Almanor.
Crotty offered a huge thank you to all the folks that came out to complete the massive undertaking.
He also gave a special thanks to Lake Almanor Marine Biologist Amber Mouser for helping to coordinate the project and Adam Fuller who is the Hatchery Director and Environmental Science Studies instructor at FRC.
Of course this could never be sustained without the help and assistance of the folks at the CDFW and the Darrah Springs Trout Hatchery.