A 30-year landmark at Wildwood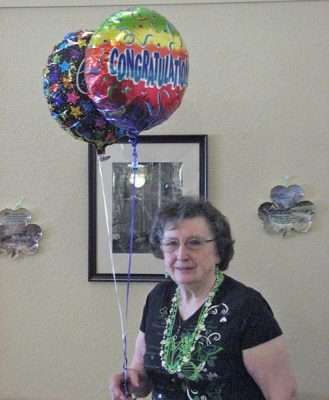 A special afternoon of celebration and congratulations took place at the Village Café inside the Wildwood Senior Center in Chester on March 7.
The Village Café is the local site for the Plumas County Senior Nutrition Program and the staff planned a special event to commemorate 30 years of direction and service by Site Manager Carolyn Steurer.
Steurer related that when she started the job in March 1988 it was originally going to be a temporary part-time position to fill in some idle time, but as the need increased and her fondness for all the folks increased as time passed, it wasn't long before the mold was set for a long-time venture.
She and her staff prepare and serve an average of 50 to 60 mid-day meals to residents at Wildwood and patrons that come in to enjoy the food and community conversation.
Advertisement
On special occasions or holidays like St. Patrick's Day or Thanksgiving, the numbers easily swell to 100 or more.
Steurer explained that many years ago as they attempted to provide a more welcoming atmosphere, they have moved away from an institutional — think cafeteria — style presentation and have moved toward a more home-cooked approach to the way the menu is prepared and having the meals served to the diners tables like in a restaurant.
These are probably some of the reasons why the attendance at her anniversary celebration was well above average and rumor has it there was a special cake brought in.
Several attendees praised the staff for a nutritious and tasty meal that included pork roast, potatoes, peas and cauliflower, applesauce and whole-wheat rolls.
Andrew Woodruff, acting director of the Plumas County Public Health Agency, and Plumas County Senior Nutrition Program Manager John Rix traveled from Quincy with recognition and congratulations.
Steurer shared, "My experience here has been most enjoyable. These folks are like an extended family for me and I have served three generations with some of them."
Never one to miss an opportunity to welcome the community, she also reminds everyone that The Village is open to everyone weekdays, Monday to Friday, at noon.
For seniors (60 and over) the meal costs $2.50 and for non-seniors, $6. Reservations are recommended and can be made by calling 394-7636.
A weekly menu for the senior nutrition sites can be viewed in the Chester Progressive, Regional Section next to the Calendar of Events.