Artist installation on patriotism at Plumas Arts
Art is supposed to make you think. That's what we learn in art school, anyhow. A good art show leads the viewer to questions and themes and makes the viewer confront their own perceptions and their own culture. A good art show doesn't just produce pretty things that match the couch in one's living room.
Plumas Arts Gallery held its first Friday of the month art opening Feb. 1, and did just that by providing space for fine artist Rafael Blanco's new art installation "Made in USA" — an exhibit sure to illicit emotional and political responses.
"The society in the United States, like most societies around the world, is full of paradoxes and inconsistencies. However, we tend not to question what is accepted as normal because we tend to adapt to our environment by following customs, traditions, and rules," began Blanco's artist's statement regarding the new work.
Blanco invited friends, neighbors, and community members to pause for a moment and consider the American flag and how we use it.
Advertisement
Blanco arrived as an immigrant from Spain in 2001 — a pivotal year in American politics — given the tragedy of 9/11. Immediately after 9/11 red, white and blue products went up everywhere. George W. Bush notoriously started the "America: Open for Business" campaign which featured red, white and blue flag colored shopping bags.
For Blanco, the American flag obsession in products felt incongruous with how he grew up thinking of flags as both sacred and as something that might point to nationalism (think fall-out from the Spanish Civil War and Franco's Spain).
In Spain, he said at his opening Feb. 1, you could not display the flag for fear that people might think you were a fascist. In Spain as well, wearing the flag as apparel as Americans do — be it bikinis or jackets or underwear would be disrespectful. You cannot let a flag touch the ground or get dirty but many products that are made of flag material do just that. A paradox.
The "Made in USA" show seeks to explore how we use the flag and what we use it for. It is a conversation meant to provoke dialog but not to reiterate any one point of view, Blanco stated at his opening — decked out in an American flag windbreaker, and delivering his speech from atop the Plumas Arts desk. The gallery was standing room only that night.
"The meaning of patriotism has changed with presidencies, world conflicts and new generations. Even though the love for the country has always been embedded in American society, the way patriotism is expressed and communicated has transformed. As a result, it has affected popular culture and the American flag these days is used in contradicting ways," said Blanco.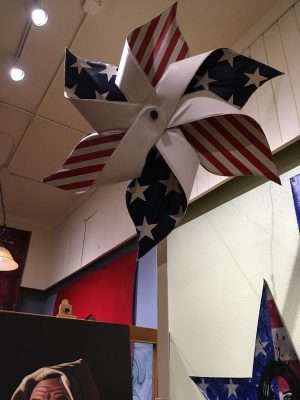 Most of the installation is paint on stretched canvases unframed and grommeted using house paint and spray paint and stencils for the flag designs. Blanco then hand painted each image on top of the flag designs, but made them look as if they were street art stencils or prints. A Banksy influence was hard not to miss. They are a mixture of fine art and street art on one canvas.
The "Made in USA" installation takes up the whole gallery, however in the office area of Plumas Arts are four mural sized paintings also by Blanco that are mesmerizing in their size and detail. Of particular note is a floor to ceiling portrait of a flamenco dancer — scheduled to head to Spain after the Plumas Arts show in February.
Indian Valley Academy's junior history class had been studying 9/11 and its impact on the American psyche and political policy. Their teacher made coming to the art show a requirement for class. One student decided to purchase his first piece of artwork. Some had never been to an art show before.
Blanco is the primary full-time art instructor and department head at Feather River College. His students past and present were also on hand to examine his art work, along with a few colleagues who exclaimed publicly how lucky Feather River College is to have such a masterful fine artist teaching at the college.
In the gallery that night, you could see the discussions already being sparked by the artwork among both students and community members.
"Made in USA invites the viewer to love American culture as it is, as well as to be confused by it. There are no simple answers, only complicated questions," wrote Blanco in his artist's statement. "What does patriotism mean to you?"
Blanco's installation will be up at Plumas Arts through the month of February and can be seen during operating hours, Wednesday through Friday, from 11 a.m. to 5 p.m., and Saturday, from 11 a.m. to 3 p.m. The gallery is located at 525 Main St. in downtown Quincy.