Artistry in stone signs has wide appeal
Bill Jacks is right at home in geologic time, bringing out the beauty, character and timelessness of granite, sandstone, andesite volcanic rock and other stone materials at his sprawling Quincy production facility.
Jacks became CEO of Stonehenge Signs in 2017, purchasing the successful sign and monument company from founder Rob Conover, his neighbor and mentor.
"Each sign is a piece of art and I love to come to work," the down-to-earth executive said with a smile, giving a tour of his sunny shop and open yard filled with boulders and stone slabs out on Trilogy Road.
Jacks is also the artist-in-chief for Stonehenge, having trained extensively with Conover.
The spacious property is filled with beautiful examples of stone and wood signs in various stages of completion, side by side with huge, quarried stones awaiting the sandblasting production phase.
Born and raised in Quincy, Jacks earned his B.S. in biology at CSU Humboldt and worked for the U.S. Forest Service on fisheries projects and as a wildland firefighter. He moved to Butterfly Valley in 2013 with his wife, local pediatrician and obstetrician Erin Barnes, M.D. It was there that his life took a decided turn.
"Our property needed a LOT of fire prevention work," Jacks chuckled at the memory. "I mean a lot! So I had my work cut out for me and I started my own business, Butterfly Valley Forestry."
His neighbor, Conover, saw him working all the time and invited Jacks to come check out the sign-making business. Locally known for his many iconic signs such those welcoming visitors to the Whitehawk Ranch near Clio, city of Portola, Quincy and many other classic markers, Conover had built a thriving production company that served clients all over the West.
Jacks was intrigued. He had studied sandblasting years earlier as an art form at Quincy High School and found the medium appealed to his artistic nature.
It was a perfect fit.
"Rob told me I was a natural and could come and work for him anytime," Jacks said. "We became really good friends and I eventually bought the business from him."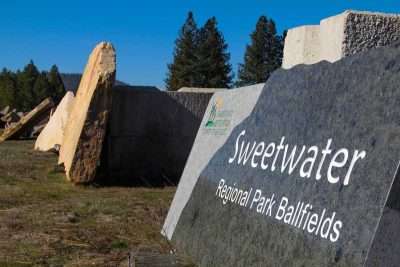 Today, the company creates a wide range of stone and wooden signs for a nationwide customer base.
Before work begins to create an intricate template mask and sandblast the letters and art into a raised relief or deeply engraved design, the slabs and boulders can weigh upwards of a ton, some of them even more. For example, the boulder monuments commissioned for Golden Gate Park in San Francisco weighed between 20,000 and 38,000 pounds apiece.
"Not long ago, I got a call from one of our Florida clients who told me, 'Our sign survived the hurricane and by the way, it's beautiful!'" Jack said.
There are as many uses for stone and wood signage as there are types of rock and species of trees. Redwood is popular for wooden signs and Jacks says fir makes a beautiful sign, too. Often the wood signs are painted, making them stand out as both effective logos and helpful signage.
Stone signs can be polished or left in a more natural state and Jacks can engrave on a variety of surfaces, rough or smooth.
"A flat, polished surface gives you a very clean look," Jacks said. "A rougher surface is cool and has more character. The undulations in the stone can give the appearance that the lettering isn't squared up, but it is. It's just the natural look."
The businessman has always had a deep appreciation for art and the process of creation. He loved drawing, painting and ceramics when he was a student and now he puts those talents to use creating detailed, custom templates and designs for his clients.
Jacks especially enjoys his work because he shares Conover's commitment to creating monuments and signs that have a lasting beauty.
"If you're an artist," he said, "you'll find ways to express art in anything, tying a fishing fly or making a sign for someone who has lost their beloved pet."
He is working on just such a piece right now, a tribute to a Golden Retriever named Quincy.
His client list includes fire departments, beach communities, cities, counties, ranches and many others. Orders come in for a variety of projects — from corporate signs to park dedication pieces where families want to commemorate a loved one in a different fashion. Stone signs are especially popular because they are maintenance free.
Each order begins with a description of what the client is hoping their sign will look like, how large it should be, and where it will be located. Projects that are engraved into boulders run about $2,000 per ton of stone; slab designs are about $200 a square foot.
Jacks asks customers to plan three to four months ahead of time to get a spot in his production schedule. He creates a mockup of their finished sign and sends the customer a photo sample that illustrates what the finished sign will look like in the setting specified by the client.
And yes, he's a bit of a perfectionist.
"Every job is individual because it's a work of art," Jacks said. "Stones, they are a sacred piece of the earth and we want to respect that. We want to make sure that the stone is loved for years and years."
Judging from the testimonials of his customers, they truly are.
Stonehenge Signs, Inc.
Bill Jacks, CEO
Address: PO BOX 387
Quincy CA 95971
Phone: 249-6000
Web address: stonehengesigns.com and [email protected].