Black Mountain inspired artists include the public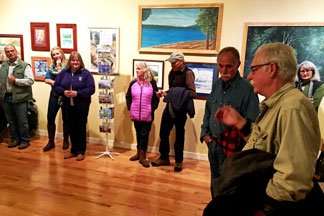 Lookouts, firefighters and members of the community gathered at Plumas Arts on Nov. 18 to share memories of an honored and iconic forestry lookout ranger, recently deceased, known as "Specs."
People huddled together on a chilly night to hear tales of Smith Peak Lookout Richard Bruce (Dick) "Specs" Maheny, who inspired many adventure stories with the forest as the background.
"Specs" was the knowing voice from Smith Peak for decades while he served as the lookout. Stories of his uncanny knowledge of the area filtered into the retelling of events throughout his tenure at the high viewpoint known to only a few.
Unrealized to many, "Specs" was inspired to paint large and impressive scenes which graced the walls of Plumas Arts that cold November evening. The artwork will be on display for those that missed the event further into the month at the Plumas Arts Gallery.
Beside the paintings by the longtime resident of Smith Peak Lookout are those of a "first-timer" to a lookout scene, James Johnson.
Chosen as visual Artist in Residence by Plumas Arts for 2016, Johnson was given a multiple-day stay at the lookout to paint. His watercolor impressions are the other half of the art show featuring National Forestry lookouts now displayed at the gallery.
Artists in Residence for 2015, Lucinda Wood and Nathan Slinker, both presented their experiences staying at the fire lookout last year atop Black Mountain.
Although selected for her skill with watercolors, Wood told a visually stimulating tale of her time on the mountain surrounded by windows in every direction.
Slinker read poetry selections he wrote inspired by the lookout from a booklet produced by Plumas Arts commemorating the joint-effort that features paintings by Wood.
The booklet, the inspired artwork and many pieces in various mediums by other local artists are on view at Plumas Arts Gallery, which is open each Wednesday through Friday, 11 a.m. to 5 p.m., and Saturday, 11 a.m. to 3 p.m.
Advertisement
Save
Save