Blue Goose Gallery to kick off 'First Fridays'
The Blue Goose Gallery of Artists is once again gearing up to kick off the 2019 season with its upcoming series of "First Friday" art parties starting Friday, May 3, from 5 to 8 p.m., featuring five extraordinarily talented artists with lots of new artwork to share with the community.
The theme for May is "Here Comes the Sun!" — a celebration of spring and sunnier days ahead.
Many people don't know that Blue Goose is operated as a co-op, with the resident artists as well as a few living elsewhere committed to working together to expand the gallery's remarkable reputation for fine artwork.
The after-hours art exhibit features oil painter Teri Strong, photographer and crayon artist Glen Donley, needlework and felting artisan Judy Wallace, pottery designer Linda Erway and painter Cathy Frick, sharing their new works while demonstrating their artistic techniques for the enjoyment of guests.
Visitors will enjoy refreshments during the special occasion, plus door prizes, as well as a "guessing jar." Guess how many items are in the jar and win a $25 gift certificate to spend at the Blue Goose Gallery.
As attendees tour the gallery's large display rooms, a vast variety of amazing artwork is on exhibit, a big part of the fun when visiting the Blue Goose any time of the year!
For information or questions about the celebration of art at the gallery location, call the Blue Goose Gallery of Artists, located at 607 Main St., Chester, at 258-2600.
Teri Strong
Classically trained artist Teri Strong has spent the last four decades orchestrating the various elements of landscapes, perfecting still life and painting what inspires her. She said she enjoys the world around her whether it's her own garden, family members or travel experiences.
As a young student, Strong won an award where she was honored at San Francisco City Hall for her artwork. "This experience sparked a lifelong passion in me for art," she confided.
Later, she studied under Chilean master artist Luis Busta, and also taught in his private art school.
Since moving to the Lake Almanor Basin Area and joining the co-op, Strong said she has enjoyed being part of the Blue Goose Gallery of Artists, getting to know her fellow artists and meeting art collectors who frequent the gallery.
Many of her newer paintings depict local landscapes, capturing the beauty of each unique season in Plumas County.
Strong also has a studio based in Northern California where she paints and teaches.
She believes that when you learn to see the world with the eye of an artist, you can "find beauty and inspiration in what many might perceive as ordinary," adding that she paints to "recharge and balance the soul."
Her favorite quote is by Pablo Picasso: "Art washes away from the soul, the dust of everyday life."
Glen Donley
Glen Donley's favorite photographer is the late Ansel Adams, for whom he studied with many years prior, quoting him that, "The most inexpensive Brownie box camera will probably be more camera than you will be photographer," meaning that it is the photographer and not his equipment that makes for a good photograph.
Donley is an art-lover, he asserted without hesitation. "Isn't there lots to see and try in the world of art?" he asked rhetorically.
Besides photography, he's also known as "the crayon guy," because he's able to mimic the look of oil paints using a multitude of colored wax crayons and a paper medium that "I have always loved, and been challenged by," adding, "Who would have thought there was so much possibility in one little wax crayon?"
Referring to his artistic sensibilities, Donley shared how in his mind's-eye, he could see a still life, the ripples in cloth or the fur on a cat and, armed with a box of crayons and a piece of paper, "create a detailed artwork of crayon."
As a very young boy, and with the assistance of his parents, Donley recalled making more than one visit to Huntington Library in San Moreno, where "I was struck by the artwork of masters like Gainsborough, Lawrence, and Warhol. … Later, I traveled to see the work of American artists like Russell, Wyeth and Ansel Adams. I was astonished at how these artists could render their work so detailed and lifelike."
Later in life as a young adult, between 1976-1984, he worked as a photographer for a company called Creative Glamour, in Orange, doing people photography and modeling portfolios.
"This was a great time of learning for me in how to make people comfortable, while creating a unique image for them."
Every year Donley said he travels to see what other galleries have to offer, and every year "I see that our Blue Goose Gallery could match the quality of its artworks with any of the most famous art towns anywhere across the country. … We have a ton of great art," he continued. "I'd love to see as many people as possible come to visit us and share some of their stories."
He also mentioned that the gallery has some new members, whose works he can't wait to see, as well as to "show you mine!"
Judy Wallace
Needlework artist and felter hat maker Judy Wallace said she is a Baby Boomer who was lucky enough to have grown up on the Central California Coast, surrounded by the fertile fields of agriculture and the beautiful Pacific Ocean.
"In the 1970s, I felt a need for a change, a change to four seasons and a remote mountain home in a small community to raise my children. So I moved to Plumas County and a couple of years later to Lassen County," living happily creating art in the town of Westwood.
Advertisement
"I have always been inspired by nature," Wallace shared, "be it the wild Pacific Coast or the roughed mountains and quiet lakes of both Plumas and Lassen Counties."
The feel of needlework has always felt comfortable in her hands since she was about 10 years old, she said, "at which time my mother and grandmothers taught me to embroider and sew garments. … About five years ago I went to a knitting group in Westwood where I was taught the art of knitting, and immediately felt at home."
Wallace went on to mention that once she started felting her knitted items, "I became very inspired. … I love to recycle and reuse many of the items I use for embellishment left over from other sewing and craft projects," such as pieces of lace, trim, feathers, buttons and other accoutrements.
She said she especially enjoys using a vintage look with a Steampunk twist just for the fun of it.
Linda Erway
Linda Erway started working with clay in college in the early '70s. A sign on campus advertised a "Pot Sale," she recalled, "and I was intrigued."
She said she walked into the showroom, looked at all the wonderful student clay work, "and knew what art classes I was meant to sign up for!"
Although now retired, Erway said she once taught elementary school, while at the same time she was slowly working setting up her own art studio at home.
"I love the time I spend working in clay," she stated. "I enjoy making functional as well as decorative pottery for home or office," using materials that are meant to be incorporated in the kitchen, like bowls, that are food safe and can be safely placed in the oven or dishwasher.
"It's really fun to hear people say how they will use the pieces that I've made. … Life is Good!"
Cathy Frick
If there's one thing Cathy Frick insists on it's to, "Be bold, live bold, see boldly," and especially to "Paint bold!"
A professional artist, Frick is best known for her vibrant, bold colors — not a surprise given her motto.
There has never been a time when she didn't love to draw or paint, and finds it important to tell a story with paint, pallet knife, brush and canvas.
Frick studied Fine Arts at the Columbus College of Art and Design, but finished her degree at Bowling Green State University, majoring in Visual Communications Technology, Print Production and Graphic Design.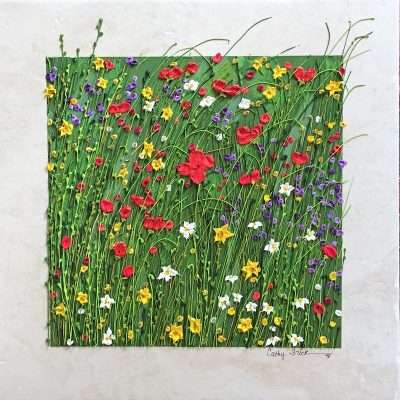 At the age of 50, and after a long successful career in printing, she returned to her true love of the arts.
In fact, her paintings can be found with many private collectors across the country.
Explaining what motivates her when she creates, she said, "I want to draw the viewer in and give them a sense of connection to my artwork."
Inspired by nature, guests to the Blue Goose Gallery will find her interpretation of the world and her subjects both surreal and fascinating.