Book signing coming for local writer's first book
'The Haunted Serpent' release June 5
It was a golden moment when Dora Mitchell's first two copies of her debut novel "The Haunted Serpent" arrived from Sterling Children's Books.
For the Quincy resident it was a long-awaited dream come true as she admired the raised lilac-colored lettering of the book's title on its cover.
Her artwork even graces the front cover and appears throughout the book.
The book is available for sale beginning Tuesday, June 5. To help her celebrate everyone is invited to join her at a book signing to promote "The Haunted Serpent" on Wednesday, June 6, at Barn Owl Books, 343 Main St. in Quincy, from 4 to 6 p.m.
Mitchell said that it is important to her to start the event early. "Hopefully (we'll) get the kids after school." Some of those students might remember her from her story times and summer reading programs when she was the children's librarian at the library in Quincy.
Along with free bookmarks promoting the book, Mitchell said there will be drawings for prizes.
Dream to write
It's like the old adage, which came first, the chicken or the egg? That's the way it is when Mitchell is asked if she wanted to be a writer or an illustrator first.
She loves books. She loves art. That's why she earned her bachelor's in art and her master's in children's library services.
She has always wanted to write books and began this novel years ago. In fact, she finished the book before her first agent agreed to take her on — on Mitchell's terms.
Once she had an agent, that agent began scouting a publishing house looking for the kind of young adult novel Mitchell had written.
Sterling, one of New York City's top five publishing houses, happened to be interested, she said.
Those just turned out to be the first steps in another lengthy process.
The first editor began working with Mitchell and her book. Then others joined the process, each with his or her strengths and purpose.
Then the art editors joined the process. Not only were the editors making suggestions for changes to improve the work Mitchell originally created, the art editor was making suggestions. Sometimes it was the art that needed a change, sometimes it was the storyline to better represent the art.
This process with all of its deadlines took months.
In the end, Mitchell is quite pleased with the book, but one illustration of a map that was noted for change didn't get done. Mitchell said she repeatedly pointed it out, but it got overlooked as proofs went back and forth.
Also, the front cover isn't the original one Mitchell designed. One of the editors thought the one that now appears was better.
Self-publishing versus publishing houses
There are pros and cons about whether self-publishing is the way to go or whether the often lengthy task of finding an agent and then a publishing house that will accept the work is better.
For those who want complete control, self-publishing is the way to go, Mitchell has come to realize.
Despite the years it took to find an agent she knew she could work with, and then waiting for a publisher to become interested in her book, Mitchell still believes it's right for her.
"The teamwork makes it so much better," she said. One editor could draw from what she called threads in the story and make suggestions about how she could improve it.
It all meant hours and hours of revisions and illustration changes, she said.
Of course, there are the real benefits of getting a book published. Not only did she receive the benefit of getting "people who know how to do things," there are reviews that are sought and published in all the right places. The book is also sent to all the big bookstores (Amazon, Target and Barnes and Nobles), without the writer needing to do that process. The book is also available on Kindle.
Although Mitchell is encouraged to cover Northern California promoting her own book, she doesn't have to cover the nation or worry about international sales if it comes to that.
She also gets paid for going to conferences designed for those in the business.
Book two
Although Mitchell has prepared an outline for the second in a possible trilogy featuring Spaulding Meriweather and his spooky adventures, its offer depends on the success of the first novel.
Then it depends on whether the editors like the outline or want her to change it. That could mean little changes, moderate fixes or scrapping the whole outline and writing a new one.
There is also no artwork yet for book two, she said.
Learning about the business from various sources, she said that it's her understanding that the editors really ramp up the deadlines for subsequent books.
Mitchell is almost of two minds when it comes to considering a second book. "Frankly because I've been working on this for so long," she has other books she could turn over to her agent to market if it doesn't work out.
She has a children's picture book, a graphic novel and other works that she could turn over to her agent. She could do that even if "The Haunted Serpent" is successful. She doesn't limit herself.
Shorter deadlines are almost intimidating, considering the amount of work involved. "I know I would freak out."
On the other hand, being successful with a first novel is what it's all about.
Mitchell works part-time deliberately to give herself time to dedicate for writing and illustrating.
She doesn't like the idea, at this point, of not working at least part-time. She sees people who give her ideas for characters to develop and she hears things that she could turn into a conversation with her characters. She loves the interaction of being with people and believes she would "get too isolated," if she didn't work outside her home.
The reviews
Mitchell's first novel has been compared with the writings of John Bellairs and R.L. Stine, and others, according to Kirkus Review.
"He was one of my major heroes when I was a kid," Mitchell said about the American Gothic mystery writer Bellairs.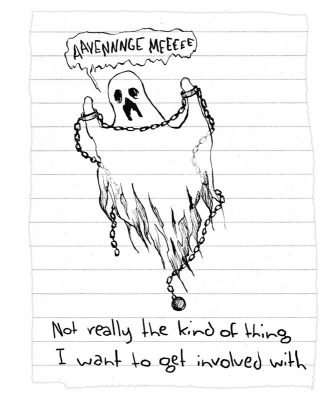 Although Mitchell wasn't born yet, Bellairs was especially popular in the 1960s and 1970s, she said. He wrote "The House with a Clock in its Walls," and 14 other published books.
Edward Gorey was the illustrator for Bellairs' books, she added. Mitchell, an artist, remembers studying Gorey's pen and ink drawings. He was noted for adding lots of lines to his work.
Considering Gorey's art, Mitchell said it had an impact on her own art she created for her novel. "It didn't end up looking anything like his stuff," she said. But the influence was still there.
"Mitchell's tale infuses mystery, horror, science fiction and a tinge of humor to entice a wide variety of genre readers. The author's strong description of the main character's actions paired with comic-style illustrations clipped from Spaulding's research journal, stimulates empathy as well as curiosity. Readers will feel as though they are investigators alongside Spaulding as nonstop hints and clues are sprinkled throughout. . . . . A spooky, high-interest adventure for reluctant readers and fans of action-packed tales," said the School Library Journal.
Mitchell's debut novel is "… engaging and goose bump inducing," according to Booklist.
Publisher's Weekly carries an ad for Mitchell's new book and calls it a great read for middle school children.
About "The Haunted Serpent"
Ghosts and zombies and boa constrictors, oh my!
Spaulding Meriweather has moved around a lot with his great-aunt Gwendolyn.
She used to home-school him between writing her bestselling mysteries, but now that they have moved to her girlhood hometown, Thedgeroot, he has started attending sixth grade at public school.
Making friends is not his strong suit; he's a little odd, just like his parents, who have a specious paranormal-investigations television show that keeps them too busy to care for him.
Complicating matters, he is pretty sure he saw a zombie — er, revenant — in the woods outside of town, and someone is stealing bodies from the local cemetery.
Then he meets the ghost next door, Mr. Radzinsky, who was eaten by his own boa constrictor.
Spaulding contacts his parents; they won't come. He decides to go it alone and investigate the zombies and the not-so-abandoned Slecht-Tech factory nearby … well, not alone. There's fourth-grade neighbor Lucy Bellwood and her older sister, Marietta, and another classmate, Kenny Lin — and Mr. Radzinsky seems keen to help as well.