Business Scene for the week of 10/17/18
Salon in Chester
FALL HOURS; CLASSES OFFERED
It may have taken some time, but Adrienne Anita (aka Mama Fig) has realized her lifelong dream of making a living knitting and crocheting with a business helping others learn the craft when she recently opened Mama Fig Yarn & Art Collective. After graduating from U.C. Davis, Adrienne knew she needed an "impactful way to earn a living" so she taught school for 10 years raising the capital to eventually open a store. She spent time working in Portland and in Petaluma before eventually moving to Graeagle where she opened her business at 7597 Hwy. 89. Her fall hours are Thursday through Sunday, 11 a.m. to 4 p.m. In addition to selling all the materials, books and patterns needed for this craft, she also offers regular Sit 'n Stitch classes on Fridays and Saturdays, noon to 3 p.m. And on the fourth Wednesday of each month she conducts a Sip, Sip, Knit session at Quintopia Brewing in Quincy from 5 – 7 p.m. For a complete list of her knitting, crochet, spinning, fiber arts and local art classes, visit her website: mamafig.com.
NEW TECHNICIANS, NEW EQUIPMENT
New technicians and some new equipment have been added to Frank's Garage in Quincy according to owners Bryan and Joy Strecker.
Jamie Tadlock Goldsmith relocated here from the Bay area two years ago to attend Feather River College. She began an internship at Frank's earlier this year and now that that has finished with that and earned her certification as an air conditioning technician, Jamie decided this is exactly what she wanted to do and where she wants to live and work.
Jonathan Medrano moved here from Idaho with his girlfriend Hayley and their 4-month old daughter Tinsley to be closer to Hayley's family. Jonathan cut his teeth in the business, turning wrenches since he was 12. He takes pride in being a diesel specialist for both Chevys and Fords.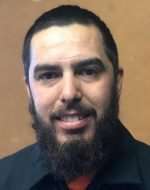 Bryan also purchased a new Ford computer with dealer-level diagnostics and programming for 1996 and newer vehicles. They also invested in a Challenger drive-on lift rack for larger vehicles, including full size trucks up to 22 feet long and14,000 pounds.
EVENING CREATING PEACE FLAGS
You are invited to join Plumas Rural Services' Domestic Violence Services at a special affair this Saturday, Oct. 20, at The Drunk Brush in downtown Quincy. Create and Sip for a Good Cause is a celebration of strength and courage with attendees creating Peace Flags from 4 to 7 p.m. The $35 fee includes one beverage, appetizers and all the art supplies. Space is limited so they ask that you enroll online at: www.plumasruralservices.org/dvsurvivors.
… AND FOR YOUR LISTENING PLEASURE
The live entertainment continues at The Drunk Brush in Quincy. For your listening enjoyment, owners Riccardo and Wendy Jacobus have booked some incredibly talented performers that include Andrew Ohren tonight, Oct. 17; Hank Alrich tomorrow night (Thursday); Passive & Company on Friday night, Oct. 19 and Hank returns Oct. 25 with Linda Marguretic and Gorden Keller on Oct 26. This stylish wine bar's entrance is from Grover Alley (just behind the library).   
Advertisement