Business Scene for the week of 10/3/18
Outpost's new owners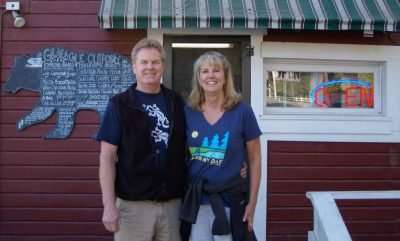 FEHRMAN MORTUARY CLOSES
With the recent and sudden passing of Funeral Director John Fehrman, the family has decided it is necessary to close Fehrman Mortuary's Quincy, Greenville, Chester, Portola and Westwood offices temporarily while they regroup from their devastating loss. However, they will continue to serve the families they are currently supporting through their time of need.
MEAT BONANZA AT EVERGREEN
It only happens twice a year — Evergreen Market's Meat Bonanza. Store manager Scott McCallum says this semi-annual bulk meat sale this Friday and Saturday, Oct. 5 and 6, is the ideal time to stock up your freezer for the winter with this incredible pricing. They have also added the new Coca-Cola Freestyle Touch Screen soda-dispensing machine. It offers more then 80 choices of flavors for the user to pick and choose from, pairing perfectly with their deli sandwiches and fresh salads. The supermarket is in Greenville.
QUINCY CHAMBER LUNCHEON
The Quincy Chamber of Commerce is having its annual luncheon Wednesday, Oct. 10, from 11:30 a.m. to 1 p.m., at the Mineral Building at the Plumas-Sierra Co. Fairgrounds. In addition to getting an annual report from the Chamber, Feather River College president Dr. Kevin Trutna will discuss the school's 50 years in the Plumas County.
CUSTOMER APPRECIATION DAY
On Saturday, Oct. 6, from noon to 4 p.m., the Feather River Food Co-Op in Portola is having its annual Customer Appreciation Day. Activities include live music, face painting, apple pressing, food demos, free samples, prize giveaways and more. Just a note: The Quincy Natural Food Co-Op is having its event Oct. 20.
SELF SERVE SALAD BAR ADDED
You don't have to be a golfer to stop by and enjoy lunch at Mt. Huff Golf Course in Crescent Mills. To complement the array of sandwiches, hamburgers and hot dogs on their menu, owner Elisa Rutledge has just added a self-serve salad bar. Diners will enjoy some great food coupled with spectacular views of Indian Valley. Note: Elisa serves her special Philly cheese steak sandwich on Tuesdays, Thursdays, Saturdays and Sundays.
PUMPKIN PATCH SATURDAY
Elizabeth Powell is having a Pumpkin Patch Saturday, Oct. 6, from 9 a.m. to 2 p.m., at the Five Foot Farm, located across from Quincy's airport. In addition to picking your pumpkins, other items available for purchase include produce, baked goods, refreshments and other goodies along with face painting and games for the kids.
PLUMAS PRIDE GOLF TOURNAMENT
The hole-in-one prize at the upcoming 37th annual Purple Pride Golf Tournament at the Plumas Pines Golf Course on Saturday, Oct. 13, is a 2019 Dodge Ram pickup. Additional prizes available that day include golf packages, Reno Aces tickets and an overnight stay at the Nugget in Sparks and two tickets to the Jay Leno show. Proceeds benefit the Portola High Boosters Club. For more info, call the course or Liz Maddalena at 775-781-6994.
CORRECTION ON USING TERM BARBER
When I mentioned in this column that Aileen Tavernia is cutting men's hair at the Downtown Barber Shop in Quincy, I referred to her as a barber. She is actually a licensed cosmetologist, not a licensed barber. I now know the difference.