Business Scene for the week of 2/20/19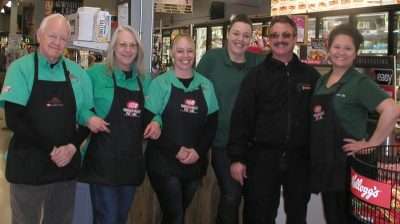 EVERGREEN EARNS FIVE STAR STATUS
The hardworking team of employees at locally owned Evergreen Market in Greenville have every reason to smile as they once again earned the coveted 2018 Five Star Status from the Independent Grocers Association, a distinction they received last year as well. The rigorous IGA process for earning this distinction ensures customers are encountering exceptional shopping experiences each and every time they enter the store. In its report, Evergreen was noted for its friendly employees, unparalleled selection of products and its excellent customer service. IGA also noted its selection of fine USDA choice meats, organic produce and fresh baked bread and pastries. Congratulations to store owners Ken and Centella Tucker and to their team for earning this status the past two consecutive years! For 40-plus years, thanks to their patrons Ken and Centella and family been able to give so much back to this community — the textbook example of how small town relationships between the community and businesses should work!
POWER OUT, NEED GAS? NO PROBLEM
With the recent power outages and reports that PG&E will have more planned outages this year as dictated by the weather and wind, Ghulam Fareed, owner of the Mobile Station and Mini Mart on Lawrence and Main streets in Quincy has invested in a massive generator. It'll not only keep the lights on but it is big enough to power all of the gas pumps as well as everything in the store, including all of the refrigeration units, the food mart's equipment, the ATM machine and the cash registers. Bottom line: Power or not, the gas station and store will always
be open during normal business hours and the fuel pumps will remain operational 24/7. Besides the obvious convenience this provides those in need during these inconvenient outages, from a larger safety perspective during an emergency this is a huge asset for our community.
CHAMBER MIXER FOR PDH CEO
Plumas Bank and Quincy Chamber of Commerce are co-hosting a meet and greet mixer to welcome JoDee Tittle, Plumas District Hospital's new CEO. It's Thursday, Feb. 28, from 5:30 to 7 p.m., at the Quincy branch on Main Street. Light refreshments will be served and be sure to bring a business card for a chance to win a great door prize. See ye there!
NEW WINTER MENU AND HOURS
Coyote Bar & Grill chef and owner Terry Moore continues to offer his special winter menu featuring all of your favorite winter and summer classics into one special menu featuring a great selection with that tradition Mexican flair. Oh, and did I forget to mention the 70 premium brands of tequila they serve or the acclaimed restaurant's famous Wall of Flame featuring 50 worldwide hot sauces. The restaurant is located on Highway 89 in Graeagle (at the River Pines Resort) and is currently open Wednesday through Sunday, with happy hour 3 to 5 p.m. and dinners 4:30 p.m. 'til closing.