Business Scene for the week of 6/20/18
Welder opens shop at Almanor
CONNER JOINS THE DICKSON TEAM
The Portola office of Dickson Realty is pleased to welcome the newest member of their team, Kimber Conner, as office manager and team coordinator. Her responsibilities include supporting the office's agents and their clients. In the very important role of transaction coordinator, Kimber will ensure that all escrows are handled correctly and thoroughly in a timely manner assisting clients from the time escrow opens until it closes. "My focused expertise and dedication will ensure each and every transaction will run smoothly."
QUINCY CHAMBER MIXER
The Quincy Chamber of Commerce is having a summer mixer Thursday, June 21, from 5 to 7 p.m., at the Feather Bed Inn on Jackson Street. Enjoy Jeffrey's Pub & Grub's food, beer by Quintopia Brewery along with wine, soda and summer cocktails while mixing and mingling with other Chamber members. There will also be prizes raffled and tours of the Inn.
7th ANNIVERSARY, BUSINESS AS USUAL
Mike and Lisa Kelly are celebrating their seventh year as owners of Moon's Restaurant in Quincy. "We feel so lucky to have had this experience but we are ready to sell the restaurant to owners who love our community just as much as we do," Lisa said.  "Meanwhile, she added, you should know the dinner house, serving its traditional dishes, is looking as beautiful as ever and the patio looks like an oasis!"
NURSERY'S GRAND REOPENING
Rocki Eriksen has reopened her business, California Sister Nursery located at the Feather River Hot Springs near Twain, for the season. Open Wednesday through Sunday, she is offering a special 20 percent discount on everything she carries, which includes trees, shrubs and perennials, through July 8. We should also mention the Summer Concert Series at the Hot Springs featuring music and cold drinks overlooking the scenic Feather River — On June 26 it's Luke Winslow-King from New Orleans. Visit featherriverhotsprings.com for more.
Advertisement
JOINS REAL ESTATE FIRM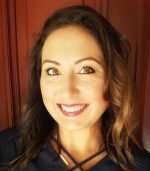 Realizing a lifelong dream, Westwood native and now Chester resident Shannon Medici-Brinkman completed the required studies and passed the rigorous California state real estate exam. Shannon works for Jay Sabelman and William Taylor at Lake Almanor Brokers in their Chester and lake offices. She earned her BS degree in legal studies from Chico State and is also a certified yoga instructor. Shannon says she looks forward to helping the real estate needs of both buyers and sellers. Her husband, Richard, works at the Chester Helitack Center fighting wildland fires for the USFS.
NEW THRIFT STORE MANAGER
Mary Ellen Rosen is the new manager of the Forget-Me-Not Thrift Store in Chester replacing Maria Brown who retired and has left the area. Mary Ellen, a retired librarian from Benicia, started coming to Chester in 2005 and became a permanent resident in 2012 and during that time she volunteered her services to both the Chester Library and the thrift store. She says her focus will be on having the inventory turn over quickly with affordable pricing. Proceeds from the store support Sierra Hospice.