Business Scene for the week of 7/11/18
Old Mill Cafe reopens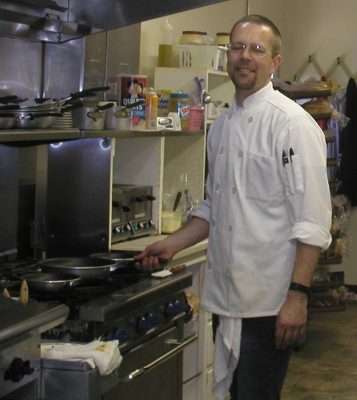 SALES BRISK FOR LOCAL HIKING BOOK
Tom DeMund, local author of the region's popular hiking book, Feather River Country Adventure Trails, reports that local retailers are still successfully selling the book's sixth edition to visitors and locals. Tom said this edition contains many changes from earlier editions, the first published in 2001.
It is commonly referred to as the "Hiker's Bible" and has sold more than 16,000 to date. This latest version, with 130 color photos, allows hikers to obtain lots ofupdated trail informationfor enjoying the area's many hiker-friendly trails. Tom has given talks on his book and this region in Sacramento, Reno and in the Bay Area. Clearly, he has done a terrific job promoting Plumas County's tourism industry. He and his wife Mary live both in Davis and at their home in Graeagle, which they built 26 years ago.
NEW NAME FOR HARDWARE STORE
Wanting to preserve a bit of history, Intermountain Enterprises CEO Jerry Newell tells us he has changed the name of its Chester hardware store, Intermountain Hardware and Supply, to Ayoob's Intermountain Hardware. The store was first opened in 1947 and became part of the LLC headed by Jerry and was reopened in 2010. Two other businesses are also inside the historic Ayoob's building on Main Street, Chester Paint Center and Intermountain Power Equipment. They carry a huge selection of merchandise that includes Kelly Moore paints, hardware items including plumbing and electrical, a full-line sporting goods department and power equipment. They are also an authorized Husquvarna dealer.
BANK DIRECTOR FLOURNOY RETIRES
Plumas Bank announced that John Flournoy has retired after 13 years of service on the bank's board of directors. He is a rancher and hay producer in
Likely, where he was born and raised. With numerous other commitments and plans, John elected not to run for reelection and instead allowed his board term to expire Wednesday, May 16, 2018, the date of Plumas Bancorp's annual meeting of shareholders. "I want to express my heartfelt gratitude for the years of dedicated service that John has provided to this institution. His wisdom, knowledge and leadership have helped shape the bank into the thriving and prosperous institution that it is today. On a personal note, I will truly miss his kindness, patience and humor — rare attributes that I hold in the highest regard. We wish John nothing but the best and extend our most sincere thanks for his 13 years of service on the board," said Andrew Ryback, the bank's president and CEO. In announcing his decision, John said, "Serving on the board of Plumas Bancorp has been an enriching and rewarding experience. I am proud to have been part of this journey and have the utmost confidence in my fellow directors and the management team as they guide Plumas Bank into the future. I look forward to supporting the bank from outside of the boardroom."
OUR BEST ANNIVERSARY WISHES…
Quincy native Johnny Mansell took the reins at Town and Country Properties in Quincy from longtime owners Denny and Faith Swanson six years ago. Johnny joined the company in 2006 and earned his broker's license in 2008.
✔ It was 15 years ago when Vicki Young opened The Candy Shop in Chester. She carries an array of candy from around the world that includes chocolate made the old fashioned way, an extensive new line of truffles and an assortment of licorice. With Vicki hitting this milestone one could say she certainly understands the "sweet smell" of success!