Chamber of Commerce names 'Person of the Year'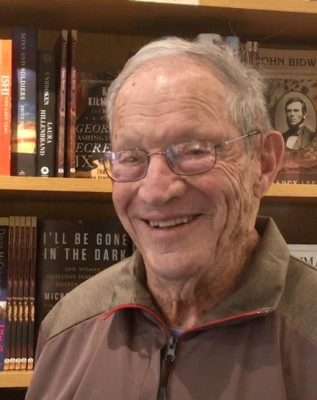 The Lake Almanor Area Chamber of Commerce is getting ready for its next big community event, the annual 4th of July Parade, and as part of the planning asked the community to nominate individuals who have a history of service to the community to be recognized as "Person of the Year/Grand Marshal."
Those nominations are then submitted to the parade committee that evaluates and selects the annual recipient.
It was revealed at the Chamber's May membership meeting that this year's Person of the Year/Grand Marshal is Lake Almanor Country Club  resident Aaron Seandel.
He and his wife Dana Seandel have been coming to Lake Almanor during the summers since 1972 and moved here as permanent residents in 1992.
They moved to Almanor from San Jose after he retired after many years as a school and district administrator.
Seandel said they always loved the lake and surrounding area, but it was all the "very good" people that they met that was probably the deciding factor in making the move.
One of the first areas he got involved took place not too long after moving into LACC. He joined the advisory committee and in 1995 was elected to the Country Club Board of Directors. He served as president of that board from 1998-2000.
Seandel has also been president of the LACC Golf Committee and Planning Committee just to mention a couple.
During that same time frame (early 2000s) he began to work with the Plumas County Water Quality Commission that was formed to advise the county in a proactive attempt to help PG&E with it's upcoming re-licensing process.
He has also served on the Seneca Healthcare District Board for four years and was president for two.
Another contribution was his work with the committee to build the Wildwood Senior Facility. By collaborating with the Plumas County Community Development Committee they were able to secure funding and get Wildwood built.
He also mentioned that, even though he wasn't a member, he has had a long-time association with the Lions Club and the joint efforts to complete clean-up projects around the lake.
On behalf of the community, the chamber extends a hearty thank you to Seandel for all his efforts in the community and congratulations on being selected as its Person of the Year and Parade Grand Marshal.