Chester Fun Run breaks all-time record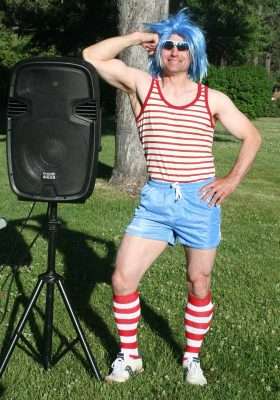 The 38th Chester Classic 4th of July Fun Run broke records for the most participants in the event's history, with 655 runners registered for the looped 3.25-mile route down Main Street, through the Collins Pine Forest and back to the finish line where they started.
Excited runners from the immediate vicinity and from around the country converged Tuesday morning, July 4, on the Collins Pine lawn in downtown Chester to compete — or just to participate for the fun of it.
The Fun Run also kicks off the Fourth of July Parade every year in Chester.
Considering that the run was held on a Tuesday this year, the number of runners that registered and actually showed up was a bit of a pleasant surprise, stated Almanor Recreation and Park District board member Shane Bergmann.
He said with the help of many volunteers and sponsorships, he and wife Dolores coordinated the ARPD-sponsored event to raise funds to provide both recreational and educational programs benefitting local youth.
The run also increases visibility to the area, which promotes the Lake Almanor Basin as an exciting destination.
Competitive runners race specifically to win and have their runs timed accurately by Under The Sun Events of Chico.
First place winner in the men's division went to Matt Paulsen, 21, of Reno, with a time
of 18:00.3.
Liz Blackwell, 33, of Simi Valley, won the women's division with a time of 19:50.5. Blackwell ran with members of her family, including son Blake, 17 months.
Some participants chose instead to walk the route or push baby strollers behind the racers. A number of people even included the family dog in the run.
Organizers encouraged runners to dress in patriotic costumes in the 4th of July holiday event.
The winner for best costume went to David Brown of Livermore for his red, white and blue bow-tied ensemble.
Complete race results for all participants can be found at chesterfunrun.org or underthesunevents.org.
Bergmann said he was especially pleased and excited with the turnout, "We surpassed our previous record of 622. Last year's numbers saw a participation rate of 589. … The best thing in the world is being awesome on the Fourth of July."
Bergmann wanted to thank the community, the runners who came out, the sponsors and all of the many volunteers for their support, adding that without their efforts, "the Fun Run wouldn't exist."
He said the event earned the ARPD just under $13,000 after expenditures toward the organization's many community programs.