City of Portola council discusses council vacancy, wildfire recovery and upcoming festival
---
The meeting opened with the pledge of allegiance and public comment, with Plumas County Planning Director Tracey Ferguson speaking first on the topic of funding opportunities for microbusiness.
"The County of Plumas has executed a consultant agreement with Michael Baker Associates. You may recall through the CARES Act Funding monies were allotted to Plumas County unincorporated area and within the city limits for what we're calling micro businesses." This had been initiated under City Manager Lauren Knox, and the city had approved the delegation of all responsibilities for this grant to the county.
Approximately $409,000 will be available for microbusinesses with five or fewer employees including the owner or owners to apply for. Ferguson explained, "We're getting close to bringing the guidelines to the board of supervisors for approval, and I will be likely coming back sometime in April to roll this out so micro business owners understand the guidelines and can come forward with applications if eligible."
A city resident named Arielle then thanked city council and city workers before expressing thoughts for the council to consider on the subject of city emergency preparedness. She also proposed the renewal of community gardens and suggested the installation of geodesic domes for gardening at local schools, noting that she felt it might be a 'better investment than an event such as the planned Gravel Grinder or a potential dog park.'
Resident Ashlee Sims also raised a few concerns, first on a recent Beckwourth Fire Department public hearing, asking about a "rumor of three missed mutual aid calls by Eastern Plumas Rural Fire Department (EPRFPD)."
Sims also commented that many members of the community "want Railroad Days back." "We don't want to hear that there isn't enough volunteers or money…you can afford to bring back our community's long-standing tradition," Sims said.
Advertisement
Interim City Manager Jon Kennedy clarified that he and Councilmember Pat Morton had attended the public hearing at Beckwourth Fire and that on March 15, mutual aid had to be called in from Beckwourth Fire as EPRFPD had missed three calls.
Filling vacancy on city council
Kennedy noted that council's first item on the agenda would be filling a vacancy due to the loss of Mayor Tom Cooley. Kennedy expressed three options for council to consider. First would be to have a special election, second would be to leave the seat empty, and third would be to request letters of interest from the public to fill the seat for the remainder of the term Cooley was serving. If council chooses to fill the vacancy, it must be decided within 60 days of the date of vacancy.
It was noted that applicants must be a resident of the city
and be a registered voter and would submit letters of interest and their background. Council would conduct interviews and make a selection all within the 60 days.
Councilmember Bill Powers then made remarks about the loss of Mayor Cooley.
"This is a vacancy that was crushing in some ways to us," Bill Powers said with emotion. "I had the privilege and honor to write the obituary for Tom with Linda and covered a tiny fraction of what he's all about. Everyone he worked with had great things to say, and I don't know how to express how he had no guile, he needed no pat on the back, he simply organized, created, made it happen and was the hardest worker on any project. It didn't matter if he was paid, unpaid, just getting the job done was what mattered."
Councilmember Stan Peiler said, "Here on this earth, you get the opportunity to cross paths with so many people. I've known Tom and Linda since I moved to the area… I've showed up to Tom's house many times, and he's been a mentor to me, and I am blessed that I had this time with him. There are things he did the public would never know about."
Peiler went on, "He loved the chainsaw- he had a passion for the chainsaw. He would cut things down and Linda would drag it to the truck. I honestly, truly loved this man. I love you Linda and I will always love Tom as well. Plumas County didn't lose a great man, the world lost a great man."
Councilmember Pat Morton commented that "Tom was an amazing person, whether he was investigating a problem or researching, he would give one hundred percent with no half measures. I can't say enough about Tom, he will be sorely missed by a lot of people here in town- I miss him."
Leah Turner commented that she had got to know Cooley a little bit over the course of the last few months, and that she was amazed at all of the things he has done in his life, echoing the sentiment that Cooley will be sorely missed by many.
Area resident Jason Christian, commented, "We immediately became friends. Tom is my teacher too- he showed me how to operate under the difficult circumstances of the small town I love so much. All of you work so hard for this town, it's been a privilege, thank you all."
Powers then added that Cooley had extended his energy well beyond the city, to his friends and his service clubs such as the Graeagle Lions Club and the Mohawk Valley restoration project, in addition to being a State representative for Plumas LAFCo. "Everyone at every level feels the way we do, I'm sure. I want to give him all the credit in the world," Powers said.
At that, council made and approved a motion to fill the seat by appointment.
After a brief discussion, council was then reorganized to seat Pat Morton as Mayor Pro Tem and Bill Powers as Mayor moving forward.
Turner reported that she had had a successful meeting to review and orient with the city budget with City Finance Officer Susan Scarlett.
Morton reported that she had attended a meeting of Sierra Valley Fire as well as a meeting at Beckwourth Fire where each department ratified the merger for the proposed consolidation of involved Eastern Plumas agencies.
Powers reported that he had attended a Plumas County Long Term Wildfire Recovery meeting, as well as the juvenile justice coordinating council.
Northern Sierra Air Quality Management District's Mikki Brown reported that there would be one more month of curtailment in April, and that city residents can visit the website (myairquality.com) or call 832-4067. "So far in March there had only been one curtailment day, where residents cannot burn in non-EPA certified wood stoves," Brown said. "There have been 43 total days of curtailment this season, which is pretty good, and due to the crazy weather in part."
Interim City Manager Jon Kennedy reported that the city was 'cobbling together broken snowplows, backhoes and other equipment after a rough winter,' and that the city was starting to assess storm damages. "I still get daily calls regarding Intermountain Disposal issues and am also trying to be instrumental in helping move the fire reorganization effort forward, especially with the absence of Tom," Kennedy stated.
Plumas County 2021 Wildfires Long-Term Recovery Plan process presentation
Plumas County Planning Director Tracey Ferguson came forward to give a presentation and informational briefing (available here) about the county long term recovery plan, in collaboration with the Dixie Fire Collaborative.
"This is a county-wide effort, begun after the Dixie Fire and Beckwourth Fire, with the Beckwourth Fire happening first and then the Dixie Fire. We just hit the 18-month mark on February 24 for the declaration made on August 24, 2021, and we are well into the long-term recovery process.
Ferguson went through slides, starting with a look at the FEMA disaster continuum.
Ferguson noted that the community was battling fire at the same time there were ongoing recovery efforts from previous fire. "Long term recovery is a phase that lasts from months to years; this is not a fast process," she explained.
Ferguson noted that the county has had federal support in addition to the state partners such as CalOES, and that "FEMA has been a great partner through all of this."
She went on to note that five different working groups have been established in a Recovery Support Function (RSF) framework to focus on various aspects of rebuilding stronger communities after disaster, including housing and commercial buildings, infrastructure, economic, health and social services, and natural and cultural resources.
"The public is certainly a very important component in the recovery process," she added. "This long-term recovery plan is a proactive part on the county to have an overall vision for recovery."
Ferguson explained that the working groups were looking at innovative ways to revive the community sustainably and resiliently moving forward, and that community comment was welcomed via this link.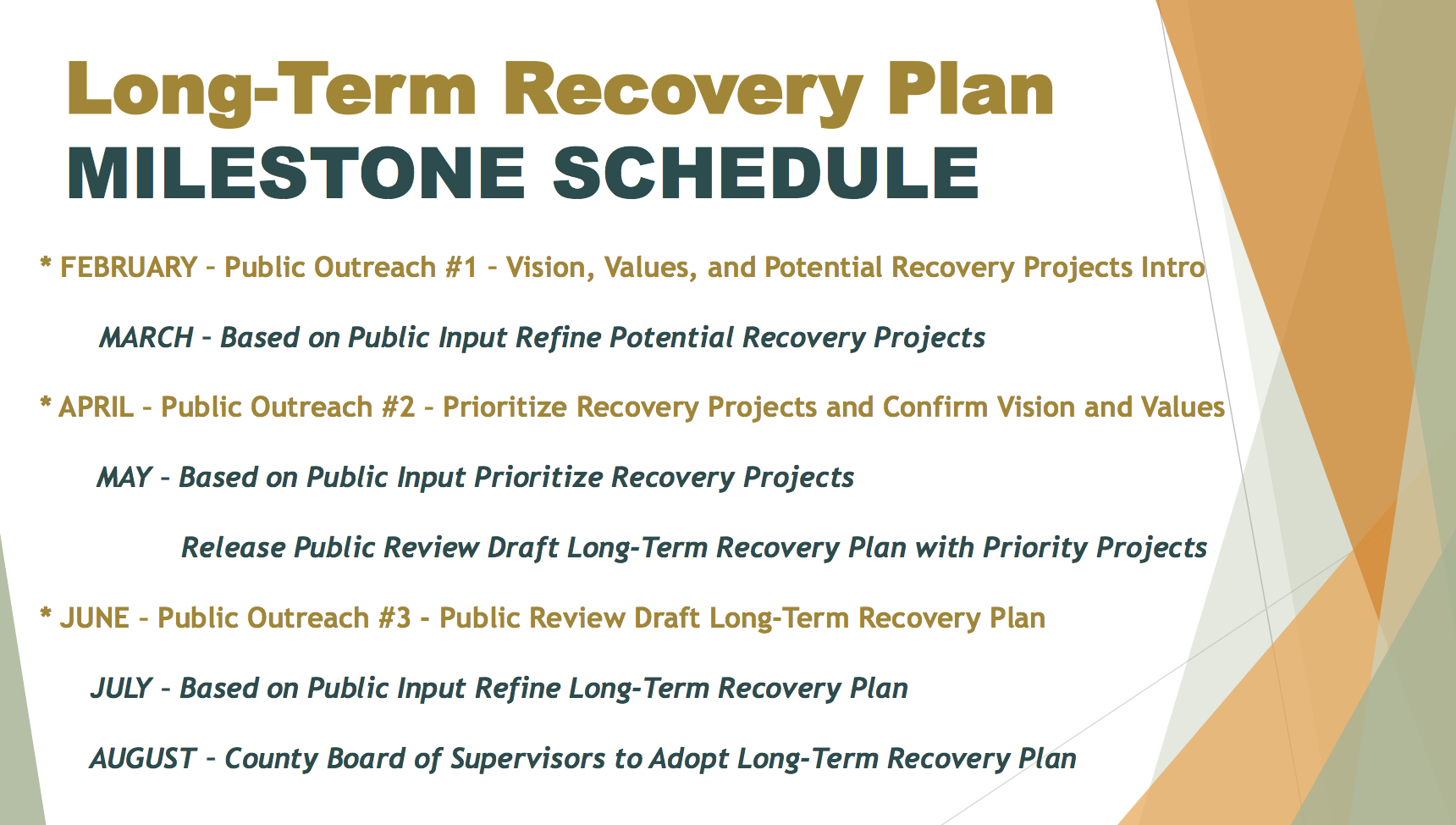 Powers reminisced about Portola's role through the Dixie Fire, when the city housed homeless people in the park, and had a church set up a fairly extensive food pantry. "This plan will serve the whole county pretty well," Powers said.
Sierra Buttes Trail Stewardship Executive Director Greg Williams thanked the council for their public service and support of the community before reviewing the request for funding for the upcoming Gravel Festival and bike race event to be held on June 3.
Williams reviewed the history of the event, despite wildfire and pandemic related challenges, with a goal to bring a bigger, better event to the city this year.
"We have almost 600 registered riders, with the race to be capped at 1499 racers," Williams said. "We want to move away from the cost share, and what we are asking for is support for this event- we are really proud of the effort to showcase Portola as the Gravel Capital of the West. I think the businesses have all felt the marketing of the town in a positive way."
Ashlee Sims commented that she would like to know the fully burdened costs of the event.
Williams then noted that SBTS would be asking for a contribution of $16,000 for the 2023 event. "Breakaway Promotions will be here again, like they were last year. We're going to lean heavily on them for any gaps we felt in 2022," Williams added. Peiler commented that it was "awesome to see our businesses in town overwhelmed with business," and that he was all for it.
"At least five people have bought homes here that came from the race," Bill Powers noted as a point of interest.
Resident Arielle asked about the environmental and cultural impacts of the race and asked the city to consider the amount being allocated should be invested in emergency preparedness center for residents.
Williams noted SBTS has a focus on honoring the lands and educating people on the cultural meaning of the lands. "We only use existing roadways, and we bring people here to celebrate the culture of the lands. This event isn't for profit, it's to revitalize mountain communities.
Kennedy noted that the city had already budgeted for this event with the adoption of the 2023 budget.
"SBTS the only organization that is measurable and actually creates tourism here," JK said. It was then noted that the total camping revenue for the 2022 event in the city came to $8,035 with over $11,000 revenue at the event prior.
Peiler emphasized that local businesses should be prepared for the upcoming event.