Close encounters with bears – Plumas residents share their stories
By Debra Moore
The calls come into dispatch; the pictures appear on Facebook; no doubt you have seen one yourself — there seem to be bears everywhere this year. I wrote a story about a Quincy couple who awoke to find a bear rummaging in their kitchen a couple of weeks ago. It struck a chord with a lot of people who have had their own experience with the furry creatures and Plumas News is printing some of them below.
Plumas News is also working with the California Department of Fish and Wildlife to share how residents can deal with bear issues, including the process to obtain a depredation permit. In addition, as part of a lawsuit settlement, Plumas and Sierra counties have suspended their contract with Wildlife Services (the agency that dealt with predator animals) until an environmental review can be completed. It's estimated that could take one to two years. Of course, this impacts more than just bears. Plumas News is also working on  that story and will be sharing ways that residents and ranchers can protect their livestock from predators.
But for now, it's all about the bears!
Bear stories
A bear came into my kitchen twice in one night last week and was pushing on the doors the rest of the night trying to get back in. He destroyed the inside of my roommate's work van and broke out two windows. Fish and Wildlife denied me a bear permit and said he didn't do enough property damage and was probably just sauntering by and to let it be. He's been breaking into our 92-year-old neighbor's garage for months. Good luck getting ahold of them or getting them to return a phone call. They don't care.
Danny – Graeagle area
A bear tore out my kitchen window screen a few weeks ago as well. I'd left the window open to cool the house down at night. Luckily, I woke up and scared it away before it was able to get into the house. My dog, who is normally very protective and sensitive to sounds, must have been "dog tired" because he didn't even wake up.
Tyson – Greenhorn
I work at the RV Park in Beckwourth (where I also reside), helping with general property upkeep. We began getting regular visits from a bear about two months ago (and quite frequently at times), who dines inside and outside of the single 4-ft dumpster here on the property. He will then drag quite a few garbage bags with him on his way out through the field behind the park, munching on what he can and leaving a trail as he goes. I've gotten used to heading to the dumpster first thing in the mornings to see if the bear had raided us the night before or not, and if so, well, nothing to do but get to work picking up his mess that he left all over the place. His ETA is almost always between 2 and 2:30 a.m. and because I am quite a night owl myself, there have been many nights that suddenly I'll hear a very loud bang of the dumpster lids being thrown open and then more clanking and loud rummaging. On two different occasions I have even caught the bear red-handed! Shining a flashlight on his back and the noise of my boots on the gravel is all it takes for him to realize that his dumpster dive just got cut short, and he'll quickly turn and run back into the field, still carrying at least a couple garbage bags with him. My presence seemingly spooks him into leaving, but he doesn't get very far into that field before he'll stop and sit to finish his 'picnic', even whilst I'm nearby. I have not heard of any other residents in the park to have had any negative encounters with this bear, however they are on alert about the situation.
Misty – Beckwourth
We tried to have bird feeders this summer, but a bear was tearing them down. One morning not long ago (after we removed the feeders and apologized to the jays), I saw a mama bear and triplets.  We'd wondered how 10 pounds of birdseed could disappear overnight. Photo of mom and two of the babies.
Jeanne – Northeast Portola
There is a residence on Grizzly Road (near Portola) that is feeding bears. We have at least 10 bears being fed out of a driveway within the Crocker Mountain district. We have seen two different sows with two or more cubs coming in and out every day; as well as male and females without cubs. The people doing this put themselves directly between the mama and her babies — petting them and hand-feeding them like they are dogs. I even watched one nip her in the back of the calf. The traffic hazard this has created on Grizzly Road is unacceptable and nothing is being done about it. Fish and Wildlife has been contacted several times by several different agencies with no possible solutions whatsoever. These people don't understand the damage they are doing to these bears and it has gotten out of hand. Go sit on the corner of Grizzly Road and Valley View and see.
Danny – Grizzly Road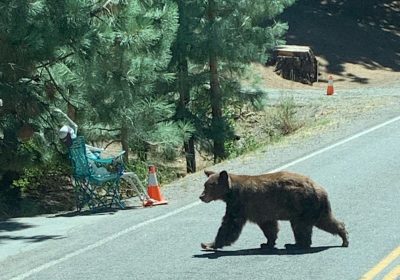 It seems the "bear lady" has been busy stopping traffic so the big mama bear and cub can cross Grizzly Road safely. Not only do I worry for her safety, but the bears and her neighbors as well.  Please be aware and slow to a crawl when you approach the area by Grizzly Road and Valley View.  If you see a skeleton sitting in a chair this is where the "bear lady" lives.
Living in Portola, off Sylvan Road, we have many bears in the area. It is widely known not to leave your trash or any food outside at night. Of course, life gets in the way at times and something will get left out accidentally. We have had the forgotten trash torn apart, the bag of chicken feed stolen out of the bed of our pickup, the paw prints on the back door of the house after an evening barbecue, you name it.
The worst bear problem we ever had though, was about 2 years ago. We had what is referred to as a "problem bear."  This bear was not afraid of coming near the house. Lights, dogs, sprinklers, nothing deterred it. We found out the hard way that when a bear gets hungry enough, and cannot find the easy bag of trash, it will go after live animals. This was not something we had encountered before. At the time, we did not have any fencing in place, but had a chain link enclosure around our chicken coop. I had a trail cam set up outside to monitor for any wildlife that may come around. What I never expected was to get the gruesome footage of a bear repeatedly climbing into our chicken run and eating several of our live chickens. We initially thought it must have been a mountain lion until we reviewed the trail cam pictures and realized it was the "problem bear" that had killed our hens. We could not get him to stay away, and eventually called Fish and Wildlife to get a depredation permit. We were unable to ever use it, as soon after, the nights started getting very cold, and the bear did finally stop terrorizing our property. We did not see it again, thankfully.
The following spring we put up a good fence and added a hot wire around the outside of it to keep our new brood of chickens safe. Since then, we still find paw prints coming through parts of the property, and we still have to be conscious about never leaving anything out that might be of interest to the bears, but the hot wire has helped to keep them out of the yard and away from our livestock. It is a constant battle but we feel as though it's a relatively small price to pay to live in this beautiful county.
Kaitlyn – Portola
On a warm fall evening circa 2002 I let my dogs out in the back yard at my house near Lake Davis. I left the door open and went to bed. Around 1 a.m. I was awakened by the loud barking of two standard poodles and a mini schnauzer. My first thought was that a raccoon must have found the open door. I stumbled to the door expecting to chase it off but when I flipped on the back light I found myself staring straight into the eyes of a largish brown black bear squatting in the doorway. The dogs were barking on the back deck but keeping some distance.  I was too dumbfounded to do anything and the bear reached out and slashed my shirt and stomach with its paw.  I stood my ground and it then ran off. I was bleeding but fortunately the wound was not deep. I checked out my dogs and found my lead dog had blood on her muzzle so I cleaned her and myself up and went back to bed … with the door securely shut. The poodle had a weeping eye the rest of her life as the bear had destroyed the tear duct.
The next morning I found the dog's kibble bowl at the bottom of the driveway which meant the bear had gone across the living room into the kitchen and taken the dog food bowl out around the house over the fence and 70′ down to the road. Then it came back for more as I had found the pantry door open and the kibble bag had been dragged half way through the kitchen.
As it happened I had a doctor appointment that day.  The third time he asked to see the wound again he said, "I've been a doctor here for 20 years and this is the first bear wound I've seen."  Sadly, the scar faded after a couple of years.
So the next year I was taking three standard poodles and the mini schnauzer for a walk in the woods.  I settled down on a nice sunny rock to do some reading; two poodles and the schnauzer settled near my feet and the newest poodle went off to do some exploring.  A few minutes later I heard Joey racing towards me — the speed he was running alarmed me and I looked up to see a small black bear chasing him. I leaped up waving my book and yelling, "Bad bear you can't eat my dog," and similar nonsense.  The two poodles and the schnauzer were all barking right behind me and Joey dodged around me and joined them. I stopped and so did the bear about five feet in front of me.  After staring at each other for a few moments I backed up a few feet with the dogs keeping just behind me. The bear backed up a few feet so I backed up a few more feet and the bear again backed up. Suddenly it turned around and went to a tree. I looked up and there was a bear cub in the tree. Yep, we had been confronting a mama bear. Thankful not to have been attacked I made a slow retreat with the dogs.  I now always make a lot of noise when walking in the woods or heavy brush.
Bob  – Lake Davis