Coming to the Town Hall Theatre in July
The Town Hall Theatre, located at 469 Main Street in Quincy is pleased to bring you more of the must-see movies of the season! Support your hometown first run feature film house by attending a good show often
BOOK CLUB: THE NEXT CHAPTER plays June 30-July 3, 7pm Friday—Monday & Sunday 4pm
Four longtime friends and book club members–Diane Keaton, Jane Fonda, Candice Bergen and Mary Steenburgen–have their lives upended when they aim to spice up their mundane routines by reading the provocative bestseller Fifty Shades of Grey. With newfound confidence, they each begin to come alive as exciting romances are ignited and old flames are rekindled. Through it all, the ladies inspire one other to make this next stage of their lives the best and steamiest thus far.
This 107 Minute Comedy is Rated PG-13 for some strong language and suggestive material
Watch the preview… https://www.youtube.com/watch?v=U8aHKAeRJRQ
THE LITTLE MERMAID plays July 7-10, 7pm Friday-Monday & Sunday 4pm
The Little Mermaid, Rob Marshall's live-action reimagining of the studio's Oscar®-winning animated musical classic, is the beloved story of Ariel, a beautiful and spirited young mermaid with a thirst for adventure. The youngest of King Triton's daughters and the most defiant, Ariel longs to find out more about the world beyond the sea and, while visiting the surface, falls for the dashing Prince Eric. While mermaids are forbidden to interact with humans, Ariel must follow her heart. She makes a deal with the evil sea witch, Ursula, which gives her a chance to experience life on land but ultimately places her life – and her father's crown – in jeopardy.                                                                                                                                               • This 135 minute Family Musical is Rated PG for action/peril and some scary images
Watch the preview… https://youtu.be/kpGo2_d3oYE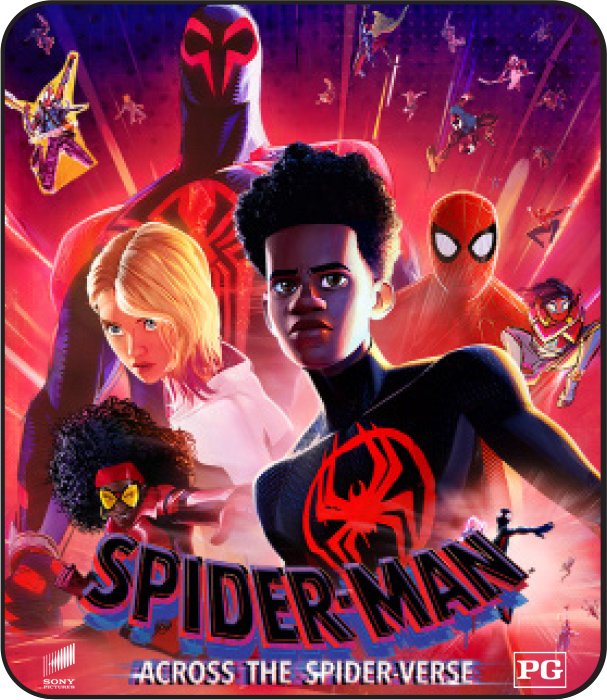 SPIDER-MAN: ACROSS THE SPIDERVERSE plays July 14-17, 7pm Friday-Monday & Sunday 4pm
In one of the summer's most popular movies, Miles Morales returns for the next chapter of the Spider-Verse saga, an epic adventure that will transport Brooklyn's full-time, friendly neighborhood Spider-Man across the multiverse to join forces with Gwen Stacy and a new team of Spider-People to face off with a villain more powerful than anything they have ever encountered.
This 136 minute animated feature is Rated PG
Watch the preview… https://www.youtube.com/watch?v=cqGjhVJWtEg
THE FLASH plays July 21-24, 7pm Friday-Monday & Sunday 4pm
Worlds collide in "The Flash" when Barry uses his superpowers to travel back in time in order to change the events of the past. But when his attempt to save his family inadvertently alters the future, Barry becomes trapped in a reality in which General Zod has returned, threatening annihilation, and there are no Super Heroes to turn to. That is, unless Barry can coax a very different Batman out of retirement and rescue an imprisoned Kryptonian… albeit not the one he's looking for. Ultimately, to save the world that he is in and return to the future that he knows, Barry's only hope is to race for his life.
But will making the ultimate sacrifice be enough to reset the universe?
This 144 minute Action/Adventure film is Rated PG-13 for sequences of violence and action, some strong language and partial nudity
Watch the preview… https://youtu.be/9vwaD9cHLNw
TRANSFORMERS: RISE OF THE BEASTS plays July 28-31, 7pm Friday-Monday & Sunday 4pm
Returning to the action and spectacle that first captured moviegoers around the world 14 years ago with the original Transformers, Transformers: Rise of the Beasts will take audiences on a '90s globetrotting adventure and introduce the Maximals, Predacons, and Terrorcons to the existing battle on earth between Autobots and Decepticons. Directed by Steven Caple Jr. and starring Anthony Ramos and Dominique Fishback
This 127 minute Sci-Fi/Action Movie is Rated PG-13 for intense sequences of sci-fi action and violence, and language
Watch the preview… https://youtu.be/WWWDskI46Js
ELEMENTAL plays August 4-7, 7pm Friday-Monday & Sunday 4pm
Disney and Pixar's "Elemental," an all-new, original feature film set in Element City, where fire-, water-, land- and air-residents live together. The story introduces Ember, a tough, quick-witted and fiery young woman, whose friendship with a fun, sappy, go-with-the-flow guy named Wade challenges her beliefs about the world they live in. Directed by Peter Sohn, produced by Denise Ream, and featuring the voices of Leah Lewis and Mamoudou Athie as Ember and Wade, respectively.
This 110 minute Animated Adventure/Comedy is Rated PG
Watch the preview… https://youtu.be/hXzcyx9V0xw
INDIANA JONES AND THE DIAL OF DESTINY plays August 11-14, 7pm Friday-Monday & Sunday 4pm
Harrison Ford returns to the role of the legendary hero archaeologist for this highly anticipated final installment of the iconic franchise– a big, globe-trotting, rip-roaring cinematic adventure. Daredevil archaeologist Indiana Jones races against time to retrieve a legendary dial that can change the course of history. Accompanied by his goddaughter, he soon finds himself squaring off against Jürgen Voller, a former Nazi who works for NASA.                                                                                                                                            • This 154 minute Action/Adventure film is Rated PG-13 sequences of violence and action, language and smoking.
Watch the preview… https://youtu.be/eQfMbSe7F2g
We are also working on bookings for: Barbie, Asteroid City, Haunted Mansion and Mission Impossible: Dead Reckoning.
Keep in the know for coming attractions. The most up-to-date movie schedule is posted on plumasarts.org where you may also purchase presale tickets for a specific movie and date. You may subscribe to our free monthly Plumas Arts emails https://www.plumasarts.org/contact-us.html like us on our Town Hall Theatre Facebook page.
Help to keep your home, town small town movie theatre open and thriving. Come see it right here whenever the title invites you! You or your business or organization can also offer support in the pre-movie slide show. Advertise your support or the services you offer or an upcoming event. Ad reels change monthly. The theatre is also available for private rentals.
Contact [email protected] for more information.