Community supper serves up lip-smacking ribs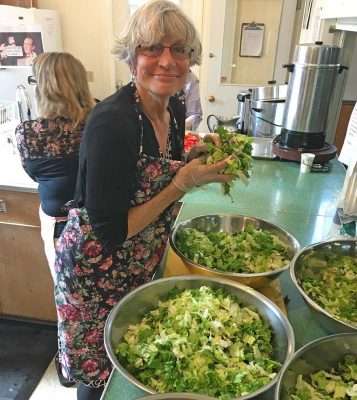 Community Connections hosted the Community Supper April 26 with a sumptuous feast of ribs, mashed potatoes, beans, salad and more. The volunteer group showed up in force to prepare and serve the meal to 100 or so people at the Methodist Church.
Community Connections and Advisory Council member Caron Chance, owner of Back Door Catering, provided the main course. More than 20 CC members showed up to lend a hand by preparing salad and dessert, setting up, serving and finally, the clean up.
The donation-only weekly feast is sponsored by a wide variety of community groups, organizations and businesses in and around Quincy at 6 p.m. on 51 Wednesdays each year.
Hosting the dinner is an annual activity for Community Connections with 2017 being the seventh year in a row.
This winter, Community Connections members were very active providing emergency support services such as conducting home visits to check on isolated or senior residents, delivering food, filling sandbags, splitting and hauling fire wood, preparing meals and even providing emergency radio communications in communities where all communication had been lost using ham (amateur) radios.
CC has recently collaborated with the Plumas County Public Health Dept. (Home Visiting Nurses) and Quincy Friends of the Plumas County Library to create a homebound senior book delivery project.
Books are donated to local libraries throughout the year to support the quarterly book sales. With the new program, homebound seniors may request specific authors, titles, topics and when donations are received a match is made and the senior receives a personal delivery by either the drivers who deliver daily meals, a home-visiting nurse or a Community Connections volunteer.
"In addition, CC is focusing on developing stronger 'non-traditional' support services for seniors throughout Plumas County," said organizer Leslie Wall, "such as home visiting, one-on-one accompaniment to appointments, shopping, social outings, grocery shopping, pet sitting, yard care, etc. through CC volunteers. The idea is for these services to create a 'Senior Connection' missing in our rural communities," concluded Wall.
Community Connections coordinated the hosting of the Community Supper to coincide with their celebration of National Volunteer Week.