Community supported agriculture is alive and well in Plumas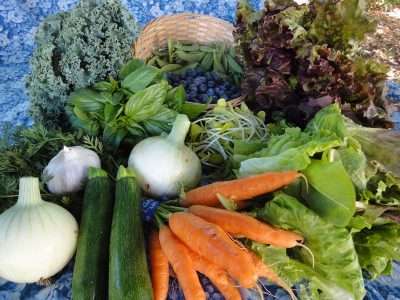 In an effort to help make fresh, healthy food available to people of all income levels, High Altitude Harvest is once again offering subsidized produce shares to families who participate in the WIC and CalFresh (aka food stamp) programs. Three to four subsidized shares will be available this year, providing families with a discount of $150 off regular produce share pricing.   
High Altitude Harvest is a multi-farm community supported agriculture program. Members sign up to receive a weekly share of locally grown produce, which they pick up every Wednesday afternoon in Quincy, Portola, Westwood or Blairsden/Graeagle.
Members can also choose to sign up for optional shares of grass-fed beef, fresh bread, handspun yarn, flower bouquets, local honey and garlic braids.
High Altitude Harvest works with Plumas County farmers over the winter to plan crops, and starting in June the organization packs and distributes produce to members along with a weekly newsletter.
Advertisement
HAH's multi-farm model is unique because of its focus on cooperation over competition in the local farming community. This year the program is sourcing products from 12 local growers.
In an age when diet related health issues are so common, local farmers feel that it's important to get fresh food into the hands and bellies of local folks, though it isn't simple to bridge the gap between the limited budgets of low-income community members and the need for farmers to charge a fair price for their products.
HAH subsidized shares are made possible by donations from regular members, which HAH matches.
"We've had really generous donors this year, which is why we're able to offer more subsidized shares than last year," said HAH coordinator Elizabeth Powell. The program is also able to accept CalFresh benefits as payment for shares.
More information about both regular and subsidized shares can be found at HighAltitudeHarvest.com or by calling 616-8882. The Plumas Rural Services WIC office can also provide information on subsidized shares, and can be reached at 283-4093.