Congratulations to Portola High School graduating Class of 2023
Portola High School held a graduation ceremony for the Class of 2023 on the evening of Friday, June 9 at the Bob Wise Memorial Stadium with 31 graduates dressed in purple caps and gowns. Friends and family filled the bleachers and the field on the sun-filled evening, applauding first school staff and then seniors as they made their way to their seats at the front during the processional, followed by an introduction to the national anthem by Alicia Banning. The Veterans of Foreign War from High Sierra Post 3758 made a stately procession down the aisle, the American Flag held high. All gathered stood for the national anthem, hands over their hearts as the veterans stood before them as the anthem echoed through the trees. 
Graduates Naomi Canseco and Chloe Kelly then took the stage to give a warm, bilingual welcome to attendees, emphasizing first in English and then in Spanish that the day was a remarkable one in the lives of the graduates, marking the culmination of many years of hard work, dedication and determination and the beginning of a new chapter in their lives. The duo expressed their deepest gratitude to teachers, administrators and staff members for their unwavering support, guidance and belief in the graduates. "You have taught us not only the curriculum but valuable life lessons that will continue to guide us long after we leave these hallways," Canseco said. "On behalf of my peers, thank you for your tireless dedication and commitment to our education." Both girls also thanked their parents and families for their belief in the abilities of each graduate and the unwavering support and sacrifices made along the way. 
"Today is not the end, it is a new beginning- the world awaits our talents, passions, and our unique perspectives- each one of us possess the potential to make a profound impact on the world around us," Kelly said. 
Graduates Margaret Klemesrud and Kylie Litz then introduced the Portola High School Golden Grads Class of 1973, with each of the eight Golden Grads receiving a certificate of recognition from the graduates. Portola High School Principal Sara Sheridan then introduced the Salutatorian, graduate Margaret Klemesrud. 
Klemesrud said that as she was writing her speech for that day, many of her classmates had shared a similar opinion- to "keep it short." "To all of my classmates who just want to graduate, I'll keep it as short as possible," Klemesrud said with a smile. She went on to thank all who came out to celebrate with the graduates, and encouraged the underclassmen to hang in there until they could turn their tassels as well. 
"I am going to talk about three skills that we have mastered as a class which are not as celebrated," Klemesrud said. Those three skills were 'the art of complaining, procrastination' and most importantly, according to Klemesrud, the graduates mastered the art of being good people. "We received numerous compliments of how unproblematic we are, for the most part, and Ms. Sheridan even told us we had the best graduation practice she's ever seen. Although we may complain and procrastinate, we are still going out into this world as friendly, compassionate, noble scholars and exceptional humans," Klemesrud said, thanking her classmates for being a part of her childhood and graduating with her. 
Valedictorian for the Class of 2023 was Kylie Litz, who went to the podium to much applause. Litz thanked all of the teachers, students, staff and parents for coming together to make the day possible, saying that in the end, they had all 'made the best out of their time there at PHS.' 
"I know how much time and love all of you have put into each one of us up here on this stage today," Litz said to the parents in the crowd. "All of you have been a big part of our lives and we wouldn't have made it here without your support." Litz went on to share that most of the graduating class had been together since elementary school, with all of the many memories made together along the way. "We were off to a great start, getting to do our 'first-evers' in high school…when all of a sudden, covid happened, and we went into distance learning. Through our high school years it was hard to get our experiences back to normal until this year. Though we have had this interruption, we made the most out of what we were given." Litz stated that that day, the seniors were becoming high school graduates and going out to experience new adventures in the world and create extraordinary futures for themselves. "I know standing here today that we will all be successful and reach great heights," she concluded. Litz then introduced Keynote Speaker Sara Murphy, the graduates' former English teacher. "We as a class have brought her out today for the huge, huge impact she has made on us when she was teaching at PHS and to give us our final goodbye." 
Murphy walked to the podium and warmly spoke to the students. "As a Quincy High School graduate, I never thought I could feel honor or pride giving a speech at a Portola High School graduation, but here I am, completely honored, completely proud," she said with a laugh and a voice thick with emotion. Murphy told how she had come across a post on Instagram from her twenty-fourth birthday, which had been during her first year of teaching at Portola High School. The post had been a video of a bonfire with shadows of children pretending to be bears in a skit, giggling in the background, taken after a long, difficult eight mile hike to Crystal Lake. "The caption reads, I had the pleasure of celebrating my birthday eve with 35 of my seventh graders…the hike left my feet covered in blisters, but left my heart completely full- these middle school kids have stolen my heart." 
Murphy said that she wished for the graduates to take away a few things from that post- that just as on the hike that day, which left their feet covered in blisters, life would give them 'constant friction and pressure that will leave you with blisters.' "Because of these blisters you will experience discomfort and you will experience setbacks, but you will also learn how to allow those blisters to heal and how to continue hiking to the beautiful views that life will have for you," Murphy smiled at the graduating class. 
She explained that some of the 'beautiful views' would be the graduates' milestone achievements, but that most of the beautiful views would "be seen in the ordinary and the mundane, in the roasting of the marshmallow and the sound of a giggle, the coexistence with other humans".
"My final hope is that you know you are loved, simply for existing, simply for being you," Murphy said with another smile for the graduates. "You stole my teacher's heart six years ago and you changed my world. I love that I get to exist in a world with you humans in it, I love that I got to witness the different versions of you throughout your time at PHS. I love that I get to see the future versions of you after you leave PHS. I hope that you embrace the blisters, continue hiking to beautiful views, and I hope that you see the gift in the ordinary and mundane. Most importantly, I hope you remember to love and be loved. Congratulations, Class of 2023, for making it to this beautiful view!"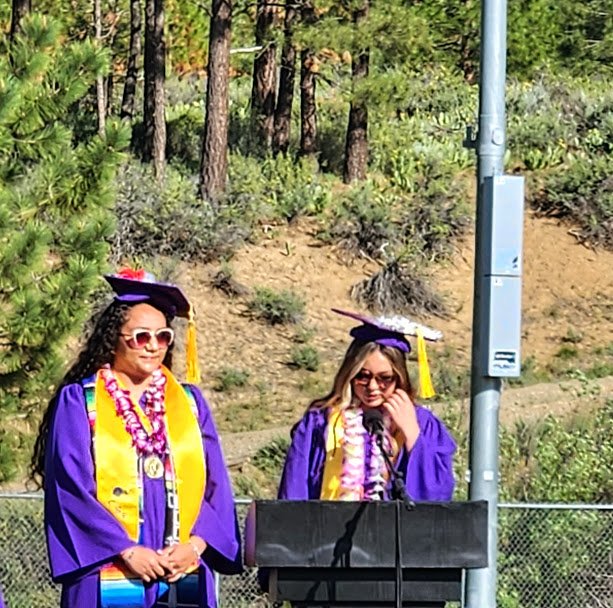 Graduates Rayne Wallace and Maria Zuniga Sanchez then came forward to give the farewell speech, again in both English and Spanish. The students said, "I think I speak for most of us when I say that we have never felt younger in our lives. I remember hearing the words Class of 2023 in kindergarten and it felt centuries away, but here it is, in the blink of an eye." The two graduates spoke about the many memories that had been made through their school careers, and the way that the pandemic had stolen half of their high school experience and wildfires nearly taking out the town, along with a never ending winter, and 'senior projects none of us could quite understand the point of.' Wallace and Sanchez expressed how the graduates would be starting a new chapter in their lives, but this time, without each others' presence. "As times get difficult, and we run into different walls, remember to carry this quote along with you," Wallace said. "As Billy Joel once said, slow down, you're doing fine, you can't be everything you want to be before your time. Congratulations, Class of 2023, I know we will all do extraordinary things!" 
Principal Sara Sheridan, Plumas Unified School District Assistant Superintendent Kristy Warren, Assistant Principal Brian Sheridan and Governing Board Member Joleen Cline then stepped up to present the hard-earned diplomas to each graduate as the crowd erupted in cheers and applause. "Ladies and gentlemen, I am proud to present to you the Portola High School graduating class of 2023," Sheridan said as seniors turned their tassels before flipping their caps into the air. Students proudly left the stage and lined up to shake hands with and hug their teachers before going to celebrate with proud family and friends on the field, surrounded by balloons, flowers, and smiling faces.