Consortium helps students complete education goals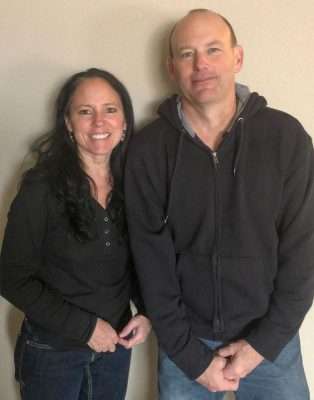 It feels really good to finish something you've always meant to get done. Just ask any of several Plumas and Sierra County residents who are completing their educations through the local joint adult education program.
"When we get to a certain age, we think it's too late," said Nikki Hansen Cottle of Quincy, a recent graduate who earned her high school diploma through the Feather River Adult Education Consortium's (FRAEC) Adult Education Program. "Don't live with being bummed out because you didn't finish something you started so long ago — that's worse than living with any anxiety you might feel about getting the information to help you go back. Go and do this for yourself."
Celebrating success
Thanks to a $750,000 state adult education block grant, the FRAEC program has been expanding its flexible, tailored approach since February 2018 and more people are finding out about its services.
The consortium offers adult basic education, high school diplomas or equivalencies, GED certificates and more.
Michelle Abramson is the Community Resource Coordinator for Plumas Unified School District with responsibility for adult education services.
She encourages people to look into their options and said, "Our services allow adults to develop valuable skills and improve their career prospects, get some job training with career technical education, or transition into post-secondary programs at other schools, including Feather River College. We're also working to establish a GED testing site in Quincy so students won't have to go to Chico, Reno or Susanville to take their exams."
PUSD is one member of the FRAEC consortium that also includes Feather River College, Sierra County Office of Education, Sierra-Plumas Joint Unified School District and Plumas County Office of Education, which serves as the fiscal agent.
Nikki's journey
Nikki's workplace at Quincy Provisions is filled with the heavenly scents of warm baked goods and freshly brewed coffee, all of which competes with the fudge and handmade candies for which Carey Candy is famous.
A busy and happy 38-year-old mother of two, she is appreciated for the delicious work she does baking for those creative cooks. And Nikki knows firsthand the value of finishing what she started.
Through the FRAEC's adult education program, she earned her high school diploma and said she first heard about the chance to complete her education from a post on Facebook.
"I saw that and it seemed like a really good opportunity," Nikki said from a comfortable couch at the bakery. "I'd thought about it over the years, so I called the district office and it was easy."
The program offers four pathways to help "student-clients" finish their education. Each option covers specific subject areas, testing needs, etc. and requires varying lengths of time to complete.
When Nikki contacted the school district for more information, staffers put her directly in touch with Karen and Brad Miller, the adult education coaches for Quincy and Portola.
"They're so accessible," Nikki said. "They made it super comfortable for me. They were very encouraging and they told me, 'You can do this,' and Karen laid it all out for me. They understood I have a job and a family. They made the process accessible and showed me that I could do the work at my own pace."
Originally from Grants Pass, Oregon, Nikki has lived in Plumas County since she was 14. She settled down fairly early, married her high school sweetheart and by age 23, she was raising two children.
Not finishing high school didn't nag at her in any way. She says she simply devoted herself to her kids and yes, "The years, they do go by quickly," she said. "Back then, I didn't take high school very seriously and pretty soon, life seemed settled on. But it's never too late to achieve something."
Advertisement
Once she made the decision to complete her education, Nikki found she could do most of what she needed by studying online. She completed three of the four courses she needed at home and attended tutoring sessions with Brad.
"You can do the work on your own and they're totally available to help you," she explained, saying she had mostly needed to complete her English credits, some math and history.
Were there any bumps in the road on her journey to finishing her education?
"I'd been very close to finishing when I left high school, so I didn't have a lot of credits to make up. It was all good, but the math was a little tricky," she said, smiling. "A lot had changed since I'd had math! Brad got me through it. I couldn't have done it without him."
English was Nikki's favorite class in high school because she liked reading and she found it was still her favorite subject in the adult education program.
"I'm a reader, I love it. And there was a lot of reading!" she said with a chuckle. "It went quicker than I thought it would, making up the credits."
What helped her the most?
"My family was very supportive," Nikki said. "I'd put my headphones on while they watched TV. They were all proud of me. Today, I feel good about the work I did to complete my education. I'm proud of myself"
She offered this advice for others who may be interested in picking up where they left off with their education.
"My coaches, Karen and Brad, are really good people," Nikki said. "They were totally flexible and could even meet me on other days and in other locations if I needed it. They are patient and understanding. They make you feel that you belong."
Personalized, confident coaching
The Millers are career educators who have many years of experience helping students from all backgrounds to succeed and achieve their goals. In fact, Brad taught at Portola High for 27 years.
Working with adult learners in Portola and Quincy who are ready to finish their education is a commitment the Millers take to heart.
"I love to see the excitement and pride they have in themselves when they pass the GED or finish the program and can say they have a real high school diploma," Karen said. "In my opinion, the biggest benefits to these students are job and career advancement. Many jobs, colleges and job-training programs require a high school diploma. Having a diploma opens so many more doors for people who want a higher-paying job."
Karen emphasized that adults exploring options to finish their education do not need to come in for the entire time or every day that the adult education program hours are offered.
She said clients can come in any time (during open hours) to meet and review their progress, receive tutoring, or complete coursework.
"Of course, they are welcome to stay longer," Karen said with a smile. "We ask that they meet with us in person at least one hour per week so that we can guide them and keep them motivated. Most of the course work is done at home on their own time."
The Millers mentioned that graduating from the FRAEC adult program requires fewer credits than it takes to graduate from a traditional high school and the program plans to expand services to Chester and Greenville. Their colleague, Wendy Jackson, serves Sierra County.
"Many clients come to us only one or two classes shy of the minimum requirement," Karen said. "My advice is to just check it out. We can also help students transition to a trade school or a community college, even work beyond that if they have an interest in attending a four-year university, too."
Going back to move forward
Moving forward toward new goals is a big part of what draws clients to the FRAEC Adult Education program.
'Abigail' of Chester (not her real name) is a little self-conscious about having previously paused her high school career, but the 19-year-old is really happy that she recently made the choice to return and finish here in Plumas County with help and flexible options through the consortium's program.
She went to a public high school and also spent some time learning in a charter school system, but says she "didn't feel connected to the teachers."
Once she contacted the FRAEC program, Abigail set out to earn her high school diploma.
She had a higher-education goal and decided not to go for a GED, explaining that she had options to test out of some of the requirements, but chose to complete her courses online instead.
"I wanted to make really sure that I knew this stuff," Abigail said. "Especially the math, because I'd been doing CNA (certified nursing assistant) work and I wanted to go on for my LVN (Licensed Vocational Nurse). I made a rule for myself. If I didn't earn higher than a B on the tests, I went ahead and took the class for that subject."
She encourages others to investigate their adult education options.
"It's really easy if you buckle down and just do it," Abigail commented. "I had so many credits to make up — so the coaches helped me figure out my plan of action and I just sat down and did it!"
She added, "Karen was so helpful! I'd message her at 10 p.m. and she'd reply to me at 6 a.m. so I never really had to wait for help."
Abigail was determined. She made up one and a half years of schoolwork in about a month.
"Karen told me she'd never had a student complete the units so fast," she said, advising others that they can complete their units online and the coaches will meet with them at a time that's convenient for the student.
"You don't have to sit in a classroom with others," Abigail said. "I get really bad anxiety under those circumstances, in a classroom environment. Karen was very encouraging, she's such a good teacher."
Abigail also said she responded to the coaches' patience and the help they offered to "take down the technical roadblocks" that can make students feel overwhelmed.
Abigail strongly encourages anyone to find out more about completing their high school diploma or earning a GED.
However, the new grad knows how daunting it can be to take those first steps.
"I'm still working on my anxiety," Abigail said. "Karen and Brad, they're such great teachers and they're willing to work with you. Ultimately, it's really all on you. But they go above and beyond to make sure you get the help you need."
She also observed that once she got started, her success increased.
"It was way more rewarding once I started putting more into it," she noted. "I knew I was accomplishing something."
Does she feel like she missed anything by not completing high school at the time?
"I only missed the school activities like the sports, prom and the dances," she recalled. "I loved baseball! So I did miss out on playing and going to the games."
Abigail is currently enrolled in a community college, studying for her LVN because she enjoys nursing and caring for people. She plans to go even further with her education and earn a degree as an R.N., a registered nurse.
Support overcomes anxiety
FRAEC adult education coach Wendy Jackson started working with clients in Portola last year and now she is serving as the Sierra County Adult Education coordinator. She's building the program throughout the county and many of her students are in Downieville, Loyalton and Sierraville.
"This has been needed for a long time and people in our areas are starting to come forward," Wendy said. "I meet them where they are. A lot of adult learners have anxiety about heading back to school for a lot of reasons. They worry that they might be thought less of because they didn't finish their high school education when they were teenagers."
She explained student-clients also have concerns that their skills have declined with the passage of time, in writing, math or civics, for example.
"But they absolutely DO have good skills," the coach said. "These are skills they use in their everyday adult lives. So the purpose is to give them closure, either by helping them pursue a GED or a high school diploma. They are equivalent today."
Wendy has high praise for the National External Diploma Program that awards credit for existing skills. Students who go for this option must demonstrate 100 percent mastery and complete project-based portfolios.
"The NEDP is amazing!" she said. "And we're developing a career technical education program to train clients as Emergency Medical Technician-1s so they are certified to work in a fire station."
Wendy helps her clients evaluate the reasons for finishing their education and why they might want to work toward one or another of the four pathways that FRAEC offers.
"For instance," she explained, "some higher-education institutions look more favorably upon a higher score on a GED than they do upon (earning) a high school diploma."
Wendy finds it easy to relate to her clients and help them sort out options that work with their needs at this point in life.
"When we review their high school transcripts, they tend to think they are further away from completing their education than they actually are," she said. "So they can move through it fairly quickly."
The Sierra County coach explained students might invest 12 hours per month, or do less, or more. The work and study commitments are based on each client's own schedule and what their goals are.
"I have students doing the work to earn their GED certificate," Wendy said. "Others are going for their high school diploma. Another of my students wants to become a citizen, so they are studying to pass the GED and learn English as a Second Language first."
Like her colleagues Karen and Brad in Plumas County, Wendy's commitment to her clients is compassionate, strong and understanding.
"I make it fun!" she says. "Some students bring their babies (to the study-assistance meetings). I'll help them in any way I can. I have two students for whom I do home visits because they have issues of zero access to transportation and they have children at home to care for. We even hold classes and advising sessions on Saturdays."
How does she make it all work?
"I'm fortunate that I have a flexible home and family life myself!" Wendy laughs. "We need to do what we can to help these students and help our communities move forward."
Options to complete your education
The Feather River Adult Education Consortium offers four pathways for students who want to finish their education.
– GED: General Equivalency Diploma with five online tests in English language arts, reading and writing, science, social studies and math.
Advertisement
– HiSET: High School Equivalency Test with four paper-and-pencil or computer tests in English language arts, reading and writing, science, social studies and math.
– PUSD Adult Education Diploma: credit-based upon California standards.
– NEDP: National External Diploma Program focused on distance learning with performance-based testing. Self-paced, 6-12-months to complete and geared to working adults. Awards credit for existing skills. Must demonstrate 100 percent mastery and complete project-based portfolios.
Where to go for lessons, coaching
FRAEC Adult Education coaching services and testing are available with flexible and drop-in hours at various locations and more sites are being developed. Students do not need to attend specific hours.
Quincy
Tuesdays, 4-6:30 p.m.
Feather River College
570 Golden Eagle Ave.
Learning Resource Center, Room 871
Wednesdays, 4-6:30 p.m.
Plumas County Community School, 256 Jackson St.
Portola (tentative schedule)
Mondays 4-6:30 p.m.
Wellness Center/Behavioral Health, 280 East Sierra St.
Chester and Greenville locations are coming soon and Sierra County sessions are in development.
For more information, contact:
Michelle Abramson, PUSD
Community Resource Coordinator
[email protected]
283-6500 ext. 5268
Wendy Jackson, Coordinator
Sierra County Adult Education
993-1660
Special Note: A Sierra County dinner workshop is planned March 13 at 6 p.m. at the Golden West Restaurant in Loyalton to seek community input on shaping the adult education program. Attendance is welcome and RSVPs to Wendy Jackson are required. 
Are you eligible for Adult Education services?
According to Plumas County, students aged 18 and above are eligible to enroll in adult education programs.
Minors, regardless of age, who are pregnant or are actively engaged in parenting their child or children, may also enroll in adult ed.
So can some high school students and students who are exempt from compulsory continuation education as prescribed by law.
Emancipated minors are considered adults and may enroll in any adult school or college in accordance with the eligibility rules of the institution.