County supervisors encourage young entrepreneurs
No one will argue with the idea that what Plumas County needs are more good jobs.
Angela Cordell and Tiffiney Lozano feel that the way to go about this is for individuals in Plumas County to start businesses selling to foreign markets.
To this end, Cordell and Lozano have reinvigorated a competition among high school students to see who could come up with the best business plans targeted to global markets, called the "Global Business Plan Competition."
At the board of supervisors meeting March 21, Cordell and Lozano asked the board to allocate $1,000 as a prize for the best plan. After much discussion, the board voted unanimously that this was the right direction to go.
Supervisor Kevin Goss, who owns a pharmacy, declared, "I like this, I really do." Supervisor Jeff Engel, agreed, noting that he has helped a lot of people, including some of his own employees, to start their own businesses. Engel stated, "I totally support this concept. I have helped a lot of people start their own businesses and a lot of them are afraid at the beginning."
Cordell and Lozano said people need education in order to help them get over this hurdle.
They noted that less than 25 percent of students nationwide receive entrepreneurial education. In Plumas County, every graduating high school student is required to have 40 hours of entrepreneurial education, an effort Lozano contributed to.
Lozano added, "Once you get that entrepreneurial bug, it's addicting. And this county needs that."
That is exactly what Cordell and Lozano have been doing, trying to infect high school students. Lozano said, "I really want to send a strong message to our students that this is possible."
In their first effort, Cordell and Lozano were able to get eight teams from three Plumas County high schools involved. They noted that the students have worked hard on their individual business plans and they want to reward them for their efforts.
Cordell and Lozano noted that small businesses provide over half of all jobs and sales and two-thirds of all new jobs in the U.S. Lozano remarked, "It is not the Walmarts of the world that are driving the U.S. economy."
They also pointed out that "the Internet gives Plumas County's small businesses access to 95 percent of the world's customer base and buying power."
Lozano said, "I think entrepreneurship is the key for Plumas County's development. This is something I'm passionate about."
Lozano asserted that even if you work for someone else, all jobs today require an entrepreneurial mindset to survive and flourish.
Cordell is director of the state-funded Far North Trade Center housed at Feather River College. The trade center serves all 10 counties in California located north of Sacramento.
Lozano has her own consulting firm, Tiffiney Lozano Consulting. She teaches online courses in creativity and coaches photographers, filmmakers and artists on how to make a sustainable living being creative.
Both Lozano and Cordell have roots in Plumas County, Lozano grew up in Quincy. Cordell's mother grew up here and her family used to spend most of their summers in Plumas County. Most of Cordell's extended family lives here as well.
Cordell said that she is the third regional director of the Far North Trade Center in the last year. She hopes to stay around and she wants to make the Global Business Plan Competition a permanent fixture in the county.
Cordell said that previous directors have spent their efforts to help the most populace counties: Shasta and Butte. She hopes to work more with the smaller counties and said, "I want some of that money to come to Plumas County."
The Far North Trade Center is one of only seven international trade centers in California. The center offers free or low-cost programs and services to northern California businesses, primarily centered on selling to markets abroad.
Angela Cordell can be reached at (916) 205-6473 or [email protected]
Tiffiney Lozano can be reached at 616-1204.
The top three high school teams from the Global Business Plan Competition will present their business plans at the 2017 Business Summit in Portola on April 24.
Solid waste contracts finally signed
Like a small child who just will not go to sleep, the solid waste contracts between the county and Intermountain and Feather River Disposal companies were finally put to bed after six years.
Everyone in the room breathed a sigh of relief. Supervisor Jeff Engel said, "I'm happy to get it done."
Chair Lori Simpson, who recently took her turn again as board chair, said jokingly, "I was chair when this thing started and now I'm chair again."
Supervisor Sherrie Thrall, the only other supervisor who was on the board at the beginning of the process, voted against signing the contracts.
Thrall said she was very pleased with the services provided by the franchisees but she was concerned that a 10-year contract was too long, with too many unknowns down the road.
Planning Commission
The board accepted the resignation of Dr. Shauna Rossington from the Plumas County Planning Commission. Rossington emailed her resignation to the board March 15, immediately after the board rejected Plumas Charter School's proposal that the county change the county code to allow schools in light industrial zones.
Rossington spoke at that meeting in favor of the charter school's proposal.
Rossington had just recently been elected chair of the planning commission. Dr. Robert Abbott, recently elected vice-chair, will take over as chair.
The five-member commission now has only three members. Simpson argued that perhaps an item should be added to a future agenda asking the question: "Do we even need a planning commission?"
East Plumas Recreational District
The board added Terri Becky to the board of the Eastern Plumas Recreational District. The recreational board has five seats. Tom Connolly and Mimi Garner were already on the district board. The other two seats are still empty.
The board added Becky to the board so that recreational board would have the required three members to conduct official business.
To serve on the board, contact Supervisors Michael Sanchez or Jeff Engel, or call Mimi Garner at 775-229-3140 or email her at [email protected]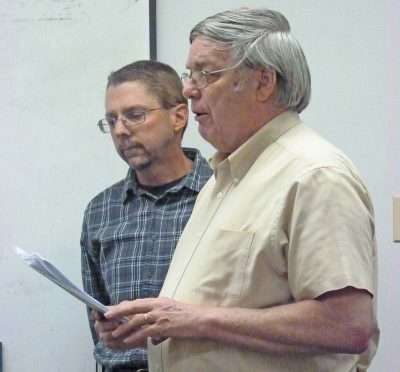 New associate engineer
The Public Works Department promoted Rob Thorman from engineering technician to associate engineer. Thorman will also be deputy safety officer for the department.
Thorman has 20 years experience in engineering. He moved to Plumas County two years ago from the Sacramento area with his wife, Tina Thorman, and their two sons, Evan and Mason. Thorman is also acting chief of the Long Valley Volunteer Fire Department in his spare time.
When asked how he felt about his promotion, Thorman said, "This is more than I dreamed of."
Behavioral Health
The Behavioral Health Department requested the board change the name of the Mental Health Commission to the Behavioral Health Commission. Behavioral Health has taken over responsibility for alcohol and drug treatment and prevention from the Plumas County Public Health Agency.
Change in meeting times and dates
Beginning April 4, the board of supervisors meetings will start at 10 a.m.
The board of supervisors usually meets on the first three Tuesdays of the month. Due to a conflict and the 4th of July holiday, the board will meet on June 6, June 13, July 11 and July 18 in June and July. The board will also meet on June 27 and July 25 if necessary.