Crews assess Minerva's aftermath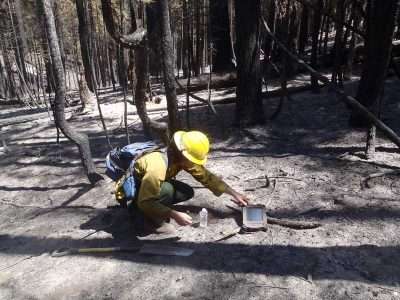 Quincy area residents endured smoke and the threat of evacuation as the Minerva Fire edged closer.
Despite containment and mop-up that signaled the close of the threat to residents, it wasn't finished for Plumas National Forest specialists.
The Burn Area Emergency Response assessment is one of the last official steps in examining the full effects of Minerva.
As the BAER team, headed by Joe Hoffman of the Plumas National Forest, released its plan earlier this month, it spells out key findings. These include heightened risks of flooding and debris flows to roads, and infrastructure damage.
This isn't a plan of what to do; that was handled in previous strategies, Hoffman explained. This is a study of what the area now looks like and what might happen.
Hoffman said that he and his team — hydrologist Kurt Sable and soil specialist Kelby Gardiner — flew the fire area Aug. 13 in a helicopter. They also visited locations on the ground and studied Global Positioning System imagery provided by satellite. Specialists also included a botanist to study trees and plants, a road engineer and three BAER assessment trainees.
One of the big surprises first learned during the fire and now clearly visible, was the amount of damage winter storms and heavy runoff did to the Mill Creek and Gansner Creek area. The fire and the presence of crews within that area, showed the bigger impacts of winter storms that hadn't been investigated until the fire. This area, approximately 1,000 feet long, happened along the eastern side of the West Branch of Mill Creek. This, according to the report, most likely occurred when nine inches of rain fell in a six-day period last February.
Although county road crews dealt with debris build-up and higher waters along Mill Creek this last winter, there are more concerns. "Extra vigilance is recommended for those living or working near Mill Creek or Gansner Creek during storm events over the next two or three years," Hoffman wrote in his BAER report.
More debris brought down in potential storms could impact homes and streets, as well as Highway 70 where these streams are apparent. Large amounts of sediment, rock and wood could be deposited into the streams, especially at bridges and homes within that flood plain.
One of the components provided by satellite imagery, known as Burned Area Reflectance Classification, was the rate of soil burn intensity. Specific areas were then visited by members of the team.
"The BAER team estimated that only 8 percent of the fire area had high soil burn severity," Hoffman explained in the report. High soil burn is determined in areas where soil organic matter that was present before the fire is completely consumed. The matter includes vegetative litter, duff and fine roots. "Typically, the forest canopy is also consumed in these areas."
Twenty percent of the soil in the Minerva Fire area showed moderate soil burn severity. In these conditions, trees are not typically heavily damaged and tree roots, while some burning might show, are not consumed. Because the canopy is still predominately in place, leaves and needles will once again cover the forest floor.
The highest concentration of high and moderate severity was found at the ridge top dividing Gansner Creek and East Branch Rock Creek basins.
Advertisement
In the report, the team found that 35 percent of the area had low soil burn severity and 37 percent of the area was left unburned.
"Since nearly three-fourths of the fire area was unburned or had low soil burn severity, increased storm runoff response due to the fire is expected to be moderate," Hoffman explained. "… only a 24 percent and 28 percent increase in post-fire flood flow magnitude predicted for the Mill Creek and Gansner Creek basins, respectively for the modeled 10-year high-intensity storm (a storm that is expected to occur once every 10 years)."
Threatened or endangered plant species found on the Plumas were also investigated for damage. None of these species were known to occur in the fire area or immediately downstream of the fire area.
Among other information contained in the report, it was indicated that BAER funding is secured to protect native plants in the fire area and to keep down the threat of noxious and invasive weeds spreading.