Crisis center serves victims throughout Plumas County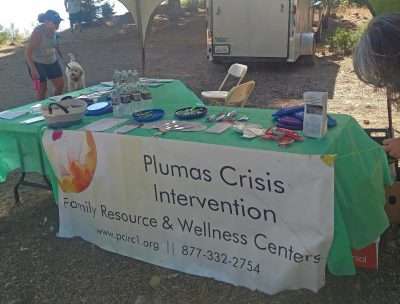 The Courage Triathlon fundraiser held Aug. 24 at Plumas Pines Resort in Canyon Dam for victims of the sex trafficking trade is championed by a number of organizations that provided resource information at the event, such as the Plumas Crisis Intervention and Resource Center (PCIRC), active supporters since the triathlon's inception five years ago.
The staff of PCIRC's Rape Crisis Centers had a visible and colorful booth right at the finish line, where pedestrian foot traffic was high as more people stopped by their booth to pick up informational brochures during and after the race.
"We've watched as our agency's participation has grown exponentially since the initial triathlon and are thrilled with the awareness raised for those who have been sexually abused and/or trafficked," noted PCIRC Executive Director Johanna Downey.
"Our agency commends CEO Jenny Williamson and Courage Worldwide for conceptualizing and constructing such a wonderful event for such a serious — and still prevalent — social issue," she said. "As an agency that works and connects with many different Rape Crisis Centers (RCCs) across the state of California, we salute the efforts of Courage Worldwide, and are happy to be present at their annual event in Plumas County in a show of our support."
Plumas Crisis Intervention and Resource Center, a 501(c)(3) now in its 36th year of business, operates three offices in two counties. The RCC programs are funded mostly by the California Office of Emergency Services and partially through Plumas Rural Services' Domestic Violence Programs.
Through these funding streams, PCIRC provides a 24/7 Crisis Line, S.A.R.T. (Sexual Assault Response Teams), direct services and referrals, advocacy, accompaniment and support to those undergoing an emergency or experiencing a severe crisis, and/or have experienced rape, human trafficking or sexual abuse.
Downey said that there is an on-going need for PCIRC to conduct rigorous outreach to both the Greenville and Chester communities about available sexual assault/rape prevention and education services on behalf of its RCCs. The message is, "You are not alone! We're here to help!"
"The Rape Crisis Centers are just one component of what our agency offers to both Plumas and Sierra County residents," added Downey.
Grief Recovery
Perhaps one of the most important services offered at PCIRC is Grief Recovery Method counseling, consisting of one-on-one confidential interaction with trained specialists who work with those suffering from various forms of grief, whether it's from losing a home due to the recent wildfires; being a victim of date rape and/or sexual assault; the loss of a family member, spouse or pet; or "losing friends and playgrounds" because a person has decided to get clean and sober.
"Grief is truly any form of loss, both recent or from a long time ago."
The two PCIRC's Grief Recovery Method specialists are Rape Crisis Program manager-Plumas, and coordinator of the S.A.R.T. (Sexual Assault Response Team) Michelle Ridley, and PCIRC Emergency Services Coordinator and Senior Family Advocate, Cathy Rahmeyer.
Said Downey, "The Plumas RCC coordinates with law enforcement and hospitals whenever there is a sexual assault," adding that, "PCIRC's sexual assault counselors are the first to be called when a rape or sexual assault occurs. … We meet the person at the hospital and help them with a variety of support services, such as a change of clean clothing, offering emotional support, speaking for the victim who may be too traumatized to make a rational decision in the moment, accompanying the victim to court or other places such as a follow-up medical exam" and other assistance as a means of providing advocacy for the victim.
All of these services are offered by PCIRC at no charge.
Downey said they understand that many times sexual assault victims are ashamed of what has happened to them and are reluctant to come forward after the trauma of an assault.
"We are here to encourage the victim to know that they can come forth when they're ready, and can do so in a number of ways, for instance they can call our confidential 24/7 Crisis Line to speak with a trained peer counselor, or they can come into either office to request to speak with a Grief Recovery Method Specialist, or be referred to us through another agency, entity, friend or family member. There are many ways available to take that first step in healing," Downey said.
She said that clients who come to access the Grief Recovery Method services do so because they provide a safe and confidential environment that allows for those first steps in healing to begin.
In addition to providing the RCC services, many clients come to PCIRC seeking assistance with housing/homelessness, utility assistance, and/or addressing food insecurity by accessing in-house food pantries. Many times, a person who has been sexually assaulted may need these additional services simply because they may not be able to return to where the assault occurred.
Calls that come in to the Crisis Line from those expressing suicidal tendencies are dealt with very delicately by the trained crisis line volunteers, Downey said, where the caller is gently urged to go to the emergency room of your local hospital, placed in contact with Plumas County Behavioral Health, or referred to Plumas Rural Services, which hosts a monthly Suicide Prevention & Mental Health Awareness Working Group, "with whom we work closely to provide necessary and needed additional support services."
For additional information on PCIRC's Rape Crisis programs, or scheduling guest speakers for your organization, contact Michelle Ridley, RCC-Plumas Program Manager at 832-1827; Bruce Mulligan, RCC Plumas/Sierra Prevention & Education Outreach at 283-5515; or Suzie Shelton, RCC-Sierra Program Manager at 993-1237.
PCIRC office locations and hours
PCIRC Quincy office:
591 W. Main St.
Hours: Monday – Friday
9 a.m. – 5 p.m.
Phone: 283-5515
PCIRC Portola office:
165 Ridge St.
Hours: Monday – Friday
8 a.m. – 4 p.m.
Phone: 832-1827
PCIRC Sierra S.A.F.E. office: 513 Main St., Loyalton
Hours: Monday – Friday
8 a.m. – 4:30 p.m.
Phone: 993-1237
The toll free 24/7 Crisis Line phone number is 877-332-2754.