District Attorney presents public service awards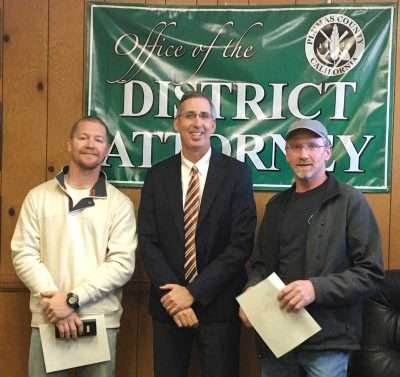 The Plumas County District Attorney's office is proud to announce Plumas County Sheriff's Detective Chris Hendrickson and Deputy Tyler Hermann as December's recipients of the Plumas County District Attorney Public Service Award.
Detective Hendrickson and Deputy Hermann each have demonstrated truly outstanding investigative efforts. Their ingenuity, persistence and dedication to the public not only solved a crime but, likely, saved lives, according to DA David Hollister.
Detective Chris Hendrickson
Arson cases are among the most difficult cases to solve and prosecute. This past summer, 23 suspicious fires started in the Plumas National Forest, the most dangerous being the July 29 Minerva fire which led to the voluntary evacuation of part of Quincy.
During a joint investigation between the Plumas County Sheriff's Office Detectives Unit and Forest Service Investigators, a tire tread and shoe print were located at some of the fire starts. After interviewing a local tire dealership, investigators were able to learn the tire tread came from a tire that had been discontinued over five years earlier.
In subsequent weeks hundreds of vehicles were surveilled looking for a match. As the summer, and fires, continued, Hendrickson was able to locate a Quincy vehicle possessing the make and model of tire that left a tread mark at the fires. Once a suspect vehicle was identified additional investigation and surveillance led to the confirmation of Quincy resident Jeffrey Schmid as responsible for the fires and an arrest was made.
Following the arrest Hendrickson interviewed Schmid and obtained a confession for the series of fires in the Plumas National Forest this past summer. In addition, Hendrickson, during the interview, transported Schmid to various fire starts in an effort to unequivocally confirm Schmid was the responsible party.
Schmid was subsequently convicted of five counts of arson and sentenced to a term amounting to 20 years to life and ordered to pay over $27 million in restitution. But for the outstanding police work of the many investigators and, in particular, Hendrickson, the fires would have likely continued placing our county and citizens in extreme danger.
Based upon his investigative skill and professionalism, the Plumas County District Attorney's Office is proud to present Detective Hendrickson with a Public Service Award.
Deputy Tyler Hermann
In December 2015, recently hired Deputy Tyler Hermann was requested to undertake a welfare check in Quincy. The request came from Plumas County's Child Protective Services who also did a remarkable job in this case.
When he responded, Hermann contacted Tami Huntsman who was there with three minors (one of whom turned out to be her 17-year-old boyfriend and the others were her biological 11-year-old twins) — all of whom appeared well cared for and healthy. Rather than leave, Hermann inquired if there was another child present. After some prodding, Huntsman led Hermann to a car and indicated there was a child inside who was fine and did not like to be around other people.
Hermann was able to locate the 9-year-old victim, who was on the floorboard of the car, hidden under clothes. In talking with the 9-year-old, Hermann found her to be malnourished, heavily bruised with a collar bone, finger and arm visibly broken. When asked what had happened, the 9-year-old responded "I don't know if I should talk about this because I think you might tell them what I told you."
The 9-year-old was taken into protective custody and Huntsman was arrested. Hermann's response led to a three county investigation whereupon it was discovered there was also a 6-year-old boy and 3-year-old girl who had been victims of a homicide and hidden in a storage unit in Redding.
The murder/torture case against Huntsman is currently set for trial in Monterey County in 2018. Based upon his persistence and professionalism, the Plumas County District Attorney's Office is proud to present Deputy Tyler Hermann with a Public Service Award.