Domestic Violence Awareness 5K boasted a colorful success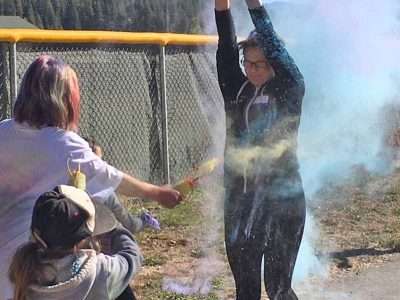 Residents across Plumas County participated in Plumas Rural Services' seventh annual 5K Run/Walk to raise awareness of domestic violence and funds for local services for survivors Oct. 14. For the first time, this event was hosted as a "Color Run," making for a vibrant, entertaining day for runners and walkers.
The Color Run launched from Feather River College Equine Facility, with dozens of individuals and teams and even some pets, ready to move. Along the way, participants were periodically "sprayed" with colorful powders creating a vivid, moving display as they navigated the 5-kilometer course.
In addition to those who supported this awareness effort by coming out to join the Color Run, a number of businesses also put their support behind the event. First-, second- and third-place runners and teams won gifts donated by area businesses, including American Valley Hardware, Crescent Country, Express Coffee Shop, Finch Photography, Gray's Flower Garden, Mountain Building Supply, Nakoma Golf Resort, Pangaea Cafe & Pub, Paradise Grill, Patti's Thunder Cafe, Quincy Hot Spot, Roper's, Sterling Sage and Topper's Tree Service. Items were also raffled off to participants at the end of the event, a great finish to an inspirational day.
Plumas Rural Services serves survivors of domestic violence in a myriad of ways, including safe shelter, confidential counseling, advocacy with the justice system, court accompaniment, advocacy for healthcare, transportation, household establishment and more. All services and contacts are voluntary and confidential. Proceeds from the annual 5K Walk/Run directly support those services.
For more information about Plumas Rural Services or the Domestic Violence Services & Shelter, visit PlumasRuralServices.org or call 283-5675.