Donation makes possible a critical piece of hospital equipment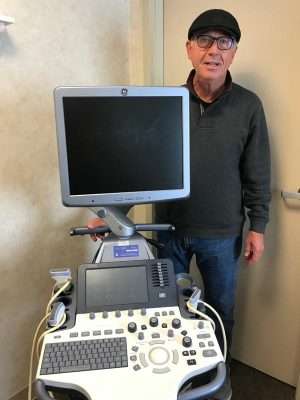 Tom Balestri and his daughter RoseEllen Countiss recently made a substantial donation to Eastern Plumas Health Care's Auxiliary to pay for a much-needed new echocardiogram machine for the hospital.
They made this generous donation in Ellen Balestri's name in order to remember both wife and mother, who had been so devoted to the hospital and its Auxiliary.
Ellen, who died last year, was the auxiliary president at the time, and she and Tom have been great supporters of the hospital over the years, giving of both donations and time. Ellen was passionate about the Auxiliary and was doing everything she could to keep it alive and growing. Both Ellen and Tom recognized how important the hospital is to their community.
It's fitting that the donation made possible the purchase of an essential piece of equipment; one that Tom Balestri made sure will be well taken care of and likely to work for 20 years helping EPHC's patients. Radiology Supervisor Mischele Dillon reassured Tom that EPHC keeps this type of equipment under vendor contracts, which is expensive, but ensures that the equipment is well maintained and the software is updated to the newest version at all times.
The new GE machine replaces the 1991 model, which utilized VHS tapes to store images. The machine is used to take vascular images of the heart valves, heart muscle and the aorta. It can show defects that need surgery or medication to control. It also shows the carotid artery, which feeds the brain, and can show stenosis and plaque that can cause strokes.
Dr. Milind Dhond, EPHC's cardiologist, will use this machine to do initial cardiac vascular work ups, screenings and stress tests. The machine will also be used as a backup for the hospital's primary ultrasound machine. The machine utilizes 3-D imaging for high image quality. It also has 4-D imaging capability, which is used to map vascular rate and flow, and it can indicate when blood isn't pumping fast enough. The machine utilizes specialized probes for testing the heart, abdomen (aorta) and the carotid artery.
The new echocardiogram machine will be used on approximately 20 to 30 patients per month. EPHC's echosonographer takes the images that Dr. Dhond then interprets. The fact that this new machine takes such high quality digital images, which can be easily sent to Renown, Tahoe-Forest and beyond, and can be downloaded onto a DVR for patients to take to their out of area doctors, is "really good for the community," said Dillon.