Dr. Ammar Saheli addresses racism with CHS students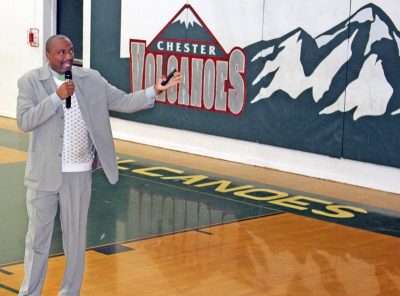 Race relations in America have been strained since its founding 243 years ago.
According to a new Pew Research Center survey more than 154 years after the 13th Amendment abolished slavery in the United States, most U.S. adults say the legacy of slavery continues to have an impact on the position of black people in American society today.
Under the auspices of the Plumas Unified School District, Chester High School Principal Terry Hernandez sought to encourage students to express and question their views on the issue of race by inviting guest speaker Dr. Ammar Saheli to address grades six through 12 in the school's gym May 17.
Born and raised in San Francisco, Dr. Saheli has a doctorate in International and Multicultural Education, is the CEO of Saheli7 Educational Consulting, works as the Director of Student Support Services for San Lorenzo Unified, is the passionate preacher of the West Oakland Church of Christ, and the author of "Eerie Silence," a book that seeks to address the impact of cultural bias, racial disproportionality and institutional barriers.
Through compassionate, collaborative and creative problem solving, Saheli is a civically engaged advocate for equity and social justice.
Before Hernandez introduced Dr. Saheli to the students he noted that the real world has a much different ethnic makeup than that found at Chester High, and students should be mindful of that fact when they graduate and travel to distant places, where they will meet people with an assortment of backgrounds.
Saheli's presentation focused on the subject of "Making Racial Equity Explicit," emphasizing the need to create an open dialogue between all members of society on the problem of race relations in America.
He said he understood that the subject of race for many was uncomfortable, but that it was imperative for students to tackle the issue to overcome intolerance and bigotry.
"We are here to discuss a complex topic," Saheli began in earnest regarding the difficulty in exploring racial dynamics in American society. "In so many ways we are trained to not discuss race," adding that, "the goal is not to fixate on race" but to become "accepting of the need to acknowledge that racism is real." Such conversations can be difficult, he admitted.
During his passionately honest presentation, Saheli facilitated the discussion on race relations by asking the students to take the opportunity over the course of a few minutes to turn to the person next to them and share a dialogue on the frequency that they brought up the issue of race with others, whether at school, in the community or at home.
He said he knew that such a discussion would likely be uneasy for a large number of students. Nevertheless, the students appeared to gladly embrace the challenge and spent the limited time they were given conversing amongst one another.
"What was that experience like?" Saheli asked the students after their peer-to-peer discussion, taking questions from respondents. Many acknowledged that such a conversation on race doesn't normally arise in day-to-day communications.
"Somehow, even though no one is telling us not to talk about this issue of race, and without it being explicitly stated, there's a feeling that we're not supposed to speak about it."
Saheli said part of the reason might be that people think if they bring up the subject, they may be labeled racist or otherwise have the fear of being misunderstood or offensive.
"But what is so important in these specific conversations is that whatever environment we're in, we should do it because it is necessary."
What is essential, he continued, is that, "Through settings like this … we can move the conversation forward."
Delving further into the topic of race relations, Saheli had the students' rapt attention as he next explained the distinction between racist socialization and racial socialization, making the case to the student assembly that racist socialization comes down to hateful actions that are fueled by racist intent, designed to divide people based on race or ethnic groupings.
He defined racial socialization in the context of an upbringing that is inclusive, and instills the values of parents who have the cultural foresight to teach their children to be aware of the racism found in society.
"Racial socialization is what gives us the ability to recognize when racial situations happen, how to deal with it and to support those who end up affected most with the tools to understand racist behavior."
Racism is not only a problem in the U.S. alone, he added, but manifests itself worldwide.
Saheli shared personal anecdotes that included a story of racism experienced while in college on a trip to Korea, where he experienced being called derogatory names by people he had never met before.
Another account he conveyed to the assembly was the time he and a group of African-American friends, including a white friend, were randomly stopped by police when they were teenagers.
"Immediately we were lined up against a wall, hands up, legs spread, and we were searched," profiled without any stated reason, he said.
Saheli recalled that during the search, "My best friend — who was white — was approached by a white police officer who said, 'Tell me you're not with them and I'll let you go,'" treating him differently than Saheli and his African-American friends.
As he continued his talk, Saheli asked the students to give examples of where people learn racial insensitivity, with answers from students ranging from parental upbringing to politicians, cultural depictions of minorities in the media and in cartoons, peers at school and so forth.
He said that when someone expresses racial insensitivity, it is then imperative to speak up, reject the mistreatment of others based on skin color, including gender or other physical characteristics that make those targeted to feel unwelcome or increase their sense of being threatened.
Quoting from the book titled, "Post Traumatic Slave Syndrome: America's Legacy of Enduring Injury and Healing" by Joy DeGruy, Ph.D., he said, "We need to tell our children the truth and prepare them to thrive in the real America. We need to replace America's racist socialization with racial socialization," primarily through education and open discourse.
On one final note, Saheli emphasized "We know that love is the essence of what is needed to overcome racism in society today. … It is our responsibility to understand the negative cost of discrimination and intolerance."
What is the legal definition of bullying?
Bullying, as legally defined within the California education code, is any severe or pervasive physical or verbal act or conduct, including communications made in writing or by means of an electronic act … that can be reasonably perceived as being dehumanizing, intimidating, hostile, humiliating, threatening, or otherwise likely to evoke fear of physical harm or emotional distress and may be motivated either by bias or prejudice based upon any actual or perceived characteristics, such as race, religion, ancestry, gender identity, or mental, physical or sensory disability or impairment.
Bullying includes sexual harassment, threats or intimidation directed against school district personnel or pupils, causing a reasonable pupil to experience a substantially detrimental effect on his or her physical or mental health; interference to participate in services, activities or privileges provided by a school.
Any staff member who is originally made aware of any threat or witness any bullying, harassment or intimidation attempt that are written, drawn, spoken or threatened, must immediately notify the principal or their designee via the Office Discipline Referral process at their respective school site.
Any threat in any form must be treated as real, reported and investigated appropriately.