Dreaming of spring in Plumas County
The Plumas-Sierra Community Food Council, Plumas-Sierra 4H and the Plumas-Sierra Master Gardeners came together at the Mohawk Community Resource Center to host the second annual Seed 'n' Feed on Sunday, Jan. 29.
The workshop covered everything from taste-testing new recipes to evaluating and matching plants to microclimate. More than 25 locals from around Plumas County attended the event to learn, share seeds and knowledge, and discuss with passionate excitement the gardening season that is already coming soon.
Kristi Jamason of the Plumas-Sierra Community Food Council spoke of how the event came together in 2016 for the first time, after a food summit gave birth to ideas on how to improve the food system in Plumas and Sierra counties.
"It took about two years to fully bring the ideas into a cohesive plan," Jamason said. "Ideas like this really ripple noticeably through the community."
Emily Bryant, Quincy Elementary School garden manager, kicked things off with two kale recipes — a kale salad and a fruit-kale smoothie. As she and her two assistants prepared the salad, Bryant spoke about her love of gardening, and how it has merged into a role that allows her to introduce new flavors and nutrition into children's lives.
"It's wonderful to be able to play with children's aspects of taste, and all of their senses, as they are introduced to new foods. It's really just this huge new adventure when you're small, and getting the kids involved in gardening gives them an increased understanding of nutrition, which they can take home to their families."
Bryant spoke about the many varieties of kale as she massaged coconut oil and Celtic salt into the salad being prepared. "There are so many good varieties of kale, but one of the best for growing in our area is the red Russian variety. It is dense in nutrients and very hardy."
The salad samples were passed around and passed the group taste-test with flying colors, followed by tastes of a kale-based smoothie. "The darker the kale, the better it generally grows in cold climates," Bryant explained.
Advertisement
After engaging the taste buds of the group, Paul Mrowczynski, master gardener, spoke to the room about evaluating each individual microclimate and matching it up with plants that typically do well in that climate.
"One thing that has been of great help in my garden is the use of 'hog panels,' which are wire hoops that go over my planters and can be then covered with fabric and 6 millimeter plastic sheeting to hold in heat and extend the growing season," Mrowczynski said.
"Extending the season is important here, as the growing season can be especially short and there are also very extreme temperatures to deal with in some areas. Taking the time to evaluate your growing space and note sun exposure is one of the best things you can do. A good way to start is to pay attention to your yard, which is probably covered in snow right about now. If you pay attention, you will start to notice where the sun melts the snow first. This will give you a good idea of sun exposure.
"Another thing to evaluate is the wind exposure, as well as keeping an eye on when frosts occur. Track the shady areas where there are trees, and keep in mind that some trees are going to fill in with leaves and create shade as you get further into the warmer months. Sunshine is so important because your plant ripening factor truly depends mainly on exposure to sunlight."
After showing a graph that he made of his home garden plot, with notations as to the all-important south-facing sun exposure, Mrowczynski introduced local gardener Katherine Kinne to the room to speak about seed starting indoors and tips on hardening seedlings off.
Kinne moved through the basic steps to starting seeds successfully, beginning with the planning stage.
Kinne said, "You want to ask yourself some questions like, how do I plan to irrigate? Some people love to hand-water, others may prefer or only have time for an automatic irrigation system. Another important thing to do is to test your soil, which can be sent out and assessed to give you an idea of what kind of nutrients your soil may need to be hospitable to growth."
Kinne went on, "During the planning stage, you want to be realistic about what can and can't grow in your microclimate. For instance, you're probably not going to be able to grow a banana tree in this area. Also ask yourself how much time you can or want to commit to gardening, from planting to weeding and followed by harvesting. Gardening can be time consuming."
Kinne went on to discuss when to plant seeds, saying, "It depends on what you are planting, and there is a wealth of information available online to learn that in detail. I personally will be starting my early crops on a heating mat that goes under the seeds to create enough heat to produce germination — 65 to 75 degrees — in February. Cool weather crops such as broccoli and cabbage are good to start this early in the season as well."
Kinne discussed the importance of good drainage for plants, and noted that not all seeds are going to germinate.
"When planting, a good rule of thumb is that you want to plant at the depth of roughly 2 to 3 times the size of the seed. Mist after planting, do not douse. I then like to cover the tops of the seed containers with plastic to keep in heat and moisture until the seeds sprout."
When it comes to fertilization, it is key to wait until after the first sets of true leaves appear on the plant, with liquid fertilizer being the most economic method Kinne has discovered for her own use.
Advertisement
Once the second set of true leaves have appeared, Kinne recommends strengthening the stems by either running your hands back and forth over the tops of the plants or utilizing a small oscillating fan to bend and move the plants.
"This all results in stronger plants, which is what we want when we're preparing these babied seedlings to go out into the 'real world,'" Kinne said smiling.
When it comes time to harden the seedlings off, Kinne recommends putting the potted plants outdoors for a short length of time each day before bringing them back into warmer temperatures at night, slowly increasing the time outdoors as the process continues over a two week period.
"This really helps acclimate the plants to a new environment, instead of sending them into shock from a sudden, drastic change in soil, sunlight and temperature," she said. "A warmer base soil will always mean faster growing plants."
After a potluck meal, Kari O'Reilly, Plumas-Sierra 4H coordinator, concluded the day's discussion by speaking about seed saving, drying, and storing, along with the possibility of a seed library in the area.
"Over the last 100 years, we have lost about 80 percent of our global crop genetic diversity," O'Reilly said. "We save seeds to create more diversity, because we have a responsibility to preserve access to these seeds for ourselves and our communities. We really don't want to lose even more of these seed varieties to time. Seed saving builds community resilience, as well as self-sufficiency."
O'Reilly went on to cover the traits of various seed types, from hybrid to heirloom, and briefly discussed GMO seeds and what they are.
"GMOs, or genetically modified organisms, are essentially plant hybrids that would never occur naturally. This is like a seed being crossed with genes from a fish. This is different than a hybrid, which is a cross between two plants that might occur unaided in nature, and is bred specifically for certain naturally occurring traits or resistance against certain plant diseases."
"What we are focusing on today is saving seeds from open-pollinated varieties, which I consider a radical movement," O'Reilly went on. "As a community, we can create a diverse seed stock to save, trade and plant. A diverse stock is important to avoid what is called 'inbreeding depression,' which occurs when plants have been inbred too frequently. Remember that small mutations are what we want, and they create that variety."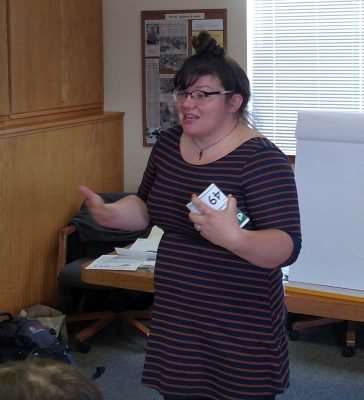 "Seed saving is largely about record-keeping and observation," she continued. "You want to make sure that not only are you getting diversity in your garden, but also that you are choosing seeds based on traits that you observe — hardiness, flavor, resistance to a certain pest or disease. You want to harvest those seeds when the fruit itself is nearly past its prime, which gives the seeds time to be as viable as possible."
O'Reilly shared some tips on harvesting the seeds from tomatoes, called "wet processing," and pointed out that no matter what, it is important to store seeds in an airtight container after they are bone dry.
"Ensuring that your seeds are dry will keep them viable for longer, and help avoid mold. Don't worry if you make mistakes, it's all a big experiment, and you never know what you might get out of it," said O'Reilly.
"Seed saving and preserving the diversity that remains to us can be overwhelming as an individual, but is completely fun and achievable as a community, which is what makes the upcoming seed library project so important and exciting. Seeds can be so easily corrupted that it is in our best interest to be responsible guardians of our food sources."
For more information on the seed library or any other topic discussed, contact master gardener Paul Mrowczynski at [email protected].
Do you like to garden? The Plumas-Sierra Community Food Council needs you!
Support the health and wellness of the community by sharing your harvest through the Plant a Row for the Hungry campaign. Ways to get involved:
Plant an extra row of food in your garden.
Harvest and donate extra produce, or contact Plant a Row for volunteer harvest assistance.
Volunteer to help harvest around Plumas and Sierra counties.
Add your fruit trees to our fruit tree database for future harvests.
Contribute seeds, soil or plant starts to be distributed to other Plant a Row gardeners.
Contact Megan Mansfield at 283-6544 or via email at [email protected] for more ways to get involved.