Evelyn Conant
Evelyn G. Conant, 90, passed away peacefully with her family by her side on March 15, 2023, in Reno, Nevada.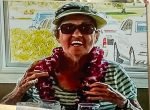 Evelyn was born February 11, 1933, to Bert and Margaret Landaburu of Chilcoot, CA. She was the 5th child of 10 Landaburu children.
Evelyn was preceded in death by her husband Bill Conant, and first husband Joaquin Randall, parents Bert and Margaret, brother Bert Landaburu, sisters Marion McVey, Carmen Coleman, Alma Coleman and Marla Jean Ray.
Evelyn resided most of her life in Portola, CA. She worked as a waitress at the HM&J café until she went to work as a bookkeeper for Freeman Fuel Co. from 1957 to 1961. She then joined the medical field in 1961 and worked for the next 30 years for the physicians at the Western Pacific Hospital. In 1985 she joined the staff of the business office of Eastern Plumas Hospital, from which she retired in 1993, to fulfill her dream of being on the golf course as much as possible.
Evelyn met and married William "Bill" Conant in 1976. They resided in Delleker and Blairsden until they finally figured out that "golf" was their life and decided to move somewhere the weather would allow them to golf every day! In 1995 they moved to Red Bluff and joined the Wilcox Golf Club and met and made many wonderful friends (and the Golf was on!).
Evelyn is survived by her daughter Debbie Varela (Louise Jr.) of Sparks, NV.; son Bill Paterek (Yvonne) of Idaho; granddaughters Vanessa Varela (Shane) of Sparks, NV., Jessica Ramsey (Trevor) of Idaho, Amber Knox of Virginia; grandsons Louis J. Varela (Jackie) of Sparks, NV., Ryan Kirk (Mandy) of Idaho, and 10 great-grandchildren, numerous nieces, nephews and cousins.
There will be a graveside service on July 8, 2023, at the Vinton Cemetery at 11 a.m. and a remembrance luncheon at the Grange Hall in Vinton. In lieu of flowers, a donation to your favorite charity would be appreciated.
God looked around His garden
And found an empty place;
He then looked down upon this earth
And saw your tired face.
He put His arms around you
And lifted you to rest.
God's garden must be beautiful;
He always takes the best.
He knew you were suffering;
He knew you were in pain.
He knew that you would never
Get well on earth again.
He saw that the road was getting rough
And the hills were hard to climb.
So he closed your weary eyelids
And whispered, "Peace be Thine."
It broke our hearts to lose you,
But you didn't go alone.
For part of us went with you
The day God called you home.