'Fair winds, shipmate' offered as Veterans Services officer given proper retirement send off
Retiring Veterans Services Officer James "Jimmy" LaPlante received not one but two standing ovations from a packed audience in the Board of Supervisors' chambers Tuesday, April 16.
"I remember when you were our transit person," said Supervisor Sherrie Thrall following a special retirement farewell ceremony for LaPlante. "You never disappoint me with what you've done," she continued about a man who started his second career with the county's transit program. Thrall added that LaPlante stepped in and took an "almost nonfunctional" Veterans Services program and "literally transformed that whole operation."
Thrall echoed Supervisor Lori Simpson's remarks that LaPlante is the best Veterans Services officer or director they've ever had.
Emotions were high and a few tears were shed as LaPlante was given a hearty send off from a position as head of Veterans Services for the past six years.
"In his six years of service to veterans and their families as VSO (Veterans Services officer), Jimmy has improved how quickly claims are filed, obtained a van that takes veterans to medical appointments at the Reno VA Hospital, increased outreach so more vets get connected to benefits, and conducted a bunch of different activities to get vets together and socializing (fishing derbies, golf tournaments, vets dinner," said Zach Revene, assistant director of the Plumas County Health Agency. Veterans Services is under the health agency's watch.
LaPlante seemed to mean business when he applied for and accepted the position of VSO in 2018. "One of the ways the state tracks the success of county Veterans Services programs is how many veterans utilize their compensation and pension benefits," Revene explained. "When Jimmy came on-board, Plumas County had a utilization rate of right around 15 percent. Today that rates stands at 26.4 percent."
"In the last fiscal year, Jimmy brought in $788,958 in new awards to Plumas County," Revene said. That's more than three-quarters of a $1 million, Revene emphasized.
"Aside from connecting vets with financial benefits, probably one of the most important parts of Jimmy's job is spending time with vets and helping them with a wide variety of needs," Revene said to the standing-room-only audience.
"I think I can speak on behalf of many vets in saying that Jimmy has always been available for a conversation, and has often gone above-and-beyond in assisting them," Revene said.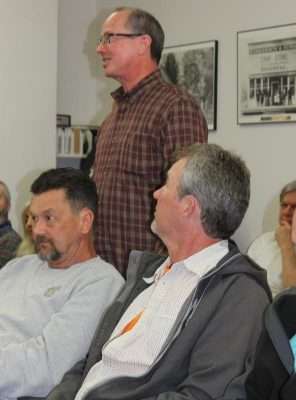 "I have personally witnessed Jimmy going out of his way to help homeless vets find permanent housing, and I have seen how his persistence and dedication have brought years' worth of compensation back to vets and their families," Revene said.
Revene went on to commend LaPlante for the "high-functioning" program that he created for veterans and their families for years to come.
Responsibilities of a VSO
As a fellow Naval officer, Supervisor Michael Sanchez spent time planning for LaPlante's retirement send off.
"This is my original dress blue jacket," Sanchez told his audience. It's not permissible to wear the entire uniform without specific approval from the U.S. Navy, he added.
"I was commissioned as an Ensign in 1985 at (the) 12-year mark of my enlisted career."
LaPlante is a retired Master Chief Petty Officer E-9, Sanchez explained about the VSO's original career. "There is only one enlisted position higher than that" — the master Chief Petty Officer of the Navy E-10.
Sanchez went on to explain the scope of a VSO saying that it is very diverse.
The program provides benefit assistance to those who have served in a branch of the military. Although there are few left who served in World War II, a VSO works with them.
There are veterans with service in Korea, more from Vietnam, some from the cold war and on into the 1990s, to the present with the gulf War and the Middle East. And now with those who have served in Afghanistan known as America's longest war. "We still have men and women in uniform in harm's way," Sanchez continued. "They will need assistance when they come home."
Among the VSO's duties is the veteran's administration cemetery and assistance with burial and headstone.
And now there are collaborative efforts that provide updated information to veterans. Sanchez mentioned a few of the activities that LaPlante helped organize included the Stand Down at the Plumas-Sierra County Fairgrounds last year and an upcoming Stand Down.
LaPlante also started work on having a veterans clinic located in Quincy, Sanchez said.
There are bereavement needs for veterans and their families that are part of the services.
Envision a quarterdeck
As part of Sanchez's program to honor LaPlante, he asked fellow supervisors and the audience to envision a Naval quarterdeck.
This is the command center and ceremonial location aboard ship. The duty personnel on watch are in dress uniform and armed. There is much protocol surrounding activities that take place on the quarterdeck.
"Protocol requires that sailors salute the flag stern/fantail and request permission to come aboard," he explained.
"The ship's bell is rung twice when the ship's captain comes up the brow and the bell is rung once more when he sets foot on board."
As part of the ceremony, Sanchez recorded the exact sound of the pipe that is played to note specific occurrences. This is done by the boatswain's mate and a pipe. The command is "Boatswain please pipe to order the quarterdeck for the reading of the watch."
The Watch
"In recognition for services by Jimmy LaPlante Plumas County Veterans Services Officers and Master Chief Petty Officer, United States Navy (retired)," Sanchez began.
"For many years Jimmy has stood the watch, during active duty military service and as the Veterans Services Officer of (the) County of Plumas, making the lives of many of our veterans much better.
"While some of us were in our bunks at night, this shipmate stood the watch.
"While some of us were in school learning our trade, this Shipmate stood the watch.
"Yes … even before some of us were born into this world, this Shipmate stood the watch.
"In those years when the storm clouds of war were seen brewing on the horizon of history our veterans answered all bells. This Shipmate stood the watch and provided the much-needed services for them when they came home.
"Many times he would cast an eye ashore and see his family standing there…needing his guidance and help … needing that hand to hold during those hard times … but he still stood the watch.
"Jimmy stood the watch with honor. He stood the watch so that we, our families, and our fellow countrymen and veterans could sleep soundly in safety each and every night knowing that this Sailor and Veterans Services Officer stood the watch," Sanchez said.
"Today, we are here to say the watch stands relieved. Relieved by those you have led, guided and trained. Master Chief Jimmy LaPlante you stand relieved of your watch as of April 30, 2019."
From one Naval officer to another, Sanchez said "Fair winds, and following seas shipmate," to LaPlante before turning the ceremony over to him for parting words.