Family, friends and volunteers rescue stranded snowmobilers
When two buddies climbed onto their snowmobiles Sunday, Feb. 24, they had no idea they would spend the next three nights in frigid temperatures and be near death before they were rescued.
Doug "Diggy" Weeks, 49, and Nick Luna, 34, friends and neighbors from the Lake Almanor Basin community of Hamilton Branch, were taken to Eastern Plumas Health Care on Wednesday, Feb. 27. Weeks was treated there and released Sunday, while Luna was transferred to Renown in Reno where he is still recovering.
Their ordeal began Feb. 24 while snowmobiling in the Lakes Basin Area near Graeagle when one of their sleds became stuck.
According to the Plumas County Sheriff's Dispatch records, their spouses reported them missing just after midnight, and the log contains the subsequent efforts of the sheriff's office to ascertain their location so that Search and Rescue could find the men. They declined to provide the information because they said they didn't need assistance.
It was reported that at 8:32 a.m. on Monday morning, Feb. 25, Luna's wife, Twyla, reported receiving a text from her husband saying that they were "OK – getting machine unstuck from a creek/riverbed."
The men were instructed to call 911, but didn't. At 8:44 a.m., it was reported that they called to say they "are fine, getting unstuck and will be getting out — insist no assistance is needed."
At 9 a.m., dispatch contacted the Graeagle Fire Department, who had been preparing to help in the search, and canceled the request.
Search and Rescue's own operation was suspended at 2:19 p.m. due to weather.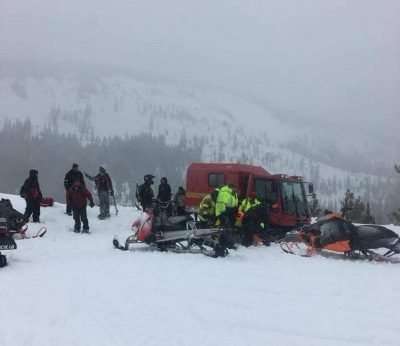 "I had staff out there for 12 hours and the conditions were horrific," Hagwood said. "Winds were approaching 90 mph and there were snow accumulations of multiple feet."
At 2:32 p.m. dispatch records indicate that Luna's wife called and said her husband "is refusing to tell her where he is" and that she has a friend en route to the area.
It turned out that there were many friends and family arriving to help. Friends and family came from as far as Oregon and Redding, and were joined by volunteers from throughout the area.
Among those were Luna's sister and brother, Kayla and Nathan. When asked why the men didn't want help from Search and Rescue, Kayla said that they were confident that they could get out. They were successful in dislodging the snowmobile, but then conditions took a turn for the worse.
"They both were moving on their sleds and went about 500 yards," she said. But then Luna's snowmobile quit working so both men tried to get out on just one. "They left Nick's (Luna's) sled back and kept going in Diggy's (Weeks'). By the time they realized they weren't getting out, their cell phones died."
Kayla said that her brother tried to recharge the phones with backup packs that they had, as well as using wires from the snowmobiles. She said he managed to get his cell phone back to 19 percent and tried to call 911, but it didn't work.
Ben and Lisa Bowater drove from Grants Pass, Oregon, to help find their friends, arriving early Tuesday morning. They joined others who were
congregating at a local home. "Johna Berg let us come in and overtake her house," Lisa said of the estimated 30 people who used it as a staging area.
Weather conditions were particularly bad on Tuesday. Graeagle Fire Department Captains Cody Ward and Trey West set out with a few other volunteers, but were forced to return.
"It was literally too deep," Ward said. "We kept getting stuck." Plus they were very aware of the avalanche threat.
They returned Wednesday morning, along with about 30 other snowmobilers, and friends and family on snowshoes to make what would be the final and successful attempt.
They made a plan. Nick Luna's brother, Nathan, would lead a group from Gray Eagle Lodge, while Ward's group headed up to Long Lake to work their way down.
"The weather was really bad," Ward said as the effort got underway, but when he received word just after noon, that the two men had been found, the weather cleared enough to help with the rescue.
"Their family was super dedicated to be going out there in such wicked conditions," Ward said.
And it was family and friends on snowshoes who found them.
"Nathan (Luna's brother) walked to the edge, looked down a ravine and heard a cry for help," family friend Lisa Bowater said. "He went flying down that hill."
Bowater said that they found Luna first and Weeks was about a quarter mile away on the other side of the creek. Luna had crossed the creek trying to go for help, and in the process got wet. (His frostbite turned out to be more severe than Weeks'.)
"It was crazy how close to the road they were when we found them," Cody Ward said, and added that eventually they would have ended up at the Gray Eagle Lodge.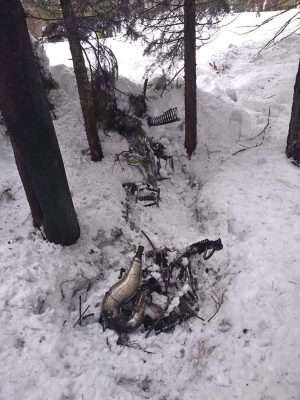 Sheriff Hagwood said that searchers were within a couple hundred yards of them Monday, but conditions were too bad to see them.
Kayla said that Luna's core body temperature was 90 degrees and Weeks' was 91 degrees when reached. Additionally, Luna couldn't see due to snow blindness.
Luna was put on a backboard and pulled up the hill to safety while snowmobiles reached Weeks on the other side of the creek and took him to the Gray Eagle Lodge. "When they got to the top, the Sno-Cat  and Search and Rescue took them down," Bowater said.
Graeagle Fire Chief Ed Ward drove the ambulance. Ed Ward had been coordinating with his Graeagle crew, as well as the volunteers and Search and Rescue. He said the one piece of information that would be helpful in the future is to be told of pre-existing medical conditions so that rescuers are better prepared.
Ward said he was also aware that there were a lot of rumors circulating about the men, such as that they had built a snow cave. He said they did set fire to a snowmobile Tuesday night for warmth.
Lots of thanks to go around
Family and friends said there were so many people to thank, it was impossible to name them all, but they were particularly appreciative of Ed and Cody Ward, Johna Berg, the Graeagle Store for opening early, the Graeagle Chevron for providing gas free of charge, Gumba's for food discounts, Tahoe Dave's for supplying snowshoes, a host of local volunteers, Frontier Communications for the use of its Sno-Cat and its driver Calvin.
"We want to thank the whole community of Graeagle and the whole sledding community," Kayla said.
She added that the two families plan to host a celebratory lunch to thank everyone for their help.
Prognosis
Kayla said that her brother and Weeks face months of recovery due to their exposure to the elements. Luna's frostbite was more severe and he spent the first few days in the ICU.
Weeks owns his own construction business, Douglas Construction, and Luna works for Jay Williams Preferred Builders.
Family members are trying to establish a GoFundMe page for their recoveries, but the two men have thus far resisted, saying that people have helped them enough.
The families will continue to manage the Facebook page "Bring Nick and Diggy Home," so that updates can be posted.
"We're a very, very close family," Kayla said of her and her two brothers. Her two brothers actually live on the same street in Hamilton Branch, and she visits regularly from her Redding home. "We do all kinds of stuff together — hunting, fishing, snowmobiling …" and now it turns out rescuing each other.