Fire crews do a hard, dirty job — and love it
It's 7 p.m. at the Fire Incident Camp off Lee Road in Quincy and engines drop off tired, achy firefighters in smoke-covered work clothes to file in for a welcome supper. Bed won't be far off, either.
They wave to the other companies and laughter breaks out here and there, releasing the stress of another tough day ending at last — Day 14 on the Minerva Fire that has claimed more than 4,300 acres of the Plumas National Forest.
Fire suppression is no day at the beach. Working side by side up on Claremont Peak with the U.S. Forest Service and other firefighters from all over the country, these dedicated first responders do a difficult, dirty — and sometimes dangerous — job.
Besides the real and present reason of saving the town of Quincy and the surrounding wildlands, a little question comes up — why? Why sign up for such a grueling job under harsh conditions?
"I do this work because I love it and because it's been a passion with me since I was 15," said Quincy-raised Eddie Badalamenti from Plumas National Forest Engine 34. "It's not the glory — it's the ethics we have — pride, honor and hard work that we carry into every job."
Engine 34 crewmate Justin Barry of Chico agrees because every part of their job depends on close teamwork.
"You go through a lot with these people," Barry said. "You have to trust everybody up and down that line — trust that they'll do their part of the job and keep you safe. And vice versa."
The Engine 34 team has been stationed up in Division-M of the fire — called Division-Mike by the command center and fire teams — the hardest section of the fire suppression effort, with downtown Quincy directly in its path.
High up on the ridges and down into the ravines, the Forest Service firefighters and their cohorts from all the other agencies that have sent crews and equipment to fight the Minerva Fire since July 29 rely on the superior training, strength and skills that they all have in common. But it takes one more thing.
"Endurance," laughs Badalamenti, tucking his strong, grimy, smoke-covered hands into his pockets. OK, and maybe camaraderie with a sense of humor.
"All these hard days," he continued, "you're not necessarily having fun out there. But later, when you look back, everybody out there went through it, too. Days like today, where we were digging out giant stump holes in the path of the fire, we'll remember that and joke later that they were so big, we could have lost a crew member in there."
Teammate Barry nods in agreement, saying, "Yeah, you'll always remember the people you worked that fire with. You'll never forget it."
Plumas National Forest  spokesperson Lee Anne Schramel of Greenville, once a firefighter herself, stands to one side, supporting the fire crew and adding a welcome explanation.
"It's a lot more than cutting lines by hand, running hoses and bulldozing bigger lines of protection up in that rugged terrain," Schramel said. "Those old tree stumps, left over from cuts, they can catch fire, too. And their roots can smolder and burn all through the winter, so they have to come out."
She added that the fire crews are "mopping up" to a line of 150 feet. Though there may be some residual smoldering deep in the interior of the fire footprint for a while, she said, "On that line, nothing will be left burning."
Asked what their hardest day on the fire has been so far, Engine 34 crewmembers unanimously agree it was the night Boyle Ravine unexpectedly erupted in several spot fires up the hill behind Safeway.
"That was a long night," Badalamenti remembers with a worried look. "With the wind and the trees torching off — for a firefighter, it's really rewarding knowing you've contained a fire that could have caused so much damage or injury."
Schramel said the Minerva Fire had just bumped up to the highest level of preparedness — Level Five —and having the ability to draw upon many resources, including private contracting firms of highly skilled firefighters, has made a big difference in successfully addressing both this wildland fire and the many local lightning strikes that Plumas County has experienced in the last week or so.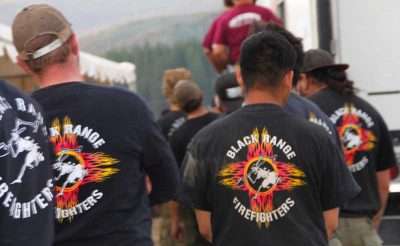 The Plumas has its own complement of 15 dedicated engines to serve the entire forest. "Obviously, when you need to bring in outside resources, you do it," Schramel said.
Turning away from the fire information board posted a few feet from the canteen, where close to 200 firefighters were having their long-awaited dinner, crew boss Gus Alejo offered a thoughtful comment about the rigors of serving on this fire.
Alejo and his 20-man crew are with the Oregon-based contractor Wy'East Wildlands Fire. Alejo has 15 years of experience fighting fires of every kind.
Advertisement
"The hardest day so far?" Alejo said.  "It was our first day on the fire, about a week ago, when the trees exploded into a wall of fire maybe 200 feet high. We were showered in embers, everywhere, all around us. Our hearts were pounding."
Alejo's crew boss trainee, Mike Coria, recalled the sparks and embers falling on their necks and shoulders. Alejo had to yank Coria's pack off his back as it was catching fire.
"There were other crews already working our area," Coria said. "We turned our heads and looked up and it was intense. But that's what we had to do — we were chasing embers all night, on the right, on the left. It was hectic, but we didn't want to lose it."
Alejo nods.
"I'm proud of my crew," he said. "When it's like that, we can't see beyond that, or around it or what's ahead. So we depend on each other — on the other crews, on the helicopters helping us from above. Those guys are looking out for the firefighters on the ground with water and with reporting on the radios about what they can see, what's happening. All that night, we held our ground."
And now it was time to get some rest and to quit being pestered with interview questions.
Wishing the firefighters a good night and watching crews continue to arrive at the fire camp after long shifts, a reporter called out a heartfelt "thank you" on behalf of the whole community and its sister towns.
"You're welcome, ma'am," said one dusty firefighter, following his crew mates to the chow line and a hard-earned seat at the makeshift mess hall tables.