Fish bits for the week of 5/16/18
"Calling fishing a hobby is like calling brain surgery a job"
— Paul Schullery
Bucks Lake
Trout were planted May 6. "Fishing good mornings and late evenings, fish are still deep. Some surface activity in coves on high pressure sunny days light wind," reports fishing guide Jack Trout.
Frenchman Reservoir
Gary Blanchard has been hitting the creeks and streams around Frenchman ever since the season opened with plenty of success. It looks like he brings home four or five fish from every trip, based on the photos he sends our way, and always enough for dinner. He got good hits on a Maribu Fly at Little Last Chance Creek on May 8.
Twenty-year-old Billy Brown did well on Frenchman Reservoir proper. Fishing buddy Blanchard said Brown is slaying the fish at Frenchman. "He's a Kastmaster expert and can hold his own with the big boys," said Blanchard.
Reports are that fishing has been very good for Rainbows up to 20 inches. The fish are feeding heavily on Midges and Leeches. "Look for the Callibaetis Mayfly hatches to be starting up soon in the 11 a.m. to 1 p.m. time frame," said Jack Trout. "Frenchman is a great place to normally be able to put numbers of fish under your belt, and they pull very hard for their size."
Graeagle Mill Pond
Flyfishing guide Jack Trout says, "Trout plant is scheduled for May 20th."
Lake Almanor
John Crotty of Almanor Fishing Association provided an update on the road closure May 6. Highway 89 is now closed just north of the 147/89 junction as construction crews began tearing down the spillway bridge. Highway 89 may be closed for up to four weeks as crews work on creating a bypass road to allow one-way traffic around the project.
"We are optimistic the road won't be closed for the entire four weeks," said Crotty. If traveling north on 89 from Greenville, folks will have to drive around the lake via 147 through Chester to access the closest public boat ramp at Prattville.
As for fishing news, lake level remains high and water temps are rising. Insects are hatching, and the fish are gorging on bugs. With the abundance of natural feed in the water, trout have been selective and difficult to catch. What works one day might not work the next. Sometimes an entire bag of chum is needed to get any action going. "Switching from fast trolling speedy shiners at 3 mph to slow trolling crawlers at 1 mph and everything in between," is what Crotty recommends. "When you find something that works stick with it."
Recent warm weather has the water surface temps fluctuating between the lows 50s to 60 degrees. Weather has been perfect with highs in the mid-70s and overnight lows in the 40s.
Most boats are targeting fish on the North end of the lake between Almanor West and Bailey Creek in water up to 35 feet deep, which is typical for this time of year. Bass fishermen are targeting fish throughout the lake with reports of smallies up to 5 pounds being caught. "The females are in their spawning mode with full bellies and should be returned to sustain our bass fishery," said Crotty.
Not much shore fishing happening right now with Hamilton Branch being the best shot for picking up a fish or two from shore.
Flyfishing activity has been slow as well. "The spawn has begun and the fish are on their beds all over the lake," said Fishdog Outdoors Ben Williams, who highly recommends catch and release practices when catching bedding fish to protect the resource. "Take your camera and get a few pictures," suggests Williams, "Give the fish a chance to spawn by releasing it where it was caught."
Lake Davis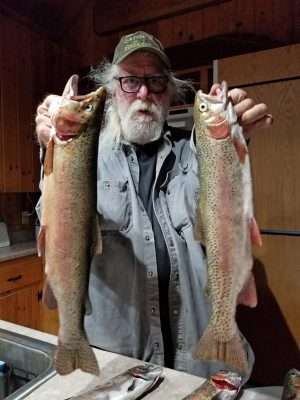 Fishing is pretty slow with water temps running 58-60 degrees. "Fly fishing the shallow coves in the early morning or late evening has been putting some fish on the rod," said Jack Trout.
Rivers and streams
Feather River is running at good levels. "Leaves are on the trees so bugs are out and fish are feeding after 10 a.m. Bets are on sunny days right now.
"Try Parachute Adams or mosquitoes on the surface with 5x tippet size 14," suggests Jack Trout, "Nymphs – Black Copper Johns, Micro Mayfly size 16 in brown, black or green." The best runs are from Graeagle to Quincy. "Now's the time for locals to fish before the tourists show up," said Trout. Look to fish the seams and edges, fish are at the top of the riffles looking for bugs.
Advertisement
Out of the immediate area
Yuba river — Fishing slow due to cold flows, lower elevation below Downieville is best right now, some dry fly activity on the surface in the evenings. Try elk hair caddis or EC Caddis size 14. Striping some small size 8 or 10 dark streamers in some holes can be good right now.
Pyramid Lake: Water temps are starting to get into the low 50s with the warming weather. Try to fish the cloudy and windy days or the fish may not be in the shallows offshore much. Bring a floating apparatus to get out to the drop offs as a backup. Usual flies such as Mahalo Nymphs, Albino Winos, Olive Wolly Buggers and Popcorn Beetles have been getting the grabs.