Fish bits for the week of 7/18/18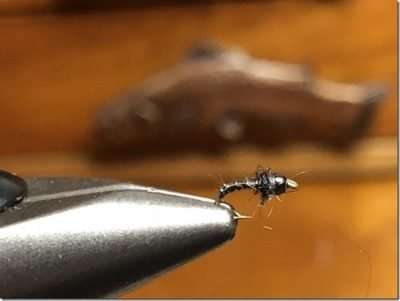 "My biggest worry is that my wife (when I'm dead) will sell my fishing gear for what I said I paid for it."
— Koos Brandt
A big "thank you" goes out to John Crotty of Almanor Fishing Association for his continuous contributions on conditions in the Lake Almanor area. This week we have lots of tips and information from fishing guide Jack Trout who really went scouting this week.
Antelope Lake
Trout and bass being caught at different levels depending on what time of day you are fishing. Mid-day surface temps are skyrocketing, try to target early or late depending on your fishing method. "Early risers should be fishing bait and lures," said fishing guide Trout.
Fly fishermen can sleep in to get out by 10 a.m. for pale morning dun hatches or the evening hatches of mayflies and caddis size 16. "Be patient, we're due for a rain storm. If this happens run for Antelope Lake, the fish will be all over the surface," said Trout. "I always like fishing from the edge into the shoreline." Those fish cruising the edges are there on a mission to feed in the shallows on various insects and bait fish. "Think like a fish, look like a bug!" said Trout.
Bucks Lake
South wind on Bucks Lake has been tough after 3 p.m. Black or green crystal bugger (imitating dragon fly nymphs) size 8 on a slim line is a good option. At this time of year, fly-fishing starts to pick up on all Plumas County's high mountain lakes. "Concentrate on Bucks Lake for the next two months, you'll thanks us," said Trout.
Advertisement
The Lodge fishing shop is open from Memorial Day to Labor Day seven days a week, from 9 a.m. to 9 p.m., or later.
Gold Lake
More ideal conditions prevail on the lake; everything is perfect except the bite. Some would take that as a challenge. Others may see an invitation for a relaxing day on the water unbothered by those pesky fish.
For those seeking fish, flashers and night crawlers may net a few bites, but fishermen will need to be creative to coax the fish out of the water.
Lake Almanor
Lake levels are beginning to drop, although Almanor is currently full. As water levels recede, navigational hazards will appear. Water clarity is 20 to 23 feet and water temps are rising. John Crotty of Almanor Fishing Association checked the water temp July 14 with these results: 73 degrees on the surface, 73 at 5 feet, 72.8 at 10 feet, 72.8 at 15 feet, 72.7 at 20 feet, 72 at 25 feet, 71 at 30 feet, 68.6 at 35 feet, 60.6 at 40 feet, 54.3 at 45 feet, 52.3 at 50 feet, 51.4 at 55 feet and 50.2 at 60 feet. Crotty and his chums targeted fish this week in 35-plus feet of water.
"Fishing was tough this past week as fishermen struggled to catch fish after the sun hit the water," said Crotty. "Yesterday we started off with three smaller fish (two rainbows and one salmon) had three other grabs, lost a nice salmon at the boat, and went an hour without a grab before heading to the barn at 9:30."
Crawlers and gulps were baits of choice, with two dodgers out and two naked lines all on a size 8 hook trolled at 1 mph. Hamilton Branch, A-Frame, Rec # 2, East Shore, Rocky Point and Almanor West are all good places to start.
"I spoke to a couple of bass fishermen this past week and both said the bite was tough," said Crotty. Fly-fishing pressure in the evenings has dissipated with a few float tubers targeting fish keyed in on hexes. "I did see lots of hex casings at Hamilton Branch yesterday. There is just no consistency to the hatch this late in the season," said Crotty.
From another perspective: "Oh, the coveted hexagenia mayfly is out on Lake Almanor right before dark," said Trout, "and if you are wanting to learn fly-fishing I would call HYPERLINK "https://almanorflyfishing.com/"Lake Almanor Fly Fishing 258-3944." Trout recommends, "Have them take you out to experience huge trout thrashing on the surface eating these enormous bugs that come out right before dark. It's about a 3-hour deal, but boy is it fun and the flies are so big you can hear them as they buzz down to Earth."
This phenomenon happens on some lakes and spring creeks in Northern California, and Lake Almanor is one of them. Fishing guide Trout has luck getting bites from both trout and bass on what he calls the "lobster tails of flies."
"Here are some great lake flies to consider now when fly-fishing on Plumas County Lakes," said Trout. "Size 18 and 20 Zebra Midges, Size 18 and 20 Blood and Wine Midges, and Bait Fish Streamers."
Almanor road construction
The Highway 89 Canyon Dam bridge replacement project continues affecting highways 89/70, 36 and 32. If traveling from the valley to Almanor, expect multiple delays lasting up to 20 or 30 minutes.
Lake Davis
"Fishing is really good," said Jim Graham at J & J Grizzly Store, "and catching is equally good." Some of those landing fish this week (and willing to share their secrets) reported using worms and PowerBait at Mallard Cove, Coot's Bay and Honker Cove.
Mill Pond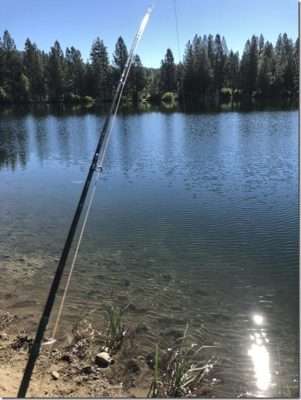 Trout have been planted in the Graeagle Mill Pond with an abundance of eateries nearby. "I have been catching trout on a elk hair caddis on the surface with a micro mayfly underneath about 3 feet and walking the shorelines," said Trout. "You can fish in the openings on the far side of the pond and pick up trout." Bait and lure fishermen can be spotted fishing from the lawn. "Graeagle, the pride of Plumas County, and the best little town in all of the Sierras in my opinion," said Trout.
Packer Lake
"Fishing has been slow," reports Jack Trout. However, the lake is scheduled to be fully stocked this week in prep for the fishing derby July 21. There should be plenty of trout to be caught.
Sardine Lake
"Twenty-five hundred trout were dropped into Sardine lake, approximately 1,700 lbs of trout," said Trout. "Go early folks, it gets windy up there by 2 p.m. and it can be a really bad hair day after that."
The usual methods of PowerBait, lures and worms are hitting the mark. "These trout are planted and meant to be enjoyed off the BBQ or in nearby camps," offered Trout. "For fly fishers, head for the far side of the lake after 10 a.m. in boats or float tubes with fins, nothing gets going until the sun hits the lake and the bugs get active."
Using a sink line and pulling some streamers through is an idea Trout suggests. Stripping small dragonfly and damsel imitations can be effective on this lake in green and black. Super convenient after a morning along the shore or in the water is lunch at Bassets Station or dinner at the Sardine Lake Lodge. If more than a day can be spent fishing in the scenic paradise, there are cabins for rent at nearby Packer Lake.