Fish Bits for the week of 7/25/18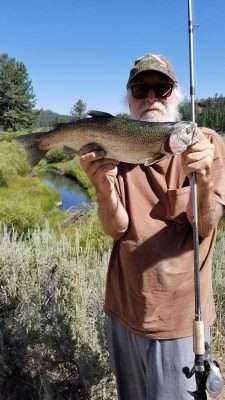 "There he stands, with more equipment than a telephone lineman, trying to outwit an organism with a brain no bigger than a breadcrumb, and getting licked in the process."
— Paul O'Neil
writer
Bucks Lake
Word is that Bucks Lake is really picking up. Good news for locals is the area has already caught and released many tourists back to their homes. "Bucks should be really turning on now," said fishing guide Jack Trout.
Frenchman Reservoir
Gary Blanchard is back from his vacation in Italy and has been out fishing again. He caught a 4 1/2 pounder on a crappie jig July 21 in the back of Frenchman. He hasn't lost his touch. "This is the hot spot," Blanchard said from Lunker Cove. He's been getting hit there on nightcrawlers. Gary always sends plenty of pictures to back up his fish tales. Thanks Gary, and welcome home.
Lake Almanor
John Crotty of Almanor Fishing Association filled us in July 22 on the latest from Lake Almanor; thanks John.
Lake levels continue to recede slowly, and water level remains unseasonably high. Water temp is creeping up with surface temps reaching the mid 70's. With another week of 90-degree weather in the forecast, temps will continue to rise. Cooler water won't occur until the 35-foot mark.  Water clarity is holding steady at 20-24 feet.
Fishing and boating pressure remain high. Boat ramps and parking lots are crowded in the afternoons. "Please use extra caution and the best of boating manners," suggests Crotty.
"The bite was inconsistent at best this past week, with more small fish caught than quality fish," said Crotty. Most of the smaller fish have copepods (a small parasite that attach to the fish) this time of year. The copepods will fall off as water temperatures cool.
"Target fish in deep water up to 60 feet and go slow," advises Crotty. Crawlers and Gulps continue to produce fish. Blades are an option and will assist in finding fish. "Start out running two rods with naked crawlers/gulps and two with blades and adjust from there," said Crotty. Rocky Point, A-Frame, Rec #2, Big Springs and the East Shore are great places to start fishing. Recent catches revealed small pond smelt in their bellies, a great sign as the smelt are a diet mainstay for these fish.
Advertisement
Anchor and shore fishing have both been tough. "As water temps rise fish will begin seeking comfort over springs and at the Branch," said Crotty.
Packer Lake
Over a hundred little fisherfolk and their support teams made it out to Packer for the annual Fishing Day on July 21. The lake was well stocked and fish made it a successful day for many little tykes by taking the bait. Orange PowerBait and worms were fished in abundance. Fifty fish were tagged with red markers for special prizes. Many of those fish are still in the lake.
Sardine Lake
The trout plant is still fresh at Sardine and many of the recently relocated fish may be hungry for a little PowerBait, lures or worms from boats, float tubes or the shoreline while the sun is on the water.