Fish bits for the week of 8/8/18
"There is a fine line between fishing and just standing on the shore like an idiot."
— Steven Wright
Antelope Lake
Getting out around Plumas County in early August looking for good spots was fishing guide Jack Trout. Hot surface temps make bass fishing the best choice at Antelope Lake. "Some trout are being caught early on various methods but bass fishing has been good the last two weeks here," said Trout. Bass are being enticed out of the water using stripping black or white crystal buggers toward the shorelines, reported Trout.
Fishing action will pick up as soon as the 90-degree temps drop 10 degrees to a more comfortable 80. "Those high temps really affect the bite," said Trout. "Small zebra midges and blood midges size 18 work under a bobber," reported Trout, adding, "Be sure to stop at the Taylorville store and get one of their famous deli sandwiches on the way."
Well I guess that's good fishing advice. It certainly is true that the highlight of many a fishing day, is lunch.
Bucks Lake
"Jeff Armstrong, Bucks Lake Lodge owner, was cooking a wild pig from the coast when I called, and wasn't too worried about what he was missing out on up at Buck Lake," said Trout. Fishing has not been good up at the lake according to Armstrong. There have been trout plants at the Mill Creek inlet, but the kokanee have been nowhere to be found in numbers. "The browns were so deep, you'd have to go to Cleveland to have any remote chance of catching one with all this heat," said Armstrong.
Advertisement
Surface temps have been 74 degrees, where as 54 is more prime temp for catching trout. "But that's down at 30 feet, so we have a ways to go yet," said Armstrong. Most trout are being caught at 30 feet or below. "Check back in a month is what he told me," noted Trout.
October on Bucks Lake is primetime for fly fishing according to Trout.
"I sure had an amazing chocolate éclair at Quincy Provisions the other day on my drive around the county fishing for you," added Trout, "and it was the best catch of the week!"
Frenchman Reservoir
"Hot surface temps have slowed the bite down from last month, but some locals are still bringing in a lunker or two here and there," said Trout. Going down deep early morning has been the key there. Next month will hopefully bring a rainstorm and some lower temps. One of those locals still catching fish is our regular "reporter" Gary Blanchard. Fishing on Aug. 1, Gary said, "I nailed a nice one, caught on chartreuse PowerBait at Nightcrawler Point."
Gold Lake
"As always, it's not easy this time of year," said Trout. The early bite and getting on the lake by 6 a.m. is a must. "I caught two trout, one on a size 16 Adams no parachute in an area by the three islands north … I caught another down by the bottom island on a streamer that was black with legs size 10, said Trout.
Other fishermen were seen trolling and not getting much along the south banks of the lakes. Fishing has been tough everywhere. Getting out early before the smoke gets bad is key. Near to Gold Lake are many options on other nearby lakes and the Yuba or Feather rivers.
"I fished three lakes and one river in 12 hours around here last week, didn't catch a whole lot, but it was fun and I knew it was because the time of the year," said Trout. The fish are feeding 12 hours ahead of fishermen, "so change your sleeping habits or just wait until next month for more success," suggested Trout.
Lake Almanor
John Crotty of Almanor Fishing Association gave us the low down at Lake Almanor. Gracias John.
Lake levels dropped slightly last week while temps continue to rise. Afternoon surface temps are creeping into the high 70s.
"We are finally seeing lots of small pond smelt throughout the lake," said Crotty. "Boating and fishing pressure is light early in the day and gets crowded in the afternoon."
Trollers are getting fish early in the day slow trolling crawlers and Gulps. "Find the pond smelt and you will find fish," said Crotty. When the wind is down, and the lake is calm, pond smelt can be seen boiling on the surface. "You will also see seagulls diving on floating smelt that have been stunned by fish as they aggressively attack bait balls of smelt," said Crotty. Slow and deep continue to be the theme unless fishermen are targeting fish feeding on smelt.
"The fish still haven't sought refuge over the springs, it seems we are four to six weeks behind schedule, which I believe is attributable to the high water level," said Crotty.
The water level remains unseasonably high. Bank fishing remains tough. Bass fishermen are targeting fish drop-shotting plastics. Fly fishermen with knowledge of the lake are catching fish over pond smelt.
Feather River
Fishing guide Jack Trout scouted out the following conditions Aug. 1. Water levels are possibly at their lowest levels over the next 45 days so heading down into the Middle Fork of the Feather River is the best bet right now for successful fly-fishing on a local river. Heading over to the Yuba south of Downieville is also a good option.
"Fish below Nelson and Jamison creeks to take full advantage of flow levels," advised Trout. Red algae bloom has left now so the colors are normal and most fish are feeding only a few hours per day, mainly in the mornings on small summer insect hatches.
"Keep an eye out for rattlesnakes down by its shorelines, we highly suggest wearing chaps around your ankles and always carrying a wading staff into the middle fork canyon or a long handled net, just smart," said Trout.
For these conditions, the fishing guide suggests a wide variety of flies. Size 18 mirco mayfly in green (nymphs), Hart's Dark Lord size 16, size 18 brown Hogan's S & M nymph, size 16 Fox's Poopah (no bead), size 16 Poxyback PMD nymph, (Dries) size 14 Parachute Adams, size 16 Ed Cutter Caddis (Truckee River fly) and finally, a size 16 Light Cahill.
Those are lots and lots of choices. It could take all morning to try them all.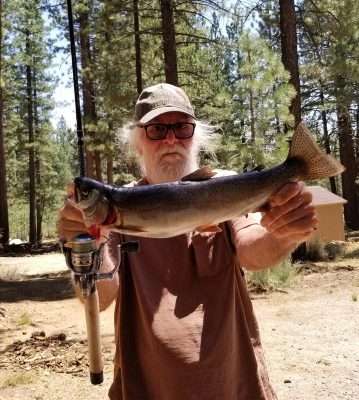 "We sure could use some rain, but good trout are still being caught on flies from Graeagle to Quincy," said Trout.
Lake Davis
Robert Garcia and his daughter Ella, age 10, have not had any luck in the lake. "But Ella is killing it at the river," said Robert, "and we released them back so they will be bigger next year."
Trout said, "Reports of good bass fishing came from John Pato of Portola, the resident expert." Fish are being caught on worms, plastic worms and lures. Fly fishing is pretty tough right now with high surface temps. "Get out early on the north side of the lake and walk in or go out on your flotation device. Streamers are your best bet in various colors with full sinking tip," said Pato. Thanks for relaying the info, Jack.
"The Log Cabin Restaurant opened back up and the food is excellent everyone reports," said Trout. "After a week fishing at Lake Davis for trout, I caught one good trout pulling a green Matuka streamer size 8 near Cow Creek inlet and headed down for a prime rib dinner. It brought back memories of eating there back in the '70s with my father and, yes, the prime rib was memorable."
Packer Lake
"Caught three trout on July 27th in the hottest part of the day out on my pontoon boat," said Jack. Trout are rising to dry flies in the mornings and taking streamers mid day. "I had lunch and dinner at Packer Lake Lodge with their new celebrated chef Krista Spanne, the food was incredible, especially her desserts."
Jack noticed the PCT hikers were happy since the Pacific Crest Trail moved over. After walking almost 1,500 miles to arrive at Packer Lake, they now have another rare food source on the 2,900-mile trail.
"I stayed there last week in the Dolly Varden Cabin and enjoyed it thoroughly," said Trout. "This is a great lake to learn how to fly fish on."
Sardine Lake
All the rumors of fish plants motivated Trout to head out to Sardine Lake to see what was happening. "I rowed to the other side of the lake and saw a water snake that started following me around," said Trout. He didn't think anything of it when the snake dived down in front of him, "but when he crawled up my leg in my pontoon boat, I almost lost all my gear," said Trout, "and it is one of the strangest things I have ever encountered in all my years of fishing."
It was strange because he didn't leave. The snake hung around until another boat came near. "I asked them to come over to witness it," said Trout. "So when the snake went over to the other boat, we decided the snake was lonely." Rowing to the opposite side of the lake, "I never caught a thing or even got a bite, but I met a new friend and promised to return soon," said Trout.
Apparently the food is so popular at Sardine Lake Lodge that reservations are two weeks out. "Order way ahead locals if you plan to be up in that area. Some of the plates I saw after I fished were looking pretty incredible, and it wasn't because I was starving after being chased off the lake by a lonely water snake," added Trout.