Foxxmo competes in the 2019 AKC National Agility Championships in Tulsa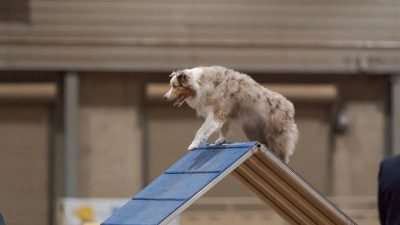 Harmony Ridge Foxxmo Red Kooper is not only a very handsome 7-year-old Red Merle Australian Shepard, he is somewhat of a celebrity in Plumas County.
Foxxmo is the second dog in the history of Plumas County to compete in the AKC National Agility Championships behind Snowy Pine Ranch's legendary Saint Bernard Hummer.Terry Popish's Hummer carried more titles than ANY other Saint Bernard in history.
In March, Foxxmo, his other three pack members and handler Johnene McDonald drove four days to get to Tulsa, Oklahoma, for the 2019 AKC National Agility Championships.
This is the second time Foxxmo has qualified for the prestigious AKC Nationals, but last year it was in Reno, a bit closer for the family to attend. Foxxmo came in 12th place out of 65 dogs in Reno.
This year's championship was held March 15 through 17. Foxxmo and his handler ran diligently to complete three perfect runs out of the three required for the championship. These three runs would have given him a perfect 300 Score (same as last year) placing him in 23rd place out of 96 dogs in his division.
Unfortunately, his teammate/handler forgot to take off the tags on his collar that he travels with. McDonald doesn't normally put tags on her dogs because of their agility competitions, but did for this trip in case of an emergency on the road. When traveling such a far distance, 2,000 miles one way, it just seemed like an important thing to do.All her dogs are micro-chipped, but having an identification tag when traveling is a more "visual" safety feature.
Because the tags were still on his collar in his second run, he got disqualified for the tag. It is an AKC safety rule that dogs cannot have anything dangling from their collars while out in the ring. The tags could get caught on the contact equipment or the metal hoops of the tunnel and possibly injure the dog.
It was a huge disappointment for McDonald, but Foxxmo didn't know anything was wrong. He ran his best, followed his handlers cues impeccably and didn't make any mistakes.
McDonald said, "My heart dropped, when I started to celebrate the perfect run with my normal jumping up and down and cheering of the crowd, but then the Judge walked up to me blowing her whistle! The crowd sighed and even booed, when she said we were disqualified.
"Many competitors and friends came up and gave their condolences telling me what a beautiful run he had performed! I felt like a total idiot for forgetting to take the collar off before going out in the ring! I felt like I had really let him down, after he did his best to please me! It was heartbreaking after traveling so many miles to compete! However in retrospect, it makes a really good story!"
Although it was an unfortunate mistake the team still did their very best and had a wonderful weekend and trip to Oklahoma and back.
What was even more fun for McDonald than competing in the ring was the honor of being asked to play the National Anthem on her violin two mornings for the opening ceremonies. It was the largest crowd McDonald had ever been asked to play for and she threw 100 percent of her heart and soul into "singing the anthem through her violin." The crowd loved her playing and the AKC Agility officials were so grateful for her to share her talent with them.
On the long journey home, the furry family got to spend two nights in Flagstaff, Arizona, and see the Grand Canyon for the first time ever! They got to see and experience the beautiful Southwest  and added five new states to their bucket list of travels.
The AKC Nationals will be in Georgia next year, which is too far of an adventure for Harmony Ridge's "4 pack." However, the championships will be coming back to the west Coast in 2021 and McDonald is very hopeful that Foxxmo will qualify!
McDonald is also hopeful that her youngest pup, Sashshee Macy Lou, may follow in his "paw prints" and become a champion, just like her Uncle Foxxmo, qualifying for the 2021 West Coast Championships.
If you are interested in the sport of dog agility, McDonald gives Terry Popish of Snowy Pine Ranch a FIVE GOLD star recommendation as a Trainer. Terry's business is located on C Road, near Graeagle.
Advertisement
If you are looking to join a beginning dog agility class, Harmony Ridge Pet Parade will be teaching classes through the Central Plumas Recreation District starting this Saturday, April 27, at Lowell Bader Park in Meadow Valley. Classes run from 11 a.m. to 12:30 p.m.
For more information, call McDonald at 927-7997.