FRC baseball clenches conference
The Eagles have really been on a roll! They have run away with the Golden Valley Conference title and attracted considerable attention across the state for their outstanding achievements that put them in the number one spot.
Their success this season  included an 18-game winning streak the longest win streak in the state! As a team, they have the second highest batting average in the state at .325, behind first place batters from Mission at .340.
Flying a distant second place in the Golden Valley league are the Butte Roadrunners with a 15-6 conference record. League play is not finished, but with the win against the second place Roadrunners April 13, the Eagles cinched the conference title. No one in the Golden Valley League can catch the Eagles now. "We are very excited to win our 12th  conference championship in the last 13 years," said FRC head baseball coach, Terry Baumgartner. "This group of players has done a great job all year and they have play well as a team."
The FRC Eagles travel to play the Lassen Cougars this Friday, April 19 and return Saturday, April 20, for the last home game of the season before championships. Eagle fans, heck baseball fans of any sort, will want to see the record-breaking Eagles play their second and final game against the Lassen Cougars on the Eagle diamond starting at 1 p.m.
The final conference matches will conclude for the Eagles Wednesday and Thursday, April 24 and 25, as they wrap things up with the Siskiyous Eagles with two away games in Weed.
"We are excited to host the Regional Playoffs on May 3rd and 4th in Quincy," said coach Baumgartner. The Eagles focus will transition looking toward championship bracket games at Region, Super Region, Sectional. and then if all goes well, State.
CCCAA State Championship games take place May 25-27 at Fresno City College. Mark your calendars and save up that gas money. This could be the year.
FRC Eagle baseball scores
1/25 Taft 12-6 Barstow 16-8
1/26 Barstow 16-9
1/27 Fresno City 11-5
1/31 Mendocino 9-2
2/1 American River 8-6
2/6 Sierra 0-3
2/7 Cabrillo 12-6
Cabrillo8-6
2/8 Yuba 7-5
2/11 Folsom Lake 8-1
2/16 San Mateo 11-6
Laney7-6
2/17 Los Medanos 6-2
2/18 San Joaquin 11-3
2/22 Shasta 13-6
3/2 Redwoods 13-2
3/3 Redwoods 8-0
Redwoods7-3
3/8 Butte 4-2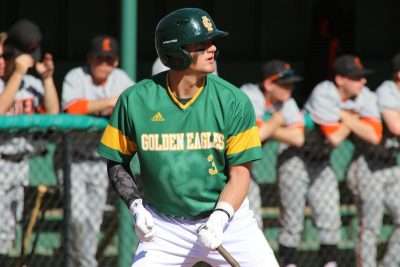 3/11 Butte 7-2
3/15 Lassen 12-3
Lassen8-1
Lassen16-5
3/21 Siskiyous 6-3
3/24 Siskiyous 13-5
Siskiyous8-1
3/30 Shasta 2-1
Shasta 12-2
3/31 Shasta 8-2
4/7 Redwoods 16-0
Redwoods13-4
4/12 Butte 11-13
Butte 3-6
4/13 Butte 4-3