FRC graduates historic first Equine and Ranch Management class
Feather River College will make history Friday night, May 25, when tassels flip and mortarboards fly for 15 students in the Equine and Ranch Management program who are earning the school's first-ever bachelor's degrees.
Every student graduating this week has worked hard and deserves both praise and recognition. There's just something about being the very first ones to blaze a trail — literally, in this case.
"This program has been amazing for its impact on FRC and the community," said Dr. Kevin Trutna, president of the college. "The students have received a top-quality education on how to run and manage farms and ranches."
A visit to the campus arena one afternoon where several graduating seniors were setting up for FRC's 20th annual horse sale confirmed Trutna's assessment.
Coming from all over California as well as Kansas, Washington and Nevada, the grads collectively agreed they appreciate the sense of community they've experienced in the program where it's possible to see a cow or horse be born and then work with the animal all four years of their studies.
"Many of us feel honored and grateful to be part of the first graduating class of FRC's bachelor's program," said Ambria Holm, an active student leader from the San Bernardino area who represents her fellow students on the college's board of trustees.
"I first came here for the school and because the faculty was so approachable," Holm said. "Quincy became my home for the past four years and it has been a truly beautiful experience. I plan to move to Montana after graduation and work for N7 Land and Livestock. I want to thank my little mountain community for giving me the send off I needed in life."
Agriculture Studies Department Chair Russell Reid commended the graduating students who are earning their Bachelor of Science degrees.
"I'd like to thank them for their patience, they all did an amazing job," Reid noted. "The whole college and this department worked hard to develop a curriculum to prepare them for their careers. The first year, especially, was a real learning curve for us, so they had to be resilient. We've been evaluating and evolving the program as we've gone. The courses will be even better next year with their input. We couldn't have done it without them."
The care and planning that have gone into creating FRC's outstanding Equine and Ranch Management degree program have not been lost on its participants.
"I came to Feather River from Van Nuys in L.A. where we learned a lot of theory about animals, but had very little opportunity for hands-on," explained Jason Nery, who is leaning toward a government career that will use his knowledge of livestock and wildlife management, perhaps with the U.S. Bureau of Land Management.
"This school gets you out in nature and the teachers spend time with you personally," Nery said. "You can breed horses, ride them and take care of them."
Hailey Sadler from Murphys in Calaveras County also appreciated the scenic setting at FRC.
"The hands-on experiences in all the classes made it easier to apply what we learned in class," the senior observed, adding, "It's been fun to go to school in such a beautiful place."
The bachelor of science degree at FRC is unique because only 30 out of 120 California community colleges are approved to offer a bachelor's degree and only 15 campuses are actually doing so.
This week's graduates will accept their diplomas with a wealth of hands-on experience to their credit, well equipped for a variety of ranching industry careers.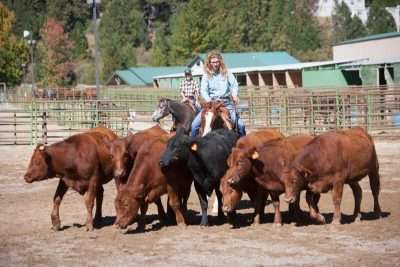 "I am super grateful and fortunate to be at a college where the professors know us by our names and their doors are always open," said Carysa Greene from Napa County, who wants to build a career in livestock production.
"I have loved studying in the town of Quincy, I couldn't have done as well in a big city," Greene said. "I've met many people whom I now call my closest friends and I plan to keep in touch with them for the rest of my life. After graduation I plan to work for 9 Peaks Ranch in Fort Rock, Oregon."
Classmate Hans Hauser of Borrego Springs in San Diego said, "The real-world experience has been my favorite thing about this program. Thank you, Quincy! Everybody did a huge part to help us succeed. We got to do things like ag welding on a real job, fixing things like pens for the rancher, stuff you can't afford to have broken or do without. I've also worked on several internships and they've prepared me for what I want to do, possibly making agriculture loans."
FRC's Reid said the highest compliment to the bachelor's degree program is that students will be able to use the information they've learned and the skills they've developed to go out and begin rewarding careers.
"They are prepared," Reid commented. "It's a big industry with a lot of variety in the kinds of careers the students can choose. Some will manage cattle ranches, others will look at specialties like marketing or pharmaceutical sales for livestock. It's very common to have to spend thousands of dollars on antibiotics for your horses, for example. Others will train horses professionally, either for ranch work or shows and competition. There are many possibilities."
Student Samantha Moore of Brentwood in Contra Costa County said she was surprised at how much the FRC program covered and had to offer.
"I came up here to rodeo and run barrels," the spunky student laughed. "By my second year, I was signing up for classes (in the bachelor's program). There's so much here you can learn and we get to ride with big-name, well known trainers. Now, I want to train horses to compete with the National Cutting Horse Association and teach barrel racing. I like the thrill of the GO!"
The NCHA sponsors a western-style equestrian competition in which a horse and rider work as a team. The contest, held before judges, demonstrates the horse's athleticism and ability to handle cattle during a ​short performance, called a "run."
College President Trutna said the program is designed to grow with the students and according to industry needs.
FRC plans to expand its cattle operations next year for a more "robust educational experience as students learn different genetics and the impact on cattle production," Trutna said.
He explained that FRC will also add subject matter in field-grazing crops, including irrigation techniques, so students can study the differences inherent in producing crops under varying circumstances.
That kind of knowledge can be valuable because the college itself spends about $200,000 a year on hay for its livestock, a price that fluctuates based on market drivers such as fuel and transportation costs.
The Equine and Ranch Management degree program is authorized by the California State Legislature through the year 2025 and FRC is hoping for an extension of the pilot program beyond its sunset date.
"We hope the legislature will allow community colleges to continue this highly successful pilot program," Trutna offered.
In the meantime, this week's grads are excited to head into their futures.
"We're the ones who have shaped this bachelor's program," said Amy McDougal, a barrel racer from Reno who wants to become a self-employed horse trainer with her own small-breeds operation.
"When I arrived here, I thought I already knew how to ride horses, but now I realize there is so much to learn about starting a first ride with a horse — especially one that's never been ridden before!" she said.
Her classmate, Moore, laughed and interjected, "When you're learning to ride a horse that's never been ridden before, you worry a lot more about the horse next to you than the one you're ON!"
McDougal added, "Everything we learn advances our skills and prepares us for things like the horse sale. A lot of things can cause you to lose your opportunity, injuries to the horse or rider, health of your horse. Hopefully it goes well and you end up in the [horse sale] pen."
She looked thoughtful for a moment, and then concluded, "There's no end of knowledge and I like that we're always improving. But I have to say that learning to be humble is the biggest skill you need in agriculture. You've got to have humility to succeed in this business."