FRC men fall to Fresno in double OT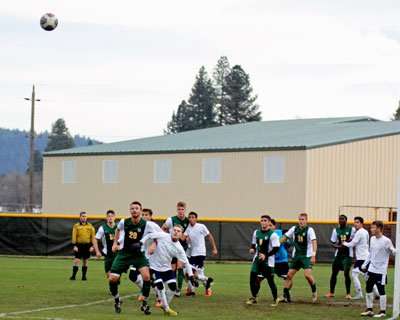 The Feather River College men's soccer team lost its away playoff game to Fresno City College 5-2 in double overtime Saturday.
Goal scorers for FRC were Theodore Cannon and John Ryan Holland. Ryan Birchfield was credited with both assists and Charlie Hopwood was credited with Holland's goal as well.
Last Tuesday, FRC defeated Clovis by a score of 4-1 to advance to the quarterfinals against Fresno.
Against Clovis, the goal scorers for the Golden Eagles were Tom Bentham, Kyle Parish, Zachary Brown and Santiago Ghiglione.
Ryan Birchfield tallied three assists, while Holland and Conrad Gooley each had one assist.
With the loss, the Golden Eagles finish their season with an outstanding record of 16-1-4 overall. FRC was undefeated the entire season until the loss at Fresno.
As a team, the Golden Eagles led the state in goals scored with 87 and were ranked second in the state with assists (84) and shutouts (11).
A 10-0-2 record in Golden Valley Conference play gave FRC the GVC crown this season.
Golden Eagle sophomore Jack Fulton led the state in the goals-scored category with 26 on the season, while teammate Birchfield led the state in assists with 29.
Next season, the Golden Eagles are expected to return five regular starters, but will lose the offensive dynamic duo of Birchfield and Fulton to graduation.